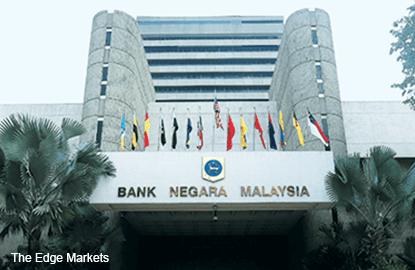 KUALA LUMPUR (Nov 5): Malaysia's central bank kept its key interest rate unchanged at 3.25% today, in line with analysts' forecasts and with the economy continuing to be affected by the weak external environment.
In a statement today, Bank Negara Malaysia (BNM) said the decision was made at the Monetary Policy Committee meeting today.
"At the current level of overnight policy rate (OPR), the stance of monetary policy remains accommodative and supportive of economic activity," it said.
"The committee recognises that there are heightened risks in the global economic and financial environment. These risks are being carefully monitored to assess their implications on macroeconomic stability and the prospects of the Malaysian economy," it added.
The central bank said it is cognisant that the Malaysian economy continues to be affected by the weak external environment.
"Domestic demand therefore remains the main driver of growth. However, private consumption is expected to moderate as households continue adjusting to the higher cost of living amidst an uncertain economic environment," it noted. 
BNM sees the local economy will continue to benefit from having diversified sources of growth, economic flexibility, low unemployment, manageable level of external debt and a well-capitalised banking system.
"The prospects are for the economy to expand within the region of 4.5% to 5.5% this year and 4% to 5% in 2016. It is, however, recognised that the downside risks to growth remain high," it said.
BNM expects inflation to remain relatively stable for the rest of 2015, as the impact on overall inflation has been limited by the lower commodity prices and the generally low global inflation despite the weaker ringgit.
For 2016, however, headline inflation is expected to be higher, to peak in the first quarter and moderating thereafter, it added.
On the performance of the global economy, BNM pointed out that it continues to grow at a moderate pace.
"The economic recovery in the major advanced economies has remained modest.
"While growth has slowed in most of Asia, the region continues to record positive growth that is being supported by domestic demand," it said.
BNM also noted that while volatility in the international financial markets has receded, the markets will continue to be affected by shifts in global liquidity and investor sentiments.
"Going forward, downside risks to global growth remain high arising from the moderating growth momentum in a number of major economies, uncertainty surrounding energy and commodity prices and possible disorderly market conditions arising from policy shifts in major economies," it added.