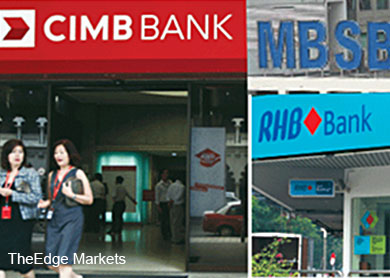 KUALA LUMPUR (Oct 21): The proposed merger of CIMB Group Holdings Bhd, RHB Capital Bhd and Malaysia Building Society Bhd (MBSB) could still proceed even if Bursa Malaysia Bhd rejects an application to allow the Employees Provident Fund (EPF) to vote, sources say.
"The three parties may still want to proceed although the chances of getting shareholders approval will not be as good if the EPF can't vote," says one source.
Theedgemarkets.com understands that Bursa Malaysia which is meeting today on the matter is not likely to make an exception to its listing rules that prevent the EPF from being allowed to vote, as it is a significant shareholder in all three entities.
The key vote is at RHB Capital in which EPF has a 41.5% stake and the group opposed to the merger – Abu Dhabi's Aaabar Investments PJS - has 21.2% stake.  If EPF can't vote at RHB Capital, it will require that the remaining shareholders who collectively hold 37.3 % will vote in favour for the deal to go through. All that is needed is for 50% plus one share of the eligible votes to be in favour.
Sources say the minority shareholders of RHB Capital have to decide what to do, because if the merger does not proceed, the stock could come under selling pressure.
Both RHB and MBSB rose following the mega merger announcement on July 10.  
RHB's stock ended the day higher at RM9.18 on July 11 from its close of RM8.72 on July 9 while MBSB's stock closed at RM2.46 compared to RM2.34 during in the same period. RHB's stock price continued on its uptrend and closed at a historic high of RM9.15 on Aug 19. It has since come down, partly due to the fall of the stock market this month, to close at RM8.52 before lunch today.
The merger proposal values RHB Capital at RM10.03 a share, although there is no cash involved as the transaction is a share swap between RHB Capital and CIMB Group.
"If Bursa does not allow EPF to vote, the chances of  it (merger) failing is higher and this may result in CIMB's stock going up as the market has perceived this deal to be negative for them. Alternatively, RHB and MBSB may see their stock price coming off," said a senior banking analyst.
The three companies had during the lunch break asked for a suspension in trading of their shares  for the rest of today pending an announcement.