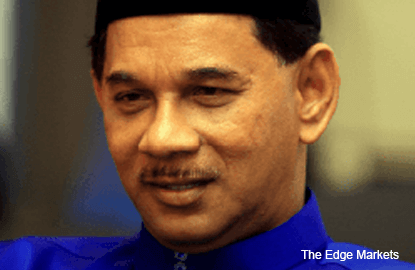 KUALA LUMPUR: Bank Islam Malaysia Bhd, which has a 26% corporate and commercial banking portfolio, is looking to raise the figure to 30% by end-2015 to reduce its dependency on consumer banking from 74% to 70%, as it gears up for a possible merger beyond 2017.
It is looking to further tap the green technology sector, particularly hydropower projects, as well as the infrastructure sector, to up the commercial banking contribution, said managing director Datuk Seri Zukri Samat after a signing ceremony between Kerian Energy Sdn Bhd and Bank Islam yesterday.
Bank Islam, together with Malaysia Debt Ventures Bhd as co-financier, raised syndicated Islamic financing facilities worth RM121.44 million for Kerian Energy to construct a 14mw mini hydropower plant in Sungai Kerian, Perak.
"We still have quite a lot of room to lend insofar that infrastructure and hydropower projects are concerned. But it all depends on the viability of the project. Green technology is an area promoted by the government and our effort is 
basically to support the government's initiatives," Zukri said.
"The infrastructure sector is an area of growth, and highway projects, for example, are generally viable. We are going to participate mainly as a lender or a syndicator," he added.
Zukri noted that the bank intends to focus on organic growth for the time being, even as it looks into the possibility of a merger and acquisition (M&A) beyond 2017, which has always been on the bank's agenda.
"Our strength is in consumer banking. In any marriage, you will need to complement and supplement each other. We will consider an M&A if we can find a party that is strong in corporate finance and banking. Of course, if we were to merge, we must be able to create synergy. If it is just a combination of two balance sheets, we are not interested," he said.
He also said Bank Islam's overall financing growth is expected to be lower for its financial year 2015 (FY15) (FY14: 24%), "in tandem with the overall growth of the industry".
The bank's deposit-to-finance ratio is expected to hit 75% by year end, from 74% as at end-March.
Bank Islam is wholly owned by BIMB Holdings Bhd (fundamental: 2.7; valuation: 2.2), which closed two sen or 0.5% lower at RM4.01, with a market capitalisation of RM6.2 billion.
This article first appeared in digitaledge Daily, on August 12, 2015.