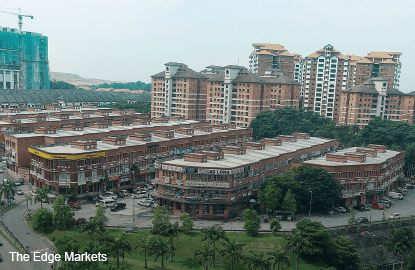 Bandar Sungai Long was built on former rubber plantation land by SHL Consolidated Bhd in 1989. A part of the Cheras district and under the umbrella of the Kajang Municipal Council, this mature township is a 30 to 40-minute drive from Petaling Jaya via the Salak Highway and is accessible by the Kajang Dispersal Link Expressway (SILK).
Over the past 17 years, Bandar Sungai Long has expanded from 511.4 acres to about 690 acres, says Ho Chin Soon Research chairman Ho Chin Soon. It also has a unique look because of the wide use of raw bricks in its shophouses, homes, low-density high-rises and the campus of a local university.
PPC International Sdn Bhd CEO Siva Shanker says that Bandar Sungai Long is home to mostly middle-class families while the upper middle class live on the outskirts of the town, along SILK. "The people living in the town itself are simple middle-class families. The town is busy during the day and a bit quiet at night when the shops are closed. The businesses that serve the town include a noodle restaurant, kopitiam, locksmith, 7-Eleven and 99 Speedmart. There is also a wet market," says Siva.
For entertainment, the residents visit the nearby AEON Jusco during the weekends or travel further to Mid Valley City, remarks Metro Homes Sdn Bhd director See Kok Loong.
According to VPC Alliance (M) Sdn Bhd managing director James Wong, the self-sustaining Bandar Sungai Long has more than 8,000 residences, which run the whole gamut of property types — 2-storey terraced houses, low and medium-cost apartments, low-rise and high-rise condos, 2 and 3-storey semi-detached and detached houses as well as vacant bungalow lots and 3 to 5-storey shops. The township also boasts a golf course — the 18-hole Bandar Sungai Long Golf and Country Club by Jack Nicklaus.
Rapid growth
Siva says property prices and launches in Bandar Sungai Long have grown rapidly in the past 10 years. "When SHL developed the area, the properties were sold almost immediately but there weren't many occupiers then because Cheras was considered too far away to live. So, the houses were unoccupied for a couple of years. Gradually, people started moving in and there were more transactions on the secondary market. Eventually, Bandar Sungai Long became the quaint town it is now.
"With better accessibility and wider roads, Cheras is not as far away as it was in the past. Now, people can get to the KL city centre in 30 minutes."
Universiti Tunku Abdul Rahman (UTAR), which opened in 2002, boosted property values in the township and there was an increase in the number of mixed-use developments, says Wong, adding that SHL built 1,200 residential and commercial units there in 2006. And as house prices continued to rise in many parts of Kuala Lumpur, homebuyers started to look at Bandar Sungai Long. This was in the late 2000s.
Wong notes that most residential properties in the township have enjoyed an average annual capital appreciation of 10% to 27%, quite similar to those in the surrounding areas, such as Mahkota Cheras and Impiana Cheras. For example, a 2-storey corner terraced house with land area of 3,273 sq ft in Twin Palms @ Sungai Long now commands RM1 million, he adds.
Being built by Lum Chang Sdn Bhd in nine phases, of which three have been completed, Twin Palms @ Sungai Long is a RM800 million gated development that consists of superlinks, semidees and bungalows across 126 acres of freehold land.
"Before 2007, a 3-storey semidee there could be purchased for RM650,000. Today, it can command as much as RM1.5 million, which is more than 100% appreciation over seven years," comments Siva.
Metro Homes' See observes that property prices in Bandar Sungai Long have increased between 60% and 80% in the past five years, keeping pace with prices in other markets. "People choose to buy into Bandar Sungai Long because it is a sustainable township as opposed to the conventional housing schemes in Cheras. Now that the township has matured, people see it as a good location."
He adds that the value of residential land in the township is between RM150 and RM300 psf now, which means developers have to build high-rise residences in order to be profitable.
However, there was a decline in the volume and value of transactions from 2010 to 2014. "Transaction volume and value continued to trend downwards in the first five months of this year with only 68 residential units transacted for a total of RM33.81 million. The decline last year may be attributed to fewer property launches and the cooling measures introduced by the federal government and stricter lending requirements for housing loans," Wong points out.
According to him, the residential segment of the property sector was the most active in Bandar Sungai Long last year, accounting for more than 96% of total transactions. However, the number of transactions dropped to 323 (RM166.14 million) from 810 (RM238.05 million) in 2010.
Still, the average value of terraced houses and high-rise residences spiked 121.59% and 151.27% respectively from 2010 to the first five months of 2015, says Wong.
As the area became more established, rents went up as well. Wong notes that currently, condos and 2-storey terraced houses fetch stable rates. "Units that are between 1,000 and 1,400 sq ft are rented out for between RM1,200 and RM1,800 per month, which translate into rental yields of 2.5% to 4.6% — in line with those of residential properties in the Klang Valley."
Development opportunities and outlook
As the heart of Bandar Sungai Long only has small plots of land left, development has moved outwards to SILK. Twin Palms @ Sungai Long is a fine example. "Twin Palms has opened up new opportunities in the area. A notable upcoming development is Tamarind Hill — a RM600 million residential project by BRDB Developments Sdn Bhd," says Siva.
See remarks, "The area along SILK and Cheras-Kajang Expressway is now considered a part of Cheras. This is because only little plots are available within Bandar Sungai Long."
According to Siva, Bandar Sungai Long saw much of its growth between 2008 and 2011. He believes that the rapid expansion in the last three years has pushed the area to its peak. From here on, he adds, the town will see steady, instead of rapid, growth.
The upcoming Sungai Buloh-Kajang MRT line's Bukit Dukung station is the nearest stop — this will boost property prices in the area by 30%, opines Siva.
Meanwhile, VPC's Wong points out that commercial developments make up less than 5% of the township. "There is a need to develop more commercial components, such as 2 and 3-storey shopoffices, international schools and a neighbourhood mall with a cinema, to meet the needs of its 40,000 residents."
However, based on the zoning map, there is limited land dedicated to commercial developments in Bandar Sungai Long, he adds.
Wong also expects more launches of high-rise condos in Bandar Sungai Long this year, especially near UTAR. "The opening of UTAR has increased the number of students [in Bandar Sungai Long]. We foresee more investors buying residential properties in the area, particularly terraced houses and high-rises within walking distance of UTAR, for rental income."
He sees opportunities for more developments along SILK as property prices have room to grow in the future.
Siva concludes, "New developments will see capital appreciation of 10% in the first couple of years and then stabilise with a price growth of 5% thereafter."
This article first appeared in Property, digitaledge Weekly, on August 3 - 9, 2015.