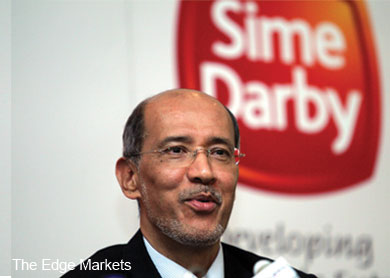 KUALA LUMPUR: Tan Sri Liew Kee Sin will retain the position of chairman of Battersea project Holding Company Ltd (BPHC) until September next year, despite concerns of conflict of interest after Liew's associates announced their plans to list Eco World International Bhd.
 
"He [Liew] will continue to be the chairman of our Battersea joint venture company until September next year," said Tan Sri Mohd Bakke, Sime Darby Bhd's group chief executive, after the group's third quarter results presentation today.
 
"Now that…his partners and his son have established a special purpose acquisition vehicle, the position of Tan Sri Liew as chairman of BPHC is something that we need to consider. Right now, we are not talking about it.
 
"I suppose come early next year, this issue is something the management will need to address," he added 
 
BPHC is a joint venture company owned by S P Setia Bhd (40%), Sime Darby (40%) and the Employees Provident Fund (20%) and is the project owner of the redevelopment of the Battersea Power Station in London.
 
Last month, it was announced that Liew would spearhead the listing of Eco World International as a special purpose acquisition vehicle (SPAC) for the purpose of investing in real estate in the United Kingdom and Australia.
 
Eco World Development Bhd (Eco World), which is listed on Bursa Malaysia, has announced that it plans to subscribe for a 30% equity stake in the SPAC. Liew is also Eco World's non-independent and non-executive director.
 
Despite these developments, Mohd Bakke said he would not rule out the possibility of Liew retaining his position as chairman of BPHC if Liew does not take on a management position in Eco World International.
 
"Maybe we can cut a special arrangement where he continues as chairman. If you look at him, he is not in the driver seat of Eco World. The actual anchor person is the son and the business partners."
 
"I don't think Tan Sri (Liew) will take on the role of managing director or CEO of the Spac. I would not do it if I was in his shoes," he concluded.