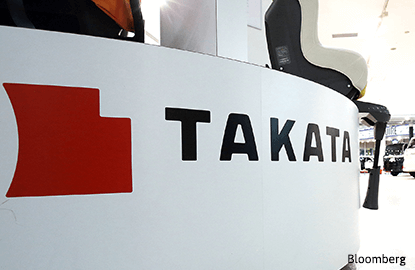 TOKYO (Jan 19): U.S. buyout firm Bain Capital has joined Key Safety Systems (KSS) in the U.S. auto parts supplier's bid to rescue Takata Corp, a source said, as the Japanese firm struggles for survival after a massive recall linked to its faulty air bags.
Takata is in the process of selecting a financial backer as it faces billions of dollars in costs to replace as many as around 100 million potentially defective air bag inflators that have been linked to at least 16 deaths globally.
A financial source briefed on the matter told Reuters on Thursday that Bain was bidding with KSS, adding that potential bidders for Takata have favoured a court-led turnaround of its Japanese operations, which could lessen their exposure to Takata's existing liabilities.
Takata is also considering a bankruptcy filing for its U.S. unit, sources have told Reuters.
Shares in Takata closed 17.3% lower, falling by their daily limit on Thursday after Japan's Nikkei business daily reported that KSS and Swedish air bag maker Autoliv Inc, the two remaining bidding groups for Takata, planned to propose a court-mediated turnaround for Takata's Japanese operations.
Japan's Daicel Corp and Bain, which had previously teamed up for a separate bid, have joined the KSS consortium, the Nikkei said, adding that the two bidding parties plan to present their proposals as early as this week.
In a statement, Takata said it had nothing to disclose following the report, and a spokeswoman for Bain declined to comment on whether it remained in the running to sponsor Takata. The financial source did not say whether Daicel will join the KSS consortium. Daicel declined to comment.
Recall costs remain
A steering committee appointed by Takata nearly a year ago has retained investment bank Lazard Ltd to advise the search for a financial sponsor for the embattled company, which is at the centre of the world's biggest automotive safety recall.
While Takata has said it would prefer a private, out-of-court process for its operations to ensure the ongoing supply of replacement inflators, the process to find a backer has been complicated by the fact that the parts maker faces a number of liabilities stemming from the recalls, which began around 2008.
Automakers affected by the recalls, including Honda Motor Co, Toyota Motor Corp, and Ford Motor Co, have been paying for the costs to recall the inflators.
If Takata were to be held solely responsible for the recall, it could be on the hook for around US$10 billion, according to estimates from industry experts.
"Takata has said its preference was for a privately organised liquidation, but that doesn't mean that this is how things may turn out," an executive at a Japanese automaker and a Takata client said.
While its financial future remains in limbo, Takata is also struggling to manufacture the massive supply of replacement inflator parts needed for the recalls, and has enlisted competitors including Autoliv, ZF TRW and Daicel to help with production.
Last week, Takata agreed to plead guilty to U.S. criminal charges that it manipulated inflator test data provided to its automaker clients, and pay a $1 billion fine which includes compensation paid to victims and automakers.
Three former Takata executives are facing U.S. charges over the falsifications.
Automakers have said that the compensation outlined in the U.S. settlement would do little to cover their recall costs.
"It's just a drop in the bucket compared with the recall costs we have been paying," an official at another Japanese automaker said.