This article first appeared in Enterprise, The Edge Malaysia Weekly, on September 9, 2019 - September 15, 2019.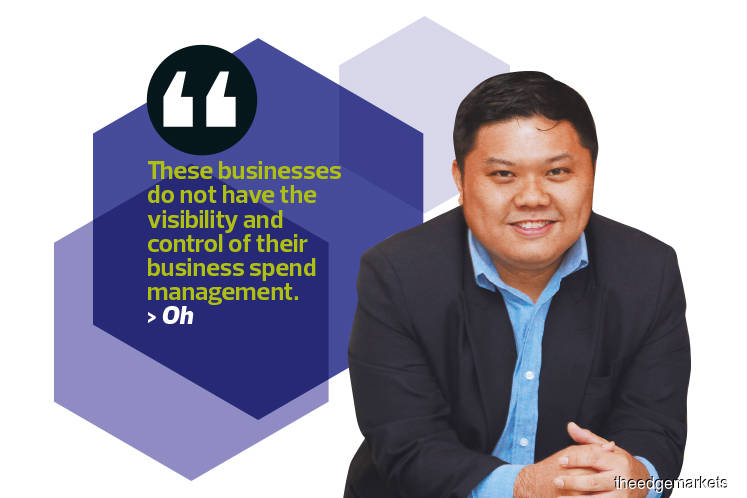 When managing businesses, many companies emphasise sales and growth to such an extent that they overlook the operational side of things. Aspects such as operating costs are equally important but are often ignored because of limiting factors like manpower shortage.
Jonathan Oh, co-founder and CEO of Supplycart, says this is a common issue faced by many small and medium enterprises (SMEs). He noticed this after building and disposing of two businesses, as well as after talking to other SMEs.
"I realised that this is a common problem. These businesses do not have the visibility and control of their business spend management. They do not know where their money is going. They are not looking into their costs or using technology to improve organisational processes. They do things manually and are paper-heavy. That is why I decided to build Supplycart," Oh tells Enterprise.
In July 2016, he and two other co-founders started the company. Equipped with experience in consulting and corporate environments, they created an online store — a one-stop office solution — to help businesses shop more conveniently.
They have also built a business-to-business e-procurement platform called ADAM, which stands for analyse, digitalise, automate and manage. It provides a catalogue-based procurement service with a multi-user and multi-branch feature. It produces analytics of company orders, expenditure and consumption as well.
Supplycart also offers vendor management services. Ultimately, its offerings help drive efficiency and save costs by enabling companies to adopt technology for a more streamlined means of procurement.
Its first few clients were companies dealing in technology and fast-moving consumer goods. Oh says the first few sales demonstrated that it was addressing a real gap in the market.
"In the early days, we had about 10 clients. But today, we have about 1,600, comprising SMEs and larger companies. We launched ADAM in April," he adds.
What inspired ADAM? "Consumers are using e-commerce marketplaces such as Lazada and Zalora. But not many have adopted e-procurement," says Oh.
The government is encouraging SMEs to adopt e-procurement, in line with Industry 4.0, he says. "This means they have to digitalise the back-end processes of their businesses, not just the front-end ones — from dealing with suppliers all the way to how their users order products."
At the beginning of the start-up's journey, it was challenging to educate SMEs and get them to think about e-procurement, says Oh. He points out that only multinational corporations (MNCs) and large enterprises were familiar with e-procurement at the time.
"In the last couple of years, however, I have seen more SMEs get up to speed as their growth is more fast-paced these days. It comes down to how efficient and productive they can be. So, the time is ripe for them to continue with this momentum," says Oh.
He points out that e-procurement is a large space with numerous types of solutions catering for various business needs. Large enterprise solutions, such as enterprise resource planning, by bigger brands like SAP and Oracle have their own advantages, he notes. "It really depends on the requirements and needs of the SMEs. There is no one-size-fits-all solution."
Supplycart has solutions for companies of all sizes, from new and small businesses to MNCs with thousands of employees. "We started as an online store to make it easy for companies to start their digital transformation, seeing that many are used to e-commerce platforms," says Oh.
"Then we slowly introduced ADAM to help them become more digital-forward. That is why we often engage with them first to understand their needs. We ask questions to find out how they can improve costs and save more money.
"To justify the use cases, we show them data — that by adopting e-procurement, they would have visibility of transactions and other records. With ADAM, they can analyse the data and address any gaps or leakages they may have."
A case in point is a retail business that has many branches across the country, says Oh. Often, the company would not have visibility of their business expenditure in the various locations.
"When we discuss it with them, it is clear that they are using a manual way of ordering supplies, for example. ADAM helps them to consolidate contract pricings and branch managers are empowered to take charge of the ordering in a controlled environment," says Oh.
"In the past, these things were very fragmented. Now, everything is more consistent so companies can make key decisions on their business expenditure."
He admits that there are concerns that many jobs will become redundant due to automation, but says Supplycart is not looking to replace humans. He add that people's roles will be more specialised so that they can focus on areas that could lead to the company's growth.
"For smaller businesses, they still have visibility on their business spend. But the challenge is to be able to choose suitable vendors in a timely manner because this process is usually time-consuming. With ADAM, they have access to 200 vendors and more than 20,000 products and services," says Oh.
"We work with our clients and look at their current vendors. ADAM then matches them with more suitable vendors, based on the data we accumulated in their previous transactions."
In the last couple of years, Supplycart has seen double-digit growth. The aim is to work with 10,000 businesses in the next 10 years, says Oh.
"There are 1.2 million registered companies in the country and only 1,600 are using our offerings. The bigger picture here is to educate more people on e-procurement so that more of them will adopt it. That is our mission in the next couple of years," he adds.