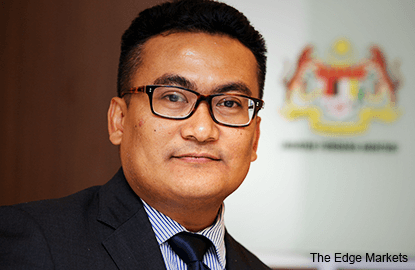 KUALA LUMPUR (Sept 1): The Land Public Transport Commission, Malaysia (SPAD) has appointed Mohd Azharuddin Mat Sah as its chief executive officer (CEO), replacing Mohd Nur Ismal Mohamed Kamal who will join Ministry of Finance's wholly-owned unit MyHSR Corp Sdn Bhd as its CEO to oversee the Kuala Lumpur-Singapore high-speed rail link project.
In a statement today, SPAD said Azharuddin's appointment as its CEO is effective today.
Prior to his appointment, Azharuddin was director of urban public transport for Greater Kuala Lumpur/Klang Valley at the Performance Management and Delivery Unit in the Prime Minister's Department.
He has also held various key positions, such as in Microsoft Malaysia where he was the director of public sector group for Malaysia and Khazanah Nasional Bhd where he was the senior vice-president of special projects.
Azharuddin was also attached with Royal Dutch Shell PLC, having undertaken assignments in both Malaysia and its corporate headquarters in London.
In his new role, Azharuddin's immediate responsibilities will include accelerating the growth of a viable Land Public Transport (LPT) ecosystem as envisaged in the National Land Public Transport Master Plan.
SPAD chairman Tan Sri Dr Syed Hamid Jaafar Albar said Azharuddin's strong credentials and extensive experience in the LPT sector makes him the right leader for SPAD, as the commission gears up to drive more people centric mobility and connectivity.
"I look forward to working closely with Azharuddin to build seamless multimodal integration to make public transport as the mode of choice for all Malaysians," he said in the statement.
Mohd Nur Ismal had held the position of SPAD's CEO since the inception of the commission in 2010.
"The commission would like to put on record its sincerest appreciation to Mohd Nur Ismal for his dedication and contributions in his five years as the CEO of SPAD," said Syed Hamid.