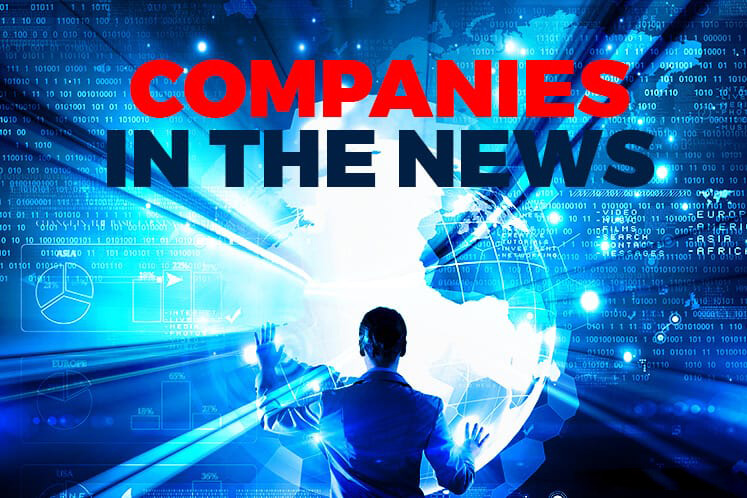 KUALA LUMPUR (Oct 22): Based on corporate announcements and news flow today, stocks in focus on Tuesday (Oct 23) may include Axis Real Estate Investment Trust, Yinson Holdings Bhd, Fiamma Holdings Bhd, Dolphin International Bhd, Bumi Armada Bhd and My E.G. Services Bhd.
Axis Real Estate Investment Trust's (Axis REIT) net property income  grew 31% in the third quarter ended Sept 3, 2018 (3QFY18) to RM45.34 million from RM34.72 million a year ago, as its property size grew to 44 properties from 39 properties.
Total trust revenue rose 25% year-on-year to RM52.35 million from RM42 million. It recorded a realised net income from operations of RM29.27 million for the quarter, up 33% from RM22 million a year ago.
The REIT announced a third income distribution per unit of 2.35 sen for the quarter — which is 18% higher than 3QFY17's 2 sen per unit. The DPU is scheduled to be paid on Dec 10. The payout represents 99.2% of the REIT's realised income available for distribution generated from its operations during 3QFY18.
For the cumulative nine-month period ending Sept 30, the REIT's NPI rose 16% to RM123.47 million, versus RM105.94 million in the same period last year, as the trust's revenue grew 15% to RM144.89 million from RM126.33 million. Its realised net income from operations was RM77.38 million, up 13% from RM68.35 million a year ago.
Yinson Holdings Bhd said that the contract for the charter of its floating production storage and offloading vessel, Adoon, has been extended on an interim basis for three months until Jan 16, 2019.
Its indirect wholly-owned subsidiary Adoon Pte Ltd received the extended contract from Addax Petroleum Development (Nigeria) Ltd.
Yinson said the contract is expected to contribute positively to the group's revenue and earnings for the financial year ending Jan 31, 2019.
Fiamma Holdings Bhd's warrants 2008/2018 have been reminded that all outstanding warrants will expire on Nov 26.
Those wishing to convert their warrants into Fiamma shares would need to pay an exercise price of 50 sen for each new share.
The last date and time of trading is on Nov 7, the group said, adding that it apply to Bursa Securities for the listing of the new Fiamma shares eight market days after completing its warrants exercise form.
"As at Oct 15, 2018, being the latest practicable date prior to the printing of this notice, Fiamma has a total of 607,713 outstanding warrants which have not been exercised," it said.
Dolphin International Bhd has won a RM7.2 million contract to supply construction materials for the upgrading of a train cargo terminal in Padang Besar, Perlis.
In a stock exchange filing today, the group said its wholly-owned subsidiary, Dolphin Construction Sdn Bhd, accepted the award from Syarqiah Holdings Sdn Bhd.
The job involves the supply of concrete, steel, skim coat, pipe culvert, floor tiles, building furnishing and other construction materials for upgrading the facilities of the terminal.
The contract also includes the construction of a three-storey office building, improving the train tracks, the yard container, and the entrance and exit lane for container trucks.
Bumi Armada Bhd said it has received notice on the appointment of a manager to oversee the sale and disposal of crude oil stored on its Armada Perdana floating production storage and offloading.
"The company wishes to announce that on Oct 18, 2018, the United States Bankruptcy Court for the Southern District of Texas granted an agreed order that, among other things, provides for the consensual appointment of a Receiver/Manager in Nigeria over Erin Petroleum Nigeria Ltd (EPNL) to oversee the sale and disposal of the crude oil stored on the Armada Perdana FPSO," it said.
It said the order was obtained following the bankruptcy filing by EPNL with the subsequent conversion of the case to a liquidation proceeding.
The order provides that a portion of the proceeds from the sale of the crude oil which amounts to US$8.5 million (RM35 million) shall be used for the partial settlement of the outstanding amounts due from EPNL to Bumi Armada's unit Bumi Armada (Singapore) Pte Ltd (BASPL) and Armada Oyo Ltd for the provision of services under the Operational and Maintenance Services contract and Bareboat Charterparty contract.
It said the group will continue to provide updates from time to time on any further material developments regarding the Armada Perdana FPSO.
On April 17, Bumi Armada said BASPL received notice from EPNL about an alleged "force majeure event" and a request for an orderly shutdown of the operations of Armada Perdana.
BASPL had also received a notice of seizure of goods from a third party, stating that crude oil product to be produced and stored on Armada Perdana has been seized or attached by a writ of attachment issued by a court in Lagos, Nigeria.
Since last June, Bumi Armada has suspended operations on Armada Perdana due to delayed payments from EPNL.
My E.G. Services Bhd (MyEG) is teaming up with Universiti Malaya (UM) to promote and develop blockchain research, as well as implement an e-wallet on its campus.
"The collaboration may include but not be limited to knowledge exchange and mutual consultations (relating) to the organising of events, conferences and education activities in the fields of blockchain and e-wallet implementation," the group said.
On top of that, the group will work with UM to develop and implement educational material, promote awareness events, organise joint research projects and support talent development programmes in these fields.
It will also work with the university on the development and delivery of marketing and educational campaigns and materials on the benefits of blockchain and e-wallet technology, MyEG said. This is targeted at creating stakeholder awareness, consideration and demand.
"The parties themselves will bear any costs that arise during the implementation of the MoU, unless otherwise agreed for each individual case and will be agreed upon in separate contracts," MyEG said without elaborating.
The MoU is valid for a five-year period and is subject to revision upon mutual agreement, it added while its earnings and net assets per share for its financial year ending Sept 30, 2019 are not expected to be materially affected by the signing of the MoU.