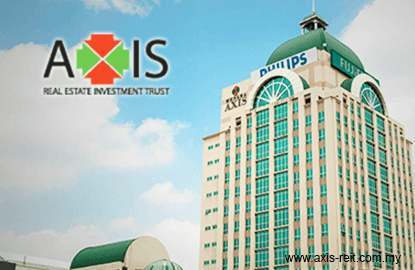 KUALA LUMPUR (May 23): Axis Real Estate Investment Trust (REIT) has proposed to acquire a warehouse facility in Pasir Gudang, Johor, for RM33 million cash. This will increase the total assets under the trust's management to RM2.19 billion.
In a filing with Bursa Malaysia today, Axis REIT Managers Sdn Bhd, the manager of the trust, said the trust will be acquiring the facility in the Pasir Gudang Industrial Area from Orientant Int Sdn Bhd.
The property, located within Iskandar Malaysia, is a parcel of 2.51 acres of industrial land together with a single-storey warehouse building and other ancillary buildings erected on it.
The property is tenanted by Kerry Ingredients (M) Sdn Bhd for a five-year lease ending Jan 14, 2019 with a renewal option already exercised for an additional two years till 2021.
Axis REIT Managers said Kerry Ingredients is a private limited company with principal activities in the manufacturing of speciality lipid powders, cheese and dairy powders, snack seasonings, batters and coatings for the food ingredient industry.
The acquisition price of RM33 million is below market price of RM34 million, said Axis REIT.
"We are extremely pleased with the acquisition of this high yielding asset that will provide the fund with a stable income stream and contribute positively towards its earnings," said Axis REIT Managers chief executive officer and finance director Leong Kit May.
She said that the acquisition is consistent with the investment objectives and strategy of the trust and will be accretive to Axis REIT's distributable income.
The target completion of the property is by the end of third quarter of 2016, which will increase the number of properties from 38 to 39.
The proposed acquisition is expected to contribute positively to the earnings of the fund for the financial year ending Dec 31, 2016 (FY16).
Shares of Axis REIT closed unchanged at RM1.65 today, with 474,000 shares traded, for a market capitalisation of RM1.82 billion.