This article first appeared in The Edge Malaysia Weekly, on February 17, 2020 - February 23, 2020.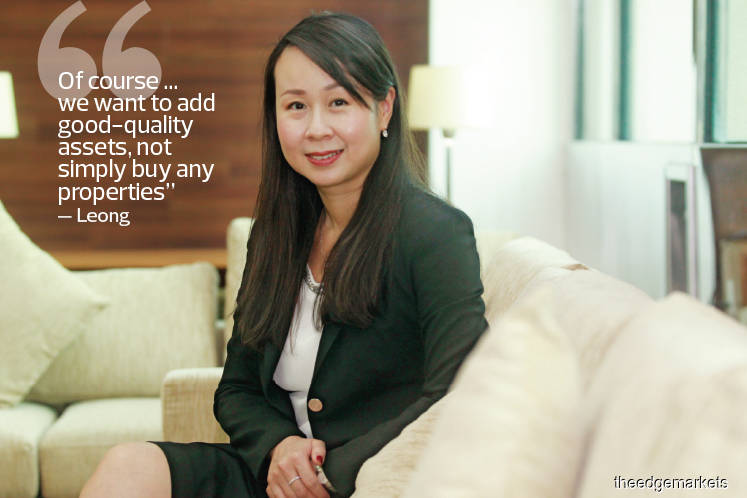 Photo by Mohd Izwan Mohd Nazam/The Edge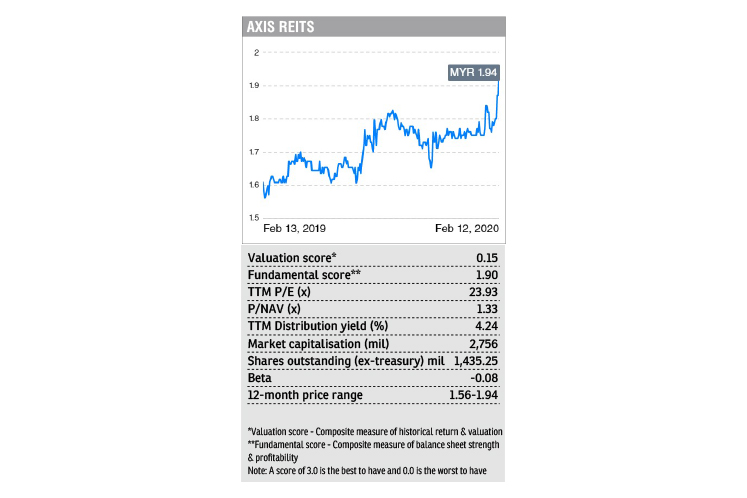 IT took more than a decade for Axis Real Estate Investment Trust (Axis REIT) to grow its portfolio to RM3 billion. Now, Axis REIT Managers Bhd CEO Leong Kit May aims to grow the trust's portfolio to RM5 billion within five years.
In its drive to almost double the trust's portfolio, however, Axis REIT Managers will still focus on quality assets — those strategically located in seaports, airports and connected by highways, says Leong in an exclusive interview with The Edge.
"We have always wanted to improve and increase the portfolio size to RM5 billion. But, of course, when we want to add properties, we want to add good-quality assets, not simply buy any properties," says Leong.
Axis REIT Managers has lined up RM135 million worth of properties to be acquired this year. In addition, the trust can develop up to RM415 million — 15% of its portfolio — worth of assets concurrently.
Last year, Axis REIT signed up to acquire RM288 million worth of industrial and logistics properties across the country. The seven properties it is acquiring will take the number of assets under management (AUM) to 48 this year.
Meanwhile, the capital management exercise undertaken last year provides Axis REIT with headroom to gear up to fund future development and acquisitions. As at end-2019, Axis REIT's net gearing had fallen to 29% from about 40% via the capital-raising exercise.
To recap, Axis REIT raised RM276.66 million last October when it placed out 160.85 million new units to local and foreign institutional funds. In November, the trust placed out another 37.12 million new units, raising RM63.84 million.
The proceeds were used to reduce its borrowings to RM886 million as at Dec 31, 2019. Its total unitholders' funds amounted to RM2.08 billion and cash and bank balances stood at RM52.55 million.
With the seven new properties that will be acquired within the first half this year, the trust's net gearing will increase to around 35%, says Leong, adding that it prefers to maintain the ratio at 30% to 40%.
A REIT's net gearing is capped at 50% of its total unitholders' funds under the rules governing the asset class.
"So, we still have huge headroom to continue to grow," says Leong, adding that, even if the trust acquired another RM135 million worth of properties financed by borrowings, the REIT's net gearing level would still be within the comfort level.
Asked whether the slowing global economy, hampered by the COVID-19 outbreak, as well as the ongoing trade dispute between the world's major economies will have an impact on demand for industrial space in Malaysia, Leong is still optimistic.
She says Malaysia has proven time and time again to be able to attract foreign direct investments, which will continue to drive demand for industrial space. The booming e-commerce sector will also drive demand for logistics space in the country, she adds.
"There are certain segments of the economy that are growing, and there are opportunities for us to grow in that particular segment. Of course, e-commerce is growing and the requirement for warehousing space is very positive.
"On top of that, we are seeing potential from the US-China trade war. Some manufacturers in China are looking to move some operations out of the country, and Malaysia could be one of the options for them to move to," says Leong.
The healthy demand for industrial and logistics space can be seen in the continued high occupancy rate of Axis REIT's facilities — 92% as at end-2019. The fund has a weighted average lease expiry of six years.
This year, the leases of 17.7% of Axis REIT's total net lettable area, or 1.68 million sq ft, are expiring. Judging from the group's lease take-up rate of 96% for its lease-expired spaces last year, Leong says she is confident that the same level can be achieved this year.
She qualifies that even though the entire portfolio's occupancy rate is 92%, the warehouse logistics and manufacturing facilities type of assets are actually about 98% occupied, signifying the strong demand for industrial assets.
Part of the REIT's strategy in growing its portfolio size to RM5 billion is to undertake more built-to-suit developments, The Edge understands. Leong says built-to-suit developments bring extra value to the fund, as the market value of the facilities built is often higher.
This will enhance the fund's earnings, as it will be able to recog­nise market valuation gains. In the financial year ended Dec 31, 2019 (FY2019), Axis REIT recognised about RM100 million of market valuation gains across its portfolio.
"We have recognised another RM30 million valuation gain from the Nestlé Distribution Centre property. Then, when we developed the Subang Aerotech Centre, our cost was only about RM70 million. Upon completion, the valuation is close to RM90 million," says Leong.
Last year, Axis REIT completed the development of Axis Aerotech Centre @ Subang, a built-to-suit facility for UPECA Aerotech Sdn Bhd.
UPECA signed a fixed-term lease of 20 years with an option of a 12-year extension, commencing on Dec 16, 2018.  In the logistics sector, Axis REIT has also completed a built-to-suit facility for FedEx in Batu Kawan, Penang, for RM15.77 million.
The first built-to-suit project that Axis REIT developed was the Nestlé Distribution Centre, which is part of the Axis Mega Distribution Centre (Axis DC) in Klang. The Nestlé facility was developed at a cost of about RM210 million and completed in 2017.
Axis REIT is in the process of developing the second phase — a 500,000 sq ft built-to-suit warehouse — of the Axis DC. Together with the Nestlé DC, the Axis DC will have more than one million sq ft of warehousing space in total.
Leong says Axis REIT Managers is negotiating pre-commitment leases with several partners for the Axis DC Phase 2.  
"Given the space of the site — 500,000 sq ft — it takes time, as there are some considerations we have to handle. For any development of that scale, we definitely need to have a pre-commitment … before we start construction," she says.
In FY2019, Axis REIT's net income grew 35% to RM209.24 million year on year on the back of higher net property and investment income of RM283.93 million. Distributable realised income of RM115.18 million was up 1.53% y-o-y.
During the year, Axis REIT distributed RM131.3 million to its unitholders, including the payment of final income distribution per unit of 2.45 sen for FY2018 on Feb 28, 2019.
Including the dividend that was declared earlier in the year, the total DPU for FY2019 works out to 9.26 sen, up 6% y-o-y. Leong aspires to achieve the same growth in DPU for FY2020.
Based on the unit price range in the past year, Axis REIT's dividend yield comes in at 4.87% to 5.5%. Over the same period, its unit price has risen 6.86% to close last Tuesday at RM1.87, for a market capitalisation of RM2.7 billion.