This article first appeared in The Edge Malaysia Weekly, on May 14, 2018 - May 20, 2018.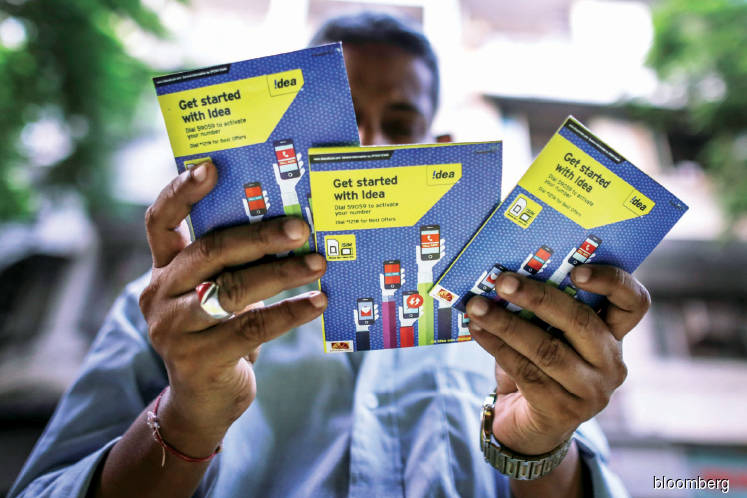 AXIATA Group Bhd appears to be caught between a rock and a hard place when it comes to its investment in loss-making India associate Idea Cellular Ltd. Idea's share price has plunged more than 60% since Axiata emerged as a strategic investor. It acquired 19.96% equity interest in the mobile network operator in 2008, and a divestment of the stake would likely result in substantial losses.
Talk of a potential disposal has been making the rounds because of the continuing dilution of Axiata's stake due to several preferential share issuances ahead of Idea's proposed merger with Vodafone India Ltd.
For Axiata's financial year ended Dec 31, 2017 (FY2017), its share of losses from Idea was RM450.5 million — compared to a profit of RM65 million a year earlier — weighed on the former's financial performance. For its fourth quarter ended March 31 (4QFY2018), Idea was in the red for a sixth consecutive quarter amid a price war among telcos in India.
Axiata's share of profit from Idea grew from RM99.88 million in FY2012 to RM368.77 million in FY2015, accounting for 11% of the group's pre-tax profit for the year. Axiata's share of profit declined to RM65.07 million in FY2016 and slipped into the red in FY2017 and its share of the loss amounted to RM450.46 million.
The group has not received any dividends from Idea for the past two financial years, since RM28.34 million payout in FY2015.
In 2008, TM International Bhd — Axiata's iteration prior to its demerger from Telekom Malaysia Bhd — signed a deal with Idea, Aditya Birla Group and Spice Communications Ltd, which allowed TM International to expand its footprint in India.
The deal involved the subscription of 14.99% equity interest in Idea for INR72.95 billion (RM5.54 billion at the time) or INR156.96 per share, before seeing its stake increase to over 19.96% following the merger of Idea and Spice.
However, Idea's share price has been on a downward trend over the past three years, after peaking at an adjusted price of about INR180 in March 2015, and it has since plunged 67% to INR51.20 at the time of writing.
If Axiata were to dispose of its stake in Idea, it would certainly be at a loss.
On the other hand, if the group were to hold on to its stake in the hope of better times ahead, it remains to be seen whether Idea will succeed in the tough conditions brought about by the entry of a highly disruptive mobile network operator.
Enter Jio, fierce competition
Reliance Jio Infocomm Ltd, or Jio, is a mobile network operator owned by Reliance Industries Ltd — a conglomerate run by Indian billionaire Mukesh Ambani — which was commercially launched in September 2016.
Within the first month, the operator said it had acquired about 16 million subscribers and it went on to cross the 50 million mark 83 days after launching, making it the fastest ramp-up by any mobile network operator anywhere in the world.
By end-2017, Jio was the fourth largest telco in India with about 160 million subscribers, or 16.43% of market share, after Bharti Airtel (23.39%), Vodafone (17.87%) and Idea (16.7%).
Part of the reason behind Jio's early success was its strategy to go straight into 4G long-term evolution (LTE) services — foregoing the need for legacy infrastructure for 2G, 3G and voice services — as well as its move to undercut its peers, which sparked a price war among the Indian telcos.
Before its launch in 2016, Jio invested heavily in the rollout of 4G LTE network from 2014 to 2016, deeply disrupting the existing operators in the market, which traditionally relied on the existing dated infrastructure.
Jio's move forced the hand of the other big players, resulting in a sharp increase in capital investments for the sector as the incumbents started rolling out data networks. On the other hand, the smaller players that did not have deep pockets were forced to exit, triggering a consolidation of India's telco industry.
Operators such as Tata, Reliance Communications and Telenor India exited their businesses, while others, such as Idea and Vodafone,  opted for mergers and acquisitions in a bid to create scale and drive efficiencies.
More recently, Aircel — one of the smaller players that control 3.5% of telco industry revenues — announced that it had filed for bankruptcy in February. The company had 85 million subscribers as at end-2017, commanding more than a quarter of the market share of the smaller operators.
The largest player by market share, Bharti Airtel Ltd, which is 36%-owned by Singapore Telecommunications Ltd, was also impacted by the tough conditions in India, with the group reporting its first net loss in 15 years for its fourth quarter ended March 31, 2018.
In view of the pressure on incumbent players and the consolidation of the market, observers expect three survivors to be left by 2020, namely Bharti Airtel, Reliance Jio and the Vodafone-Idea merged entity.
Vodafone-Idea mega merger
While it is obvious that the disruption in India's market was brought about by Jio, Vodafone Plc CEO Vittorio Colao last year said Jio was not the main reason for the merger. He said the US$23 billion merger was based on business fundamentals as Vodafone and Idea had complementary assets in different markets — Vodafone in metropolitan areas and Idea in rural markets.
The merger will create the largest service provider in the country with a subscriber base of 400 million users and a total market share of 35%.
While the No 1 position sounds grand,  Axiata has had to take in some of the losses from the lower worth in the value of Idea shares carried in its books.
Axiata had so far only provided guidance on part of the decline in the value of Idea shares carried in its books and how that could hit earnings.  
This is in porportion to the dilutive impact of its non-participation in the Idea preferential share issuance that has  reduced Axiata's stake in Idea from 18.1% to 16.34%.
Axiata's stake in Idea would be further diluted to below 10% once Idea's merger with Vodafone is completed later this year.  
With Idea's share price down some 40% this year, further writedowns in the carrying value of the Idea shares in its books is likely to take place.
Detailed guidance on the status of Axiata's investment in Idea is likely one question investors would want answers to in the upcoming annual general meeting on May 23.
Save by subscribing to us for your print and/or digital copy.
P/S: The Edge is also available on Apple's AppStore and Androids' Google Play.