This article first appeared in The Edge Malaysia Weekly, on June 4, 2018 - June 10, 2018.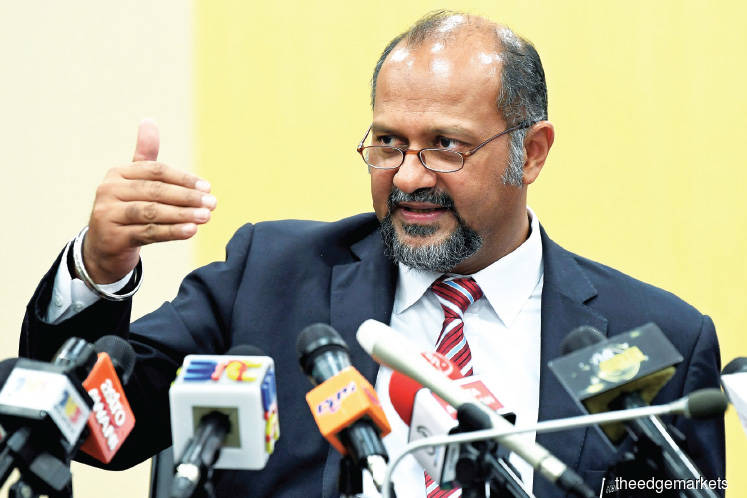 THOSE who are old enough might recall that in the 1990s and early 2000s — the good old days of Malaysia's free-to-air (FTA) television — the likes of Radio Televisyen Malaysia (RTM) and TV3 were broadcasting all the most-watched world sporting events.
Without having to pay a single sen, Malaysians could watch the English Premier League, UEFA Champions League and Formula One on their traditional analog TV sets. Before tobacco advertising was banned in the country, Dunhill was the major sponsor of these events and the main advertiser of the FTA channels.
However, as pay TV service providers, such as Astro Malaysia Holdings Bhd, emerged in the late 1990s, they began to chip away the market share of FTA TV broadcasters. The loss of viewership probably led to the loss in advertising revenue which, in turn, may have led to the FTA channels stopping the live broadcast of major sporting tournaments.
The FTA channels — TV1 and TV2, as well as Media Prima Bhd's TV3, NTV7, 8TV and Channel 9 — continue to have reach, having been also included in the offerings of pay TV operators such as Astro and HyppTV, which is owned by Telekom Malaysia Bhd. RTM's viewership numbers, however, need a revival.
Last week, Minister of Communications and Multimedia Gobind Singh Deo made a rather surprising announcement that the Cabinet had approved the live broadcast of 2018 Fifa World Cup matches on state-owned RTM.
The international football tournament will take place in Russia from June 14 to July 15, with 64 matches in total. Forty-one matches will be aired on RTM, out of which 27 will be live telecasts and the rest, recorded and broadcast later.
Gobind revealed that the cost of televising the 41 matches was RM30 million, and RM15 million of corporate sponsorship had been obtained so far.
"This will be a platform for RTM to do the telecast, so that all Malaysians can watch it," said the Puchong Member of Parliament.
Some quarters reckon Gobind may have big plans in mind, namely reviving RTM and making it popular again.
Based on data from the Ministry of Finance, the budget allocation for RTM is RM350.12 million this year compared with RM324.35 million last year and RM403.11 million in 2016.
Interestingly, Gobind had recently urged RTM to project a new and more aggressive image in six months' time to attract more viewers.
He said the change was necessary to ensure that the main television station would be able to compete with private TV stations, including those on the international level.
"What we broadcast to the people is very important as it patterns the mindset of the people. Therefore, we have to look at the image of RTM itself. Many have given me feedback that RTM needs to make a drastic change," said Gobind.
To meet this objective, it needs to focus on content that is fresher, faster as well as more transparent and accurate to meet the current needs of viewers, he added.
Recognising RTM as a government agency, Gobind said the live telecast of World Cup matches would increase the revenue and viewership of the national broadcaster. "I think this is one of the ways in which we can promote RTM."
So, is Gobind, or rather the Ministry of Communications and Multimedia, trying to revive RTM? Is it a sleeping giant that is waiting to be awakened?
According to Malaysian Digital Asso­ciation president Serm Teck Choon, reviving RTM, or agencies and entities related to communications and multimedia in Malaysia, is one of Gobind's agendas.
"I believe this (the broadcast of World Cup 2018) is just a starting point for the government to make RTM great again," he says, adding that Gobind is benchmarking the broadcaster against CNN and Al Jazeera "in term of how these two companies provide interesting content to attract higher viewership".
Serm, however, believes it is too early to speculate on whether RTM could pose a threat to Astro because realistically, deep pockets are needed to provide and produce quality content.
"We all know that content is king. That's why companies like Netflix plan to spend more than US$8 billion on content in 2018. Astro is a company with a market capitalisation of RM7.5 billion and its efforts in building up what it is today in the last two decades should not be underestimated," he stresses.
An analyst with UOB Kay Hian concurs, saying, "Astro's strength is its content. It buys it from external parties but it also produces its own content. If RTM is allowed to compete on the same level, why not? However, whether it has the financial muscle and competency is another question."
Another media analyst says RTM has not been doing well for a long time, and Media Prima is a better-run FTA TV operator.
"I wouldn't go as far as to say that RTM is a sleeping giant. Even if the new government is keen to revive RTM, it may not have the war chest to be able to give Astro a good fight," she says.
Certainly, the government does not appear to have a big war chest given the whopping RM1 trillion national debt it needs to resolve. That said, one would agree that the live broadcast of the World Cup would entice many to switch to RTM's channels once again. Should it continue to broadcast more sporting events while improving its content, more people may tune in given that it is free.
Save by subscribing to us for your print and/or digital copy.
P/S: The Edge is also available on Apple's AppStore and Androids' Google Play.