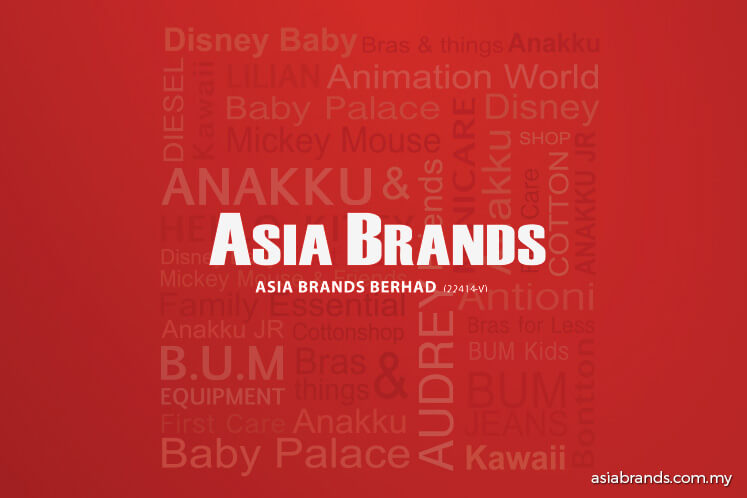 KUALA LUMPUR (July 31): Asia Brands Bhd's external auditor has pointed out a material uncertainty with regards to its financial statements for the financial year ended March 31, 2017 (FY17), which could raise doubt over the group's ability to continue as a going concern.
In a filing with Bursa Malaysia, Asia Brands said Messrs UHY noted the group's statements on its net loss and net current liabilities for FY17, which stood at RM58.49 million and RM47.25 million respectively.
The auditor said the group had net current liabilities due to the reclassification of Islamic Medium Term Notes (IMTN) to current liability as a result of non-compliance with financial covenants as required in IMTN. The non-compliance of financial covenants as required is mainly due to losses incurred, it said.
"These events or conditions, along with other matters, indicate that there is a material uncertainty on the group's and the company's ability to continue as a going concern. Our opinion is not modified in respect of this matter," Messrs UHY said.
Meanwhile, Asia Brands said it is currently exploring various options to address these conditions, including further streamlining of operations to achieve cost savings and increasing product fairs and products range to achieve higher revenue and better margins.
In view of this, Messrs UHY said the appropriateness of preparing the financial statements on a going concern basis is dependent upon the successful execution of the two abovementioned plans, continued support of banks and its holding company and the achievement of future profitable operations by the group.
"Accordingly, the financial statements of the group and of the company do not include any adjustments relating to the recoverability and classification of recorded assets amounts or to amounts and classification of liabilities that may be necessary should the going concern basis for the preparation of the financial statements of the group and of the company be not appropriate," the external auditor said.
Nevertheless, it has expressed unqualified audit opinion on the financial statements of Asia Brands for FY17.
Asia Brands, meanwhile, said it has started the process of addressing the material uncertainty related to going concern and has started showing positive results and generating positive cash flow.
"The better financial performance is a result of streamlining our business by disposing of lossmaking divisions and re-channelling management time and energy to turn around the remaining two divisions," the group said.
The group had also put in place initiatives to temporary lease 'pop-up' stores in order to take advantage of retail oversupply and availability of space in shopping malls, it said.
Asia Brands is expecting to address the issue in nine months, it said.