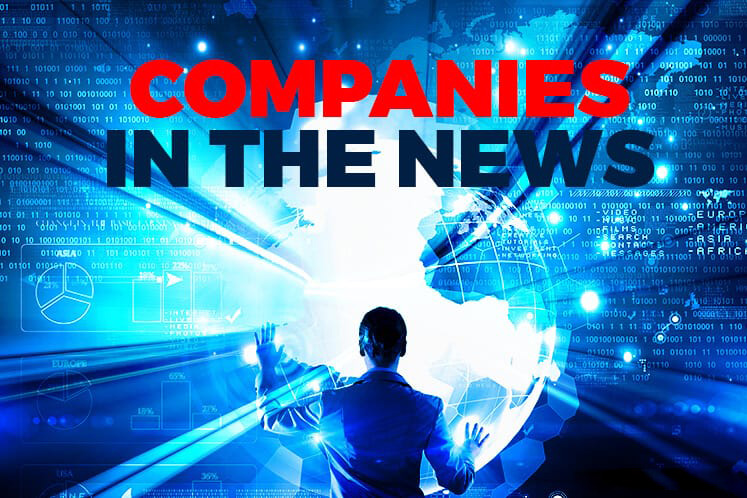 KUALA LUMPUR (Sept 12): Based on corporate announcements and news flow today, companies in focus tomorrow could include Astro Malaysia Holdings Bhd, Sunway Bhd, Straits Inter Logistics Bhd, Destini Bhd and Maxis Bhd.
Astro Malaysia Holdings Bhd's net profit for the second quarter ended July 31, 2019 swelled to RM169.34 million, 10 times more than the RM16.58 million a year ago on the back of lower finance costs and higher earnings before interest, tax, depreciation and amortisation (EBITDA).
The group said earnings per share rose to 3.24 sen from 0.32 sen last year.
Astro declared a second interim dividend of two sen a share, with an entitlement date of Sept 30 and payment on Oct 11, bringing total dividend payout for the first half of the year  to four sen from five sen a year ago.
Despite the increase in quarterly net profit, revenue slid 12.71% to RM1.24 billion from RM1.42 billion last year, on lower subscription revenue, licensing income, advertising revenue and merchandise sales.
Net profit for 1HFY20 jumped 80.62% y-o-y to RM345.53 million, from RM191.31 million in the corresponding period last year, translating into a higher cumulative EPS of 6.63 sen, from 3.67 sen last year.
Half-year revenue declined 9.41% to RM2.47 billion from RM2.73 billion.
Sunway Bhd's indirectly-owned joint venture company Tianjin Eco-City Sunway Property Development Co Ltd has submitted a winning bid of RMB438 million (about RM257.78 milllion) to acquire a parcel of land in Tianjin, China.
The group said it plans to embark on a residential development on the land — which measures about 27,712.5 sq m (6.85 acres) — named Sunway Garden Phase 3 which consists of seven blocks of condominiums.
The development is expected to start in May 2020 and targeted to be completed by May 2023 and will contribute positively to the group's earnings for the financial year 2023 onwards.
Straits Inter Logistics Bhd's unit has signed a Memorandum of Agreement to acquire a 13-year-old oil tanker named Poseidon for a total of US$4.84 million or RM20.45 million cash from Hibiscus Fuels Ltd.
The proposed acquisition is in line with the group's strategy to enlarge its asset base, in view of the higher business volume and the expansion phase it currently experiences, Straits said.
In an exchange filing, Straits said the MoA was signed between SMF Ixora Ltd and Hibiscus Fuels. SMF Ixora is a wholly-owned subsidiary of Straits Marine Fuel & Energy Sdn Bhd, which in turn is a 67%-owned subsidiary company of the group.
Destini Bhd has proposed a private placement to raise approximately RM49.67 million in funds for the repayment of bank borrowings and working capital purposes.
The engineering group intends to issue up to 231.05 million shares for the placement exercise, representing up to 20% of the total number of issued shares in Destini.
Based on an indicative issue price of 21.5 sen per placement share, the exercise is expected to raise RM49.67 million in proceeds, of which RM21 million will be used to repay bank borrowings.
Meanwhile, RM22 million will go towards funding its existing projects, RM5 million for new projects, while RM1.39 million has been earmarked for general requirements.
The balance of the proceeds will be used to cover the estimated expenses for the private placement.
Maxis Bhd has forged a strategic partnership with a global technology leader, Cisco, to jointly deliver a wide range of market-leading technologies for businesses in Malaysia.
The first of many planned joint offerings from this partnership for the Malaysian market is the Managed Software-Defined Wide Area Network (SD-WAN) solution for business.
Maxis' chief enterprise business officer Paul McManus said the collaboration would empower enterprises in embracing the significant benefits of the next generation of digital network solutions.
"This software-defined networking solution provides complete flexibility and enables enterprises to grow as their needs evolve in a digital, cloud and data-driven world," he said in a statement.