This article first appeared in The Edge Malaysia Weekly, on June 15, 2020 - June 21, 2020.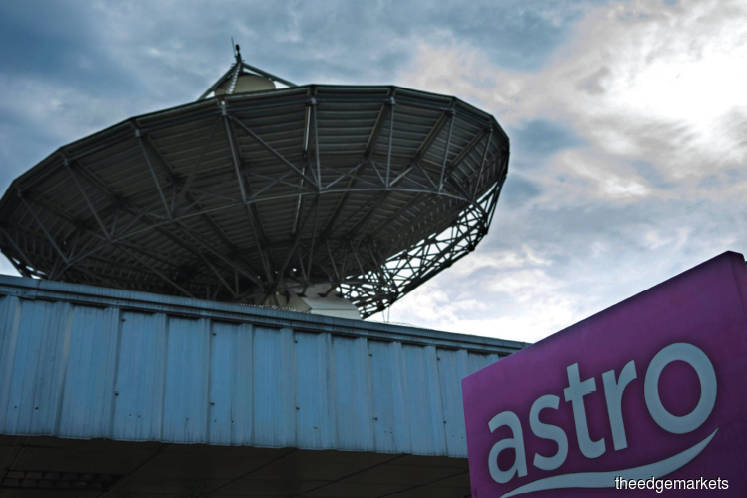 MALAYSIA's premier pay-TV service provider Astro Malaysia Holdings Bhd is seen to serve mainly the more affluent and urbanites but its group CEO Henry Tan argues that it also plays a role in harnessing the country's and its own competitive advantage in the learning and creative space.
In addition, Astro is looking to play a greater role in catering for the needs and fancies of the 5.7 million households and individuals that it counts as TV subscribers. This, he says, can be done by leveraging its knowledge of the preferences of its customers, who comprise 75% of Malaysian households as well as its network of content providers and marketers.
Even before Covid-19 forced many businesses to shutter and confined working adults and students alike to their homes, Tan and his team were already courting partners to come up with programmes as well as activities that could serve the growing need for life-long learning and professional upskilling to adapt to the new digital economy. Its customers with schoolgoing children would have noticed promotions such as coding lessons for all age groups, including adults.
"Coding is very important in the new world, and the course is designed to make it easy for children to understand. We recognise that many parents are concerned about skill sets — whether what they are learning today can take their children and themselves into the future. We are working on a full suite of offerings and most of them are designed for the digital economy, to help Malaysians so that they can easily upskill and reskill themselves with new skills and know-how," Tan tells The Edge in an interview.
"Right now, we are talking to many partners of repute who will also have the learning materials and who will translate this into different languages. Our goal is to take this to a bigger market and use the reach of TV and radio and digital that we have, including the creativity and talent pool that we have, to help Malaysians move into the new digital world," Tan says, adding that more information will be announced once plans are firmed up.
As a business proposition, the idea is simple: Astro is able to negotiate a better-priced package for its customers by pooling together a sizeable enough base to get a bigger discount than if its subscribers were to sign up with the respective content providers individually. The logic also applies to other products and services from promotions on a bank's fixed deposit rates to discounts on a large-screen LCD screen or premium home theatre system. Concert tickets, the opportunity to win back-stage passes, invitations to live recordings, a chance to meet one's favourite celebrity or buy limited-edition merchandise were also potential sweeteners for its loyal customers, thanks to Astro's clout in the entertainment world.
All this helps Astro build on its relationship with subscribers and, hopefully, retain them. Investors have grown increasingly concerned that these subscribers might be tempted to terminate their subscriptions as there has been a flurry of streaming services offering a myriad of more bite-sized content at lower prices.
For example, Astro's long-time content partner HBO Asia, which only made available its HBO Go streaming service to Astro customers with a Movie Pack when it launched in Malaysia in May 2019, is also offering it to non-Astro subscribers, who will have to pay a bit more at RM34.90 a month versus RM25 for Astro subscribers.
Last November, iQIYI, Chinese internet search giant Baidu Inc's video streaming affiliate, chose Astro as its partner for the first launch of its video streaming app outside China, with a discount package offered to Astro subscribers after the initial free trial period.
There will be more over-the-top (OTT) application offerings available to Astro subscribers as more of its long-time partners launch their individual platforms.
Tan, however, is unfazed by this prospect. "Our OTT offerings will double or triple by this time next year," he says, without confirming or denying big names like Disney+ that launched in the US last November and already accumulated over 54.5 million subscribers in May. Apart from the Astro Go app, Astro's two other OTT bundled offerings are HBO Go and iQIYI currently.
Content is king
While global streaming behemoth Netflix just booked its largest-ever quarterly subscriber increase of 15.77 million in 1Q2020 — many of whom signed up after lockdowns began around the world in March — to boost its global subscriber base to 182.9 million — Tan reckons the world is about to see another shake-up, precisely because there are so many OTT services in the market.
"This time next year, there will be many options and OTT [players] will have to compete among themselves too. In that kind of situation, being a standalone OTT may not be so attractive and partnerships become important. I think a lot of OTTs recognise that partnering with us would be a good option: We have a ready customer base, local content and a marketing and sales distribution platform. We can do the marketing, which is very costly. Marketing is not a one-time cost, it is ongoing, because you not only have to do marketing to acquire subscribers, you also have to do marketing to retain them," Tan adds, noting that most players shy away from talking about churn.
The challenge of catering for a diversified audience base in Malaysia is also another barrier for international OTT players. "In Malaysia, the content consumption mix is very 'rojak', meaning people want international, local and a mixed bag of other content. And the best solution is to combine the international and local; and our local content, distribution and ready customer base make us a very attractive partner," he says.
Exclusive content is a very expensive high-stakes game, with large names such as Netflix, WarnerMedia's HBO, Apple and Disney. The latter was in the midst of a global push of its OTT platform when its theme parks had to shutter because of the Covid-19 pandemic and it is working out how to operate in the new normal. Its Disney+, which is reportedly shopping for content to bolster its offerings, is not expected to be profitable for at least two years.
Netflix, which had planned to spend over US$17 billion (RM72.5 billion) on content at the start of 2020, still expects negative free cash flow of US$2.5 billion for the whole of this year despite reporting its first quarterly positive free cash flow in years in April. It had to delay the making of original content as Hollywood productions were halted because of the coronavirus. For FY2019, Netflix spent US$15 billion on content and reported US$3.3 billion negative free cash flow, although it showed an accounting profit while carrying a US$15 billion long-term debt.
Analysts have calculated that Netflix would need to raise its subscription price further to sustain its spending on original content but that will not be easy with more players entering the OTT fray. It is not expensive to switch out of one OTT platform to another in the chase for the next particularly attractive content, and that is another reason more investors have been wondering when and if streaming platforms can see meaningful profits.
Tan concurs that it is a constant challenge for content providers or aggregators to keep customers interested, and that is the reason Astro has in the past decade doubled its investment in local content from over RM200 million to RM400 million, with annual production hours of local content already exceeding 13,000 hours a year this year.
"There is a growing interest in Astro's original productions. We are deepening our commitment to co-produce Asian originals that can travel regionally for scale and reach," Tan says. He adds that its commitment to the local media industry supports more than 10,000 vendors across the value chain which, in turn, creates jobs.
Astro spent more than RM1.4 billion on content in the financial year ended Jan 31, 2020 (FY1/2020), slightly lower than RM1.8 billion in FY1/2019 when it had to pay for rights to the 2018 FIFA World Cup, according to notes in Astro's financial statements.
According to Tan, "about 25%" of content spending goes to producing original content and intellectual property (IP) for Astro.
Its Malay channels (Astro Ria, Prima and Warna) as well as some of its Chinese content are also being licensed to platforms in Singapore. Astro's children IP such as Didi & Friends, Cam & Leon and Omar & Hana are going global with content licensing deals in the US, Canada, Iran, Middle East and North Africa (MENA), Europe as well as Southeast Asia.
Its e-sports channel, eGG Network, is broadcast in eight countries and had been collaborating with top game developers and event organisers to organise e-sports tournaments in Asean, including the Kuala Lumpur Major.
Some of Astro's Chinese original shows are being shown on the iQIYI platform — a boon for local talent looking to reach the huge China market.
Opportunities for local talent to have greater regional exposure are opening up as many companies that have been investing in original content are keen to collaborate to, "produce bigger and better-funded shows for a wider audience", says Tan.
Astro has sold original content to Netflix such as its first Hong Kong drama series Demon's Path; authentic Asian food programmes such as Jason's Market Trails, Jason Can't Cook and Festive Foods; as well as Malaysian box office hit Hantu Kak Limah, which was co-produced with Astro Shaw Sdn Bhd. Astro Shaw co-produced action movie Polis Evo 2, which was also released in Indonesia. Astro also collaborated with Indonesia's Telkomsel video streaming app MAXstream to launch Nawangsih, a horror drama.
Astro will be leveraging the strength of its original vernacular content offering as well as its overall value proposition, and international content that is not exclusive will be priced lower, according to Tan. "We will take those savings and invest more in our own content and acquire and create more original IPs, a move that has proven to be pretty successful for us."
He is more concerned about rampant real-time piracy and its impact on the entire entertainment industry — not just Astro's own pay-TV subscription revenue.
"Many are not aware of the full implications of piracy. Piracy used to co-exist [in that] people were supplementing their entertainment with pirated content. They still had to buy [the pirated content]; there was a price tag. Today, piracy is different. Piracy has become mainstream and has replaced legitimate broadcasters or media operators to become the new mainstream entertainment. [Pirates] taking over the role of mainstream daily entertainment is something that I believe has yet to hit [the minds of policymakers, who will have] no idea what the population is watching because it is a black hole."
Reduced returns owing to piracy essentially hurt content producers, especially Malaysians striving to create good content to put the country on the world's stage. The social distancing rules that apply to movie theatres and live stage shows in the post-pandemic world could well prove to be another painful hit for the creative content industry.
Keeping subscribers and investors happy
People familiar with Astro would know that its offerings have expanded beyond catering to the premium and ultra-premium customer base as well as the middle-income professionals. For the more cost-conscious households and individuals, its NJOI free-to-view satellite TV service, which was launched in 2012, offers 29 TV channels, including Tutor TV, Astro Awani and Astro AEC, for free after a one-time installation fee of about RM400, with the option to buy additional content via prepaid top-ups.
Astro's headline average revenue per user remained steady at just under RM100 per month as at end-January 2020, up from RM89 as at end-2012.
While total TV customer base remained strong at 5.71 million as at end-January this year — nearly double the 3.07 million it had eight years ago as at end-January 2012 — our back-of-the-envelope calculations show that about two million of its customers today may be on the free-streaming NJOI platform.
Our back-of-the-envelope calculations also show that pay-TV subscribers likely peaked at about 3.9 million as at end-January 2017 but had slipped to about 3.7 million as at end-January this year.
Astro no longer discloses the split between NJOI and its regular pay-TV customers since FY1/2017.
Astro's pay-TV revenue peaked at about RM4.4 billion in FY1/2016 and FY1/2017 but had been declining at an average of 5.9% a year the past three years to RM3.6 billion in FY1/2020. TV subscription revenue makes up about 85% of its total TV revenue and is still 74% of total revenue even though Astro is growing other sources of revenues such as targeted advertising, original content and home-shopping.
Astro allowed free viewing of all its channels through May 12 and promoted groceries to its home-shopping users during the Movement Control Order (MCO) period. Revenue from home-shopping contributed about 7.5% to group revenue in FY1/2020 but that venture has yet to be profitable, booking RM15.8 million pre-tax losses in the fiscal year just ended.
Astro is set to release its first-quarter results ended April 30, 2020 (1QFY1/2021) on June 18 — the first quarter with data during Malaysia's MCO that ran from March 18 to May 3. The results would not have included the impact of the RM20 per month special rebate Astro is giving its Sports Pack customers in the June and July bill, as no live sports were played for two months during the pandemic.
Investors and analysts are likely waiting to see whether Astro will continue to pay the same quantum of quarterly dividend going forward.
When announcing its fourth-quarter results for FY1/2020 on March 25, Astro reduced its dividend payout to 60%, a departure from its policy of a 75% payout, to conserve liquidity in light of the Covid-19 pandemic.
Even so, a dividend per share of 7.5 sen for the full year reflects more than 7% yield with its share price hovering at just under RM1 at the time of writing. At current levels, Astro shares will continue to reflect at least 4% yield if the group chooses to pay a quarterly dividend of one sen every quarter in FY1/2021, which works out to about RM209 million — just over half of the RM391 million (7.5 sen per share) paid in FY1/2020 and RM469 million (nine sen per share) paid in FY1/2019, back-of-the-envelope calculations show. So far, the lowest quarterly dividend Astro has paid is 1.5 sen and the highest, three sen.
Without touching on the financials, Tan concurs that the industry is going through very challenging times but notes that Astro is also cognisant of its opportunity and responsibility to be part of nation-building amid the disruption.
"Over and above what others are going through, we have two extra problems: piracy and a weaker ringgit. A lot of our costs are in US dollars, be it technology or content. There are real headwinds, real challenges, real disruptions [to the industry]. Overall, I think we are still okay. Our content is still our biggest differentiator and strength," he says.