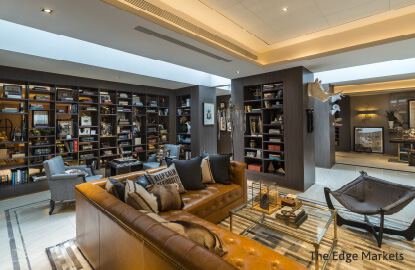 This article first appeared in
haven, The Edge Malaysia,
on Issue #82 December 2016 - February 2017.
A luxury suburban abode in Beijing is created based on the status of its potential owner
 
Walking into the bungalow located in Jade Garden, a new lush suburb 50km north of the city centre in Beiqijiazhen, Changping district, one can easily be forgiven for thinking that it is a movie set. The home with a 7,500sq ft built-up area boasts five storeys, four bedrooms, two living halls, a rooftop garden deck and a basement level.
Interior designer Chen Danling of Shanghai-based Archi Design Agency says the concept was inspired by the lifestyle and social standing she imagined the owner would have. "The storyline is based on the status of its potential owner — an adventurous and intellectual individual who has rather elite tastes and interests," describes Chen, who centred the overall concept on an Indiana Jones-esque ambience and drew visual cues from an archaeology museum. 
Nevertheless, each level has its own distinctive flair. On the ground floor where the main living room is located, modern furnishings are contrasted with exotic animal prints for a luxe contemporary feel. The double volume dining area has a similar style for a sense of continuity, with gold accents on the walls adding a warm, if unabashedly, opulent touch. This is balanced by the adjacent wet and dry kitchens, where the embellishments are kept to its soft furnishings. 
Focal points and visual layers are created through a clever use of lighting, such as chandeliers, as well as a play on materials, particularly in the upholstery. To give the decor coherence, Chen adopts shades of gold, cream, taupe and dark brown throughout each space. Arguably, the most exotic room and highlight of the house is the basement, which brings to mind a modern retro British-style library. Fencing gear adorns a wall in the living area. Floor-to-ceiling shelves function as partitions to break up the space into sections, like in a museum. In one of the sections, a custom-made dinosaur skeleton takes centre stage near the study table. 
Chen's "light on renovation, heavy on decoration" motto is depicted in the many mounted faux animal heads on every shelf and wall. They are highlighted by the natural sunlight coming in through a strip of glass ceiling, which also illuminates the art-lined hallway in the middle of the space.