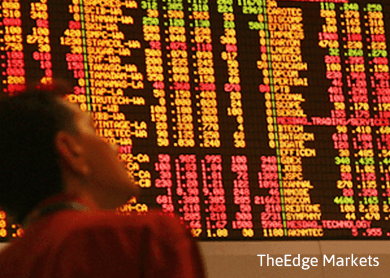 WELLINGTON/SYDNEY (Mar 4): Asian stocks fell, dragging down the regional benchmark index from an almost six-month high, as a strengthening yen weighed on Japanese exporters. Australian bonds fell after economic growth data, while crude oil traded above $50 a barrel.
The MSCI Asia Pacific Index declined 0.4 percent by 11:12 a.m. in Tokyo, while Japan's Topix lost 1 percent and Nissan Motor Co. sank 2.2 percent. Standard & Poor's 500 Index futures slipped 0.1 percent. The yen strengthened for a second day against the dollar. Australia's 10-year government bond yields climbed to a five-week high of 2.62 percent. U.S. oil traded at $50.70 a barrel as Saudi Arabia signaled stronger demand before data on U.S. inventories.
Global equities are trimming gains that have added almost $5 trillion of market value during the past six months amid a wave of monetary easing and signs of strength in the U.S. economy. Data on service industries from India to Europe and the U.S. are due today, while Chinese lawmakers are meeting in Beijing to discuss economic policies for the world's second- largest economy.
"The lack of fresh sparks has prompted investors to take profits and wait for new signals," Matthew Sherwood, the Sydney-based head of investment markets research at Perpetual Ltd., which manages about $21 billion, said by e-mail. The stock market "is starting to show signs of fatigue and is now lacking momentum as earnings downgrades begin to overpower the impact of increased monetary stimulus and an improving U.S. economy."
Stocks Slip
Japan's Topix fell for the first time in five days and the yen rose 0.2 percent against the dollar. The equity index was at its highest level since December 2007 on Tuesday. The Kospi declined 0.1 percent from a more than five-month high in Seoul, while Hong Kong's Hang Seng Index lost 0.3 percent.
The MSCI All-Country World Index fell for a second day, slipping 0.1 percent after February's 5.4 percent gain, its best monthly performance since 2012. The Nasdaq Composite Index retreated back below 5,000 points Tuesday after breaching that level for the first time in 15 years the day before.
The S&P/ASX 200 Index in Sydney fell 0.5 percent, while yields on bonds due in a decade climbed seven basis points to the highest level on a closing basis since Jan. 23.
China Meeting
The Australian economy expanded 0.5 percent in the fourth quarter from the previous three months, when it grew 0.4 percent. The third-quarter growth rate was revised up from 0.3 percent. Economists surveyed by Bloomberg News predicted a 0.6 percent gain for the last three months of 2014. The Reserve Bank of Australia unexpectedly refrained from cutting key interest rates for the second time this year on Tuesday.
The yuan gained about 0.1 percent to 6.2817 per dollar in offshore trading after Yi Gang, the Chinese central bank governor in charge of foreign exchange reserves management, said there was no "urgent need" to widen its trading band. A meeting of Chinese lawmakers -- the People's Political Consultative Conference -- is under way.
West Texas Intermediate crude rose 0.3 percent after climbing 1.9 percent on Tuesday.
Saudi Arabia, the world's largest crude exporter, increased the pricing terms for its Arab Light grade to Asia by the most in three years. The country drove OPEC's November decision to maintain output and defend market share against U.S. shale producers, exacerbating a glut that drove prices almost 50 percent lower in 2014.
U.S. oil stockpiles probably expanded by 3.95 million barrels last week, according to a Bloomberg News survey before an Energy Information Administration report due Wednesday.