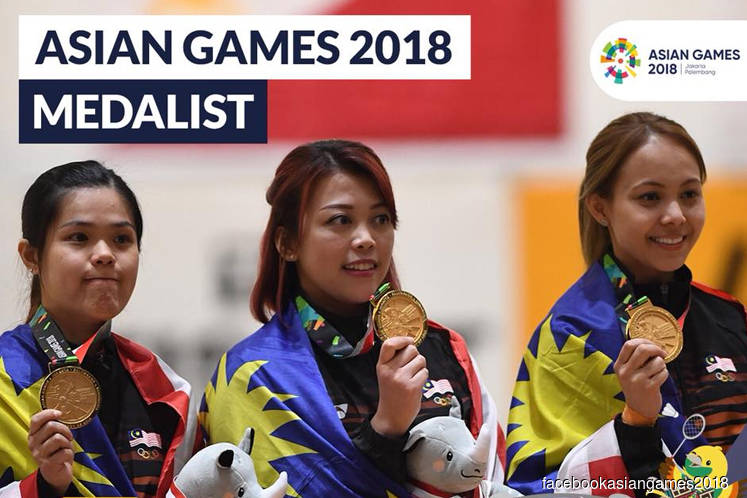 JAKARTA (Aug 23): Malaysia ended their gold medal drought on the fourth day of the 2018  Jakarta-Palembang Asian  Games when the  bowling women's trio clinched the elusive medal yesterday.
The national trio of Esther Cheah, Siti Safiyah Amirah Abdul Rahman, Syaidatul Afifah Badrul Hamidi also ended  Malaysia's 24 -year gold drought in the trios in the Asian Games after downing 4,326 pins at the Jakabaring Bowling Center in Palembang. 
The last time Malaysia won the gold in the event was at the 1994 edition in Hiroshima, Japan.
The Malaysian sepak takraw squad, meanwhile, bagged a silver in the men's regu team.
They lost 0-2 to traditional rivals  ​​​​​Thailand at Dewan Ranau, Jakabaring Sports Complex.  With the gold and silver and a bronze on the first day of competition, Malaysia are in 14th place in the medal tally.
Defending champions China remained supreme with a haul of  38 gold, 30 silver and 15 bronze  followed by Japan (20-23-25) while South Korea are in third place 
(11-15-23).
For the record, national taekwando athlete Yap Khim Wen had contributed the bronze medal in the women's Poomsae event on the first day of the Games (Aug 19).
Meanwhile, South Korean archery pair So Chaewon and Choi Yonghee created a new world record in the Compound mixed team event (144 arrows) with a score of 1,412 points.
They erased the previous record of 1,410 points set by Dutch duo Jody Vermeulen and Mike Schloesser at the Archery World Cup in Germany last month.
The fourth day of the Asian Games also witnessed an Asian Record set by the Chinese quartet in the mixed 4x100m medley with a time of 3 minutes 40.45 seconds, rewriting the previous record of 3:40:98 set by the Japanese earlier this month.
Apart from that, 12 new Asian Games records were created on the fourth day of the competition, with five in shooting, three in archery and four in swimming.
The Malaysian contingent will continue their medal hunt in several events today, including equestrian, shooting and bowling.
National equestrian athlete Mohd Qabil Ambak Mahamad Fathil who will take part in the final of the individual dressage event, is one of the gold medal prospects.
He had finished top in both of the qualifying rounds prior to this.