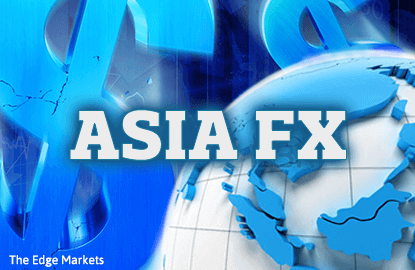 SINGAPORE/SHANGHAI (Jan 19): Most Asian currencies fell against the dollar on Thursday, after comments by Federal Reserve Chair Janet Yellen bolstered expectations for U.S. interest rates to head higher this year.
With the U.S. economy close to full employment and inflation headed toward the Fed's 2% goal, it "makes sense" for the U.S. central bank to gradually lift interest rates, Yellen said on Wednesday.
The Fed chair said she and other Fed policymakers expected to lift the key benchmark short-term rate "a few times a year" through 2019, putting it near the long-term sustainable rate of 3%. 
Yellen's comments serve as a reminder that the Fed's interest rate projections released in December signalled three interest rate hikes in 2017 and reinforces a bullish outlook for the dollar, said Christopher Wong, senior FX strategist for Maybank.
If incoming U.S. President Donald Trump delivers on his proposals for expansionary fiscal policies and tax cuts, U.S. growth and inflation are likely to pick up, Wong said.
"That should put more upside pressure on (U.S. interest) rates and U.S. dollar, going forward," he added. 
Most Asian currencies retreated on Thursday, with the South Korean won falling 0.8% and the Philippine peso slipping 0.3%.   
Yellen appeared to hedge her comments by saying that she expects the stronger dollar to continue to drag on U.S. exports, said Teppei Ino, an analyst for Bank of Tokyo-Mitsubishi UFJ in Singapore. 
But Yellen's comments on interest rates still had an impact on the market, especially since the Fed chair has been regarded as having slightly dovish views on policy, Ino said.
Ino added that the near-term outlook for Asian currencies is hard to gauge, due to uncertainty over what Trump might say when he takes office on Friday.
"It will be hard to tilt positions in one direction." 
Asian currencies have seen some choppy swings in the past couple of days. They had risen against the dollar earlier in the week, after Trump said in an interview that U.S. firms could not compete with China because the U.S. currency was too strong.
 
Chinese yuan
Short-term funding costs in China shot to their highest level in nearly 10 years on Thursday, on fears that liquidity was sharply tightening heading into the long Lunar New Year holidays at the end of the month.
The sudden surge in funding rates ahead of one of the heaviest cash demand periods of the year has forced traders with short positions against the yuan to bail out of their positions.
That has led to a solid strengthening in the beleaguered currency this week, though it dipped in early trade on Thursday on signs that state banks may be offering some additional yuan supplies. 
So far this week, the yuan has risen around 0.6% against the dollar.
CURRENCIES VS U.S. DOLLAR
Change on the day at 0405 GMT
| | | | |
| --- | --- | --- | --- |
| Currency | Latest bid | Previous day | Pct Move |
| Japan yen | 114.51 | 114.64 | +0.11 |
| Sing dlr | 1.4276 | 1.4295 | +0.13 |
| Taiwan dlr | 31.590 | 31.586 | -0.01 |
| Korean won | 1176.40 | 1166.70 | -0.82 |
| Baht | 35.38 | 35.30 | -0.22 |
| Peso | 49.930 | 49.790 | -0.28 |
| Rupiah | 13355 | 13340 | -0.11 |
| Rupee | 68.22 | 68.08 | -0.21 |
| Ringgit | 4.4495 | 4.4430 | -0.15 |
| Yuan | 6.8555 | 6.8432 | -0.18 |
Change so far in 2017
| | | | |
| --- | --- | --- | --- |
| Currency | Latest bid | End prev year | Pct Move |
| Japan yen | 114.51 | 117.07 | +2.24 |
| Sing dlr | 1.4276 | 1.4490 | +1.50 |
| Taiwan dlr | 31.590 | 32.279 | +2.18 |
| Korean won | 1176.40 | 1207.70 | +2.66 |
| Baht | 35.38 | 35.80 | +1.20 |
| Peso | 49.93 | 49.72 | -0.42 |
| Rupiah | 13355 | 13470 | +0.86 |
| Rupee | 68.22 | 67.92 | -0.44 |
| Ringgit | 4.4495 | 4.4845 | +0.79 |
| Yuan | 6.8555 | 6.9467 | +1.33 |