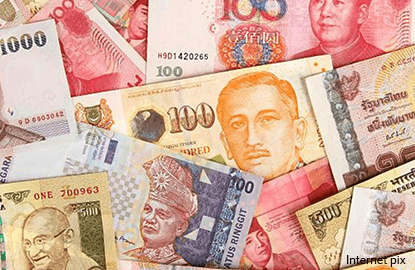 SINGAPORE (Feb 7): Asian currencies slipped on Tuesday, taking a breather from their recent rally, as concerns about France's presidential election and risks from European elections coming up this year dampened risk sentiment.
Some Asian currencies were weighed down by profit-taking in the wake of the gains seen since the start of 2017, traders and analysts said.
The Taiwan dollar slipped 0.2% to 31.003 per US dollar, pulling away from a 19-month high of 30.830 that had been set on Monday.
Most Asian currencies were weaker on the day, including the Chinese yuan, which sagged 0.2%.      
The South Korean won fell 0.6% to 1,144.3 per US dollar, slipping back from Monday's high of 1,135.6, which had been the won's strongest level in nearly three months.
Even with its drop on Tuesday, the won is still up 5.5% since the end of 2016.
The won seems to be running into some profit-taking after its recent gains, said Masashi Murata, currency strategist at Brown Brothers Harriman in Tokyo.
"Asian currencies have been on a roll recently, but there is heightened uncertainty about the outlook," Murata said, adding that long positions in the won were probably being unwound.    
Seoul-based traders said US-dollar-buying by offshore funds helped to weigh on the won.
Emerging Asian currencies have generally climbed versus the US dollar so far in 2017, as the greenback retreated on worries that US President Donald Trump may be focusing more on trade protectionism rather than reflationary fiscal policies.
The latest pullback in Asian currencies came amid a heightened focus on risks posed by the presidential election in France, where the far-right candidate Marine Le Pen has vowed to fight globalisation and take her country out of the euro zone.
"We think it's a very small chance at this point in time, but Marine Le Pen could potentially garner enough support to make a credible challenge in the French presidential elections," said Chang Wei Liang, FX strategist for Mizuho Bank in Singapore.
"Given her policy platform is to advocate for an exit from the euro zone... that's generating a lot of uncertainty and a bit of risk-off sentiment," he added.  
CURRENCIES VS US DOLLAR
Change on the day at 0423 GMT
| | | | |
| --- | --- | --- | --- |
| Currency               | Latest bid   | Previous day      | % move |
| Japan yen                  | 111.81     | 111.73    | -0.07 |
| Sing dlr                   | 1.4137     | 1.4083    | -0.38 |
| Taiwan dlr                 | 31.003     | 30.943    | -0.19 |
| Korean won                | 1144.30    | 1137.90    | -0.56 |
| Baht                        | 35.04      | 35.01    | -0.07 |
| Peso                       | 49.650     | 49.690    | +0.08 |
| Rupiah                      | 13320      | 13320    | +0.00 |
| Rupee                       | 67.35      | 67.23    | -0.19 |
| Ringgit                    | 4.4345     | 4.4270    | -0.17 |
| Yuan                       | 6.8753     | 6.8639    | -0.17 |
Change so far in 2017
| | | | |
| --- | --- | --- | --- |
| Currency               | Latest bid   | End prev year      | % move |
| Japan yen                  | 111.81     | 117.07    | +4.70 |
| Sing dlr                   | 1.4137     | 1.4490    | +2.50 |
| Taiwan dlr                 | 31.003     | 32.279    | +4.12 |
| Korean won                | 1144.30    | 1207.70    | +5.54 |
| Baht                        | 35.04      | 35.80    | +2.19 |
| Peso                        | 49.65      | 49.72    | +0.14 |
| Rupiah                      | 13320      | 13470    | +1.13 |
| Rupee                       | 67.35      | 67.92    | +0.85 |
| Ringgit                    | 4.4345     | 4.4845    | +1.13 |
| Yuan                       | 6.8753     | 6.9467    | +1.04 |