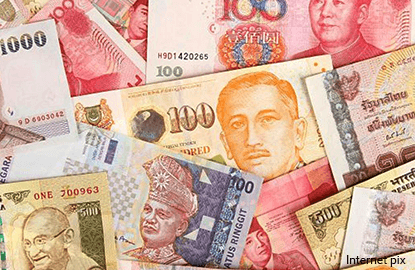 SINGAPORE (Feb 15): Some emerging Asian currencies edged lower on Wednesday after Federal Reserve Chair Janet Yellen's comments on the monetary policy outlook were seen as more hawkish than expected, boosting the US dollar.
But losses in Asian currencies were mild, with the South Korean won slipping 0.4% on the day in onshore trade after climbing 1.2% on Tuesday.
The Thai baht and the Philippine peso eased 0.1%.    
The Taiwan dollar outperformed and touched a high of 30.704 against the greenback, its strongest level since May 2015.
US dollar selling by life insurance firms for FX hedging purposes was cited as a factor behind the Taiwan dollar's strength.
Emerging Asian currencies were supported by positive risk sentiment, with MSCI's broadest index of Asia-Pacific shares outside Japan, touching a 19-month high.    
The outcome of the recent US-Japan summit, together with receding concerns about US-China political tensions after the White House said last week that President Donald Trump agreed to honour the US "One China" policy, are supporting underlying risk sentiment, said Roy Teo, senior FX strategist for ABN AMRO Bank.
That is helping to make emerging Asian currencies "a bit more resilient" despite the likelihood of the Fed raising interest rates in the next few months, Teo said.
Yellen's testimony to Congress on Tuesday helped bolster such expectations and gave the US dollar a lift.
She said delaying rate increases could leave the Fed's policymaking committee behind the curve, adding that the US central bank will likely need to raise interest rates at an upcoming meeting.
TAIWAN DOLLAR
Gains in Taiwan equities, which have attracted foreign investor inflows this year, have been a driver behind the recent strength in the Taiwan dollar, said Mingze Wu, FX trader of global payments for financial services provider INTL FCStone Ltd in Singapore.
With it recent gains, the Taiwan dollar is nearing a test of its May 2015 high of 30.394 per US dollar.
The Taiwan dollar will probably have a hard time rising beyond that 2015 peak, said Kota Hirayama, senior economist for SMBC Nikko Securities in Tokyo, adding that Taiwanese authorities may see the local currency's recent strength as being excessive.
"I don't get the sense that they will tolerate further strength in the Taiwan dollar against the currencies of other (trade) competitors," Hirayama said.
The Taiwan dollar touched its highest level against the Japanese yen since December 2015 on Wednesday.
The Taiwan dollar has also risen against the South Korean won in recent months and is up 5.5% since the end of September.  
CURRENCIES VS US DOLLAR
Change on the day at   0723 GMT
| | | | |
| --- | --- | --- | --- |
| Currency               | Latest bid  | Previous day   | % move |
| Japan yen              | 114.55      | 114.27         | -0.24 |
| Sing dlr               | 1.4215      | 1.4204         | -0.08 |
| Taiwan dlr             | 30.735      | 30.868         | +0.43 |
| Korean won             | 1140.79     | 1137.40        | -0.30 |
| Baht                   | 35.02       | 34.97          | -0.14 |
| Peso                   | 49.935      | 49.880         | -0.11 |
| Rupiah                 | 13328       | 13328          | +0.00 |
| Rupee                  | 66.95       | 66.92          | -0.04 |
| Ringgit                | 4.4470      | 4.4480         | +0.02 |
| Yuan                   | 6.8703      | 6.8660         | -0.06 |
Change so far in 2017
| | | | |
| --- | --- | --- | --- |
| Currency               | Latest bid  | End prev year  | % move |
| Japan yen              | 114.55      | 117.07         | +2.20 |
| Sing dlr               | 1.4215      | 1.4490         | +1.93 |
| Taiwan dlr             | 30.735      | 32.279         | +5.02 |
| Korean won             | 1140.79     | 1207.70        | +5.87 |
| Baht                   | 35.02       | 35.80          | +2.24 |
| Peso                   | 49.94       | 49.72          | -0.43 |
| Rupiah                 | 13328       | 13470          | +1.07 |
| Rupee                  | 66.95       | 67.92          | +1.46 |
| Ringgit                | 4.4470      | 4.4845         | +0.84 |
| Yuan                   | 6.8703      | 6.9467         | +1.11 |