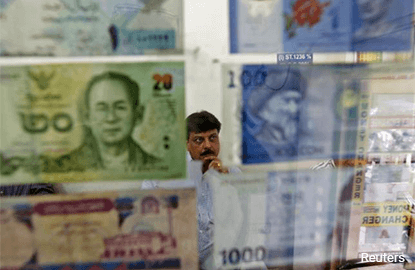 SINGAPORE (Feb 23): Emerging Asian currencies edged higher on Thursday after the  minutes of the US Federal Reserve's latest policy meeting did little to bolster expectations that the Fed would raise interest rates next month.
The South Korean won rose 0.4% to 1,138 per US dollar, edging back in the direction of a three-month high of 1,133 set last week.
Earlier, South Korea's central bank kept interest rates unchanged at a record low 1.25% for an eighth straight month, as expected.
Elsewhere, the Indian rupee edged up 0.2%, while several other currencies such as the Malaysian ringgit gained 0.1%.     
The Fed minutes seemed broadly in line with recent comments from Fed officials and wasn't enough to increase expectations for a rate hike in March, said Kota Hirayama, senior economist for SMBC Nikko Securities in Tokyo.
The market is waiting for details on US President Donald Trump's plans for tax reform, which might even be unveiled before his address to a joint session of Congress on Feb 28, Hirayama said.
"It will be hard for the market to move until we get a sense of the size of the tax cuts, how much the fiscal deficit could widen, and how high US yields might rise," he added.
"If it becomes likely that a large-scale tax cut will be implemented quickly, then it's possible that the Fed might move next month... We still think June is more likely than March though," Hirayama said, referring to the possible timing of the Fed's next rate rise.
Many Fed policymakers said it may be appropriate to raise interest rates again "fairly soon" should jobs and inflation data turn out in line with expectations, according to the minutes of the Fed's last policy meeting released on Wednesday.
SINGAPORE DOLLAR
The Singapore dollar eased 0.2%, showing limited reaction to news Singapore's inflation accelerated to a two-year high in January.
The momentum in consumer prices, combined with stronger-than-expected economic growth at the end of 2016, and the government's generous budget for the coming year, will take near-term monetary policy easing off the table, analysts said.
CURRENCIES VS US DOLLAR
Change on the day at 0620 GMT
| | | | |
| --- | --- | --- | --- |
| Currency                | Latest bid   | Previous day    | % move |
| Japan yen                   | 113.26     | 113.32  | +0.05 |
| Sing dlr                    | 1.4149     | 1.4126  | -0.16 |
| Taiwan dlr                  | 30.760     | 30.779  | +0.06 |
| Korean won                 | 1138.00    | 1142.60  | +0.40 |
| Baht                         | 34.99      | 35.02  | +0.07 |
| Peso                        | 50.200     | 50.230  | +0.06 |
| Rupiah                       | 13350      | 13362  | +0.09 |
| Rupee                        | 66.83      | 66.96  | +0.20 |
| Ringgit                     | 4.4480     | 4.4510  | +0.07 |
| Yuan                        | 6.8786     | 6.8781  | -0.01 |
Change so far in 2017
| | | | |
| --- | --- | --- | --- |
| Currency                | Latest bid   | End prev year    | % move |
| Japan yen                   | 113.26     | 117.07  | +3.36 |
| Sing dlr                    | 1.4149     | 1.4490  | +2.41 |
| Taiwan dlr                  | 30.760     | 32.279  | +4.94 |
| Korean won                 | 1138.00    | 1207.70  | +6.12 |
| Baht                         | 34.99      | 35.80  | +2.33 |
| Peso                         | 50.20      | 49.72  | -0.96 |
| Rupiah                       | 13350      | 13470  | +0.90 |
| Rupee                        | 66.83      | 67.92  | +1.64 |
| Ringgit                     | 4.4480     | 4.4845  | +0.82 |
| Yuan                        | 6.8786     | 6.9467  | +0.99 |