This article first appeared in City & Country, The Edge Malaysia Weekly, on May 13, 2019 - May 19, 2019.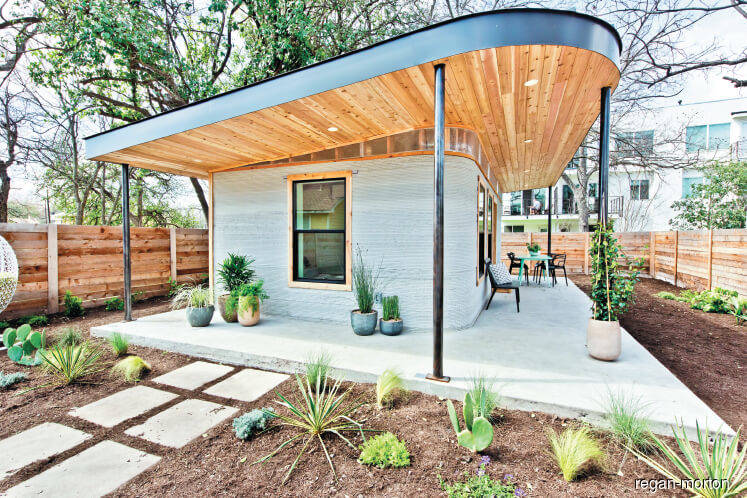 As artificial intelligence continues to impact the world and our lives, it should not come as a surprise when robots start building our homes one day. The latest global wave in construction is printable homes using a method called 3D printing, whereby a printer builds a three-dimensional house layer by layer according to its digital model.
Also known as additive manufacturing at its inception in the 1980s, 3D printing is now being experimented with in the construction of more complex and larger objects, including buildings.
Companies from China, Europe and the US are among the few that have printed prototype houses around the globe. They aim to reduce construction cost and time in meeting housing needs in the 21st century.
Last year, a US-based construction technology company, ICON, unveiled a 350-sq ft printed house in Austin, Texas, built in collaboration with non-profit organisation New Story. The permanent structure, which claims to be the first permitted 3D-printed home built in the US, comprises a living room, bedroom, bathroom and a small office space. Printed in 47 hours at a cost of US$10,000, the project serves as a proof-of-concept for tackling global homelessness.
The company aims to print small homes in less than 24 hours and larger ones in the 2,000 sq ft range in fewer than three days. ICON and New Story are working on their first 3D-printed community in Latin America and they hope to commence work this year.
Back in 2014, China-based company WinSun attracted a lot of interest after it printed 10 single-
storey detached houses in a day using four 10m wide and 6.6m tall concrete printers. Each house was printed for less than US$5,000, according to news reports.
In France, a five-member family was reported to have moved into a 3D-printed home in Nantes last year. An initiative by the University of Nantes, a housing association and the city council, the 1,022-sq ft, 4-bedroom house took 54 hours and cost about US$230,000 to construct. It took another four months to have doors, windows and the roof installed.
Other examples around the globe include one by Russian company Apis Cor, which has printed a 410-sq ft house costing about US$10,150 (including the cost of its floor, roof, wiring, doors and windows as well as exterior and interior finishes), and The BOD (Building on Demand) — a printed
office hotel measuring less than 50 sq m — by COBOD International in Copenhagen's Nordhavn.
Meanwhile, Dubai claims to have the world's first functional 3D-printed office. The 250-sq m structure, which was built in 17 days and cost US$140,000, houses the Dubai Future Foundation, an organisation that plays an active role in shaping Dubai's future. The United Arab Emirates, which aims to be the world's 3D printing hub by 2030, has announced that 25% of its new state buildings in the city will be printed by 2025.
How ready is Malaysia?
With the growing number of companies adopting 3D printing, perhaps it won't be long before printable homes become more prevalent. So, is Malaysia following suit?
Veritas Design Group president David Mizan Hashim and T R Hamzah & Yeang executive director Datuk Ken Yeang speak to City & Country about their thoughts on 3D printing.
David says 3D-printed houses will not completely replace more conventional means of construction or industrialised building systems (IBS) any time soon. "This is because 3D printing involves the additive assembly of only one material at a time ... homes are complex structures that comprise a wide range of material types.
"Foundations, structural frames and walls are usually made of concrete, masonry or steel. Roofs typically comprise a combination of metals and insulation while windows require glass. Preferred interior finishes include ceramics, wood, plaster and natural stone. Then, there is the plumbing, which uses PVC and metals, and electrical components like air conditioning, wiring and lighting.
"The complex integration and interpenetration of all these components into a functioning house is well beyond the imagination of 3D technologists.
"At most, it may be viable in the future for a large-scale 3D printer to manufacture the mould of the house, such as the inner and outer walls, while all or most of the other trades mentioned earlier could be installed conventionally. There are still obstacles to this dual construction methodology."
He opines that in the near to mid-term, it will be cheaper to build walls using conventional or IBS technology, especially in low labour cost economies like Malaysia, if not most of the world. "Since the bulk of the cost of a house is in the other trades and not [in the construction of the walls], there is even less incentive to opt for a high-tech solution to build those walls.
"Thus, until a higher paradigm of construction robotics emerges, it is safe to say that our homes will be built much the same way they have been for eons — mostly by hand."
Yeang, who is an architect and ecologist, is open to the idea of printable homes but highlights certain challenges. "The printed building is a wonderful idea that potentially offers great design opportunities for architects and the building industry, but that would mean rethinking architecture and building in its entirety, moving away from the conventional post-and-beam structural system.
"One of the challenges of this construction technology is the homogeneous printing material currently used in the one-dimensional printing process and converting it into a multidimensional 3D process in a bottom-up, top-down and sideways building process and in combination with a variety of printed substances of different structural strengths.
"The other issue is integrating the environmental technological engineering components and systems that are usually in a building, such as its complex M&E (mechanical and electrical) systems, which are usually multidirectional, and hidden inside the building's fabric (being its walls, floor and ceiling)."
Addressing the structural challenge means rethinking the structural design, says Yeang. "For example, issues of structural stability and integrity can be addressed through the use of non-conventional structural systems and forms such as geometrical geodesic honey-comb systems, web-like structures, herringbone-like structures or by mimicking biological systems found in nature.
"The printed building offers great potential for creating unconventional, composite and hybrid-built forms, for example, those adapted from a spider's web or a water-lily leaf, or using a system of articulated rib structures.
Apart from a multitude of forms, there can also be time-saving in printable buildings, Yeang says. "Imagine printing a multi-storey building in a short time, perhaps even overnight. It could also be used to produce interlocking modular components like an articulated Lego system for prefab bathrooms," he muses.
"If there is a venture capital firm with a vision, I would certainly be keen to explore and advance the enormous opportunities of creating and patenting new built forms and hybrid construction systems using printed technology."