This article first appeared in The Edge Financial Daily, on August 5, 2019.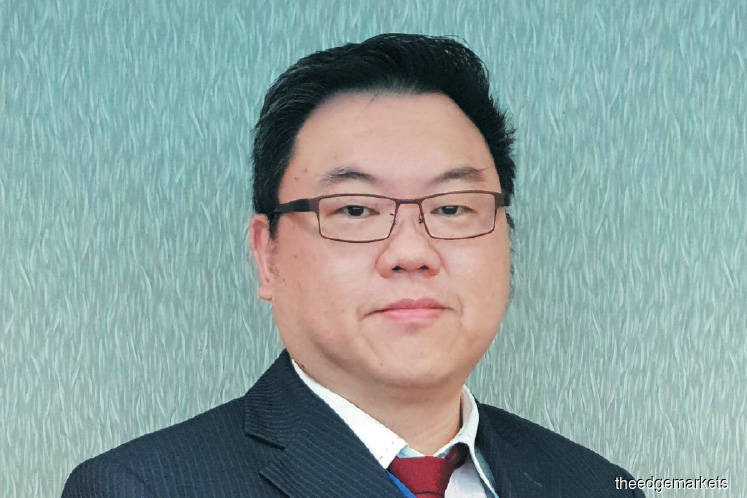 KUALA LUMPUR: The investing fraternity may not be familiar with little known ARB Bhd but its former name, Aturmaju Resources Bhd, may ring a bell, especially to punters.
In the fourth quarter last year, ARB started generating interest with its share price almost doubling from 32 sen on Oct 19 to a 52-week high of 59.5 sen on Jan 17, with the emergence of Datuk Larry Liew Kok Leong (pic) as a substantial shareholder.
However, like many other penny stocks, ARB shares proved to be volatile, erasing some gains to close at 44.5 sen last Friday, giving it a market capitalisation of a mere RM77.03 million. In other words, those who bought ARB shares at their peak may have gotten their fingers burnt now.
But given its pipeline of projects, Liew, who is also ARB's chief executive officer (CEO), is confident of the company's investment proposition.
"If you look at our trailing PER (price-earnings ratio), it is less than five times. But again, we don't have much peer comparisons on Bursa Malaysia. There are some listed companies that intend to become IoT (Internet of things) firms, but they are still at an early stage, whereas ARB has already secured some big projects," he told The Edge Financial Daily in his first media interview.
Liew, 51, has 20 years of experience in information technology (IT), manufacturing, telecommunication, property development and venture capital investment. In the past two decades, he has founded and invested in companies from Malaysia, Singapore and China.
Today, ARB is mainly involved in the business of IT and software solutions, trading of computer hardware and software, system integration, as well as enterprise resource planning (ERP) development and implementation in Malaysia or worldwide.
"For now, we have only one customer for ERP division, but we target to get a few bigger ones to get on board by this or early next year. We are now in the midst of conducting the system trial run with them, [and] once they see the benefits of using our system, I believe we can convince them to come on board," said Liew.
ERP solutions are enterprise software platforms that electronically capture, store, manage and process information in real time.
Liew has lofty dreams for ARB, and envisions the company transforming into an IT solutions powerhouse in the next three to five years.
"We are moving towards that direction. We intend to become a company specialising in the latest cutting-edge technology," he said.
ARB achieved a record quarterly net profit of RM8.6 million for the second quarter ended June 30, 2019 (2QFY19) from a net loss of RM271,000 for the previous corresponding period, mainly due to stronger revenue from its IT segment.
Liew is confident that ARB can sustain its performance for the rest of FY19, driven by continued demand for its IT solutions in the areas of ERP system and IoT intelligent lifestyle concept.
"We managed to turn around last year. This year, we want to aggressively grow our profitability. For next year, we are targeting very healthy growth in both revenue and profits," he said.
Smart homes and buildings
In March, ARB signed an agreement with Perkasa Selalu Sdn Bhd to promote the concept of smart home system serviced apartment in a mixed development project in Kuala Selangor.
Two months later, the group secured another contract from IJ Ventures Sdn Bhd to promote smart home system for 130 units of single-storey terrace houses.
In the same month, ARB clinched a RM60.43 million contract from listed Prinsiptek Corp Bhd to carry out IoT systems, engineering, procurement, commissioning and management in a 13-storey serviced apartment block in Shah Alam, Selangor.
"Our order book for smart homes and smart buildings is about RM150 million. Our customers, the developers, can now sell their projects as smart homes with IoT elements. Those days, most properties were not fibre optic-ready, but today, many have it. We foresee the same for IoT that one day, many buildings will be IoT features-ready," said Liew.
Besides smart homes and buildings, ARB is also venturing into smart water meters and smart household water filtration system. The group will be working with water supply authorities in Malaysia for these projects.
Notably, ARB last month signed memoranda of agreement with Hangzhou Mayam IoT Tech Co Ltd and Shuifa IoT Tech Co Ltd for the provision of water supply-related technology. The combined project value was around RM800 million.
"For the strategic partnership with Hangzhou Mayam, we will be deploying smart water meters in Malaysia to measure, collect and analyse real-time water consumption information and data, including water leakages, water pressure, date and time of water consumed households," Liew explained.
As a growing IT firm, ARB's management hopes to reward its shareholders through capital appreciation rather than dividends.
"We want to use our money to fund the operations and business expansion so that we can grow even faster. Having said that, we are adopting the asset-light business model. This is the way to go if we want to scale our business," Liew added.