This article first appeared in Personal Wealth, The Edge Malaysia Weekly, on September 17, 2018 - September 23, 2018.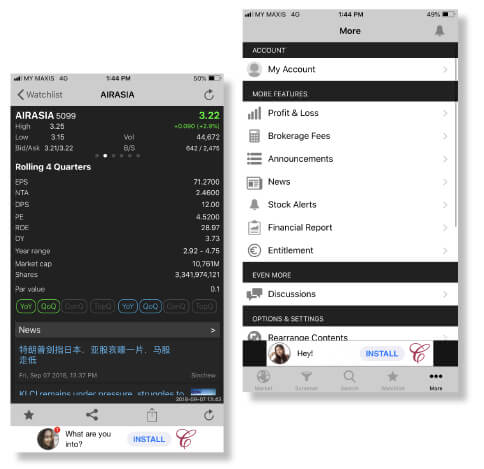 Active stock investors can be pretty busy at times, having to consolidate information and monitor share price performances, financial ratios and news flow of the companies they are tracking. They may need to log on to several websites just to keep track of all these.
However, there are mobile applications that make it easier for investors to track their stocks. For instance, KL Screener allows investors to create a watch list to monitor the performance of the stocks they want to track.
By clicking on the name of a particular stock on the list, more information is revealed, including key financial ratios and recently published news. Interestingly, there is a box for investors to leave comments or respond to the news.
The app allows investors to create a stock portfolio and calculate their profit and loss over time. There is also an alert function that notifies the user instantly when the upper or lower limit of a particular stock is reached.
As the name suggests, KL Screener has a stock screening function that helps investors identify emerging opportunities in the stock market based on criteria such as the desired price-earnings ratio, return on equity and dividend yield of a particular stock. This clearly beats the time and effort it would take to screen such investments manually.
Another plus point is that all this comes free. Yes, users have to put up with advertisements. But since these are only shown on a thin bar across the bottom of the screen, it is not too distracting.
But if users do not want to see the advertisements, they can choose to donate a certain amount to access the app ad-free. As at Sept 7, KL Screener had received 229 ratings and a score of 4.4 out of 5 on the App Store.