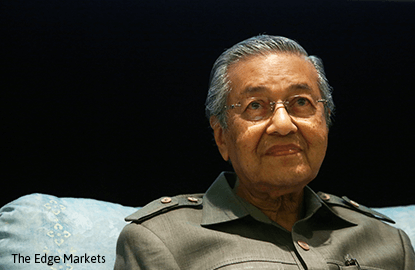 KUALA LUMPUR (Feb 3): Attorney-General (A-G) Tan Sri Mohamed Apandi Ali owes his position to Datuk Seri Najib Razak, as the prime minister appointed him through "false representation made to the King", Tun Dr Mahathir Mohamad said.
The former prime minister wrote on his blog today that this was why Apandi was not likely to provide his Swiss counterpart with any incriminating evidence on the prime minister.
"The current A-G, with whom the Swiss A-G seeks cooperation, was appointed by the PM through false representation made to the King.
"This means the A-G owes to the PM his position. Can he be expected to charge the person to whom he owes his position? Knowing his predecessor was dismissed for trying to do the same, the new A-G is not likely to prefer a charge against the PM.
"Hence his dismissal of the reports by Bank Negara and the Malaysian Anti-Corruption Commission (MACC). He is therefore unlikely to provide the Swiss A-G with any evidence which may incriminate his employer," said Dr Mahathir.
Dr Mahathir said that the Swiss A-G and the European Parliament would only uncover the truth if they understood Malaysians laws and practices.
To this end, they should appoint Malaysian lawyers to work with them, said the country's longest-serving prime minister.
Last Friday, Swiss A-G Michael Lauber said the country's authorities discovered some US$4 billion (RM16.8 billion) may have been misappropriated from Malaysian state companies.
The discovery was made in the course of investigating two former 1Malaysian Development Berhad (1MDB) officials and others on suspicion of bribery involving foreign public officials.
Apandi said he would cooperate with Lauber, but added the investigations related to 1MDB were not the same, as the case of Najib's RM2.6 billion political donation.
Dr Mahathir said today that this statement showed Apandi "clearly" did not want Lauber to know whether or not the money transferred to Najib's personal bank accounts came from 1MDB.
He said Apandi had yet to prove that the donation actually came from Saudi Arabia.
"There is no clear explanation as to how this huge sum of money was moved into Najib's accounts, the banks used by these Arabs, the sources of the fund, the business of the donor," said Dr Mahathir.
While the Saudis had a record of donating to countries, they were not "personal gifts" to individuals, such as in Najib's case, he said.
He added that the claim the money was donated in appreciation of Putrajaya's efforts to fight terrorism was not credible, since Najib had already said it was for Umno to win the 2013 general election.