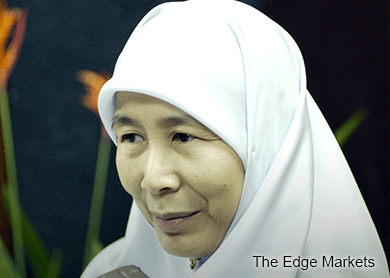 (May 20): Datuk Seri Anwar Ibrahim has never supported the move to form a unity government with Umno, said his wife and opposition leader Datuk Seri Dr Wan Azizah Wan Ismail today.
In denying PAS president Datuk Seri Abdul Hadi Awang's claim that the jailed de facto PKR leader gave his backing for a unity government, Dr Wan Azizah said Anwar had however supported Barisan Nasional's  (BN) national reconciliation efforts.
Hadi had also said the late PAS spiritual leader Datuk Nik Aziz Nik Mat had also agreed to a unity government.
"The national reconciliation was mooted after the general election by Najib. Although we accepted it, he went back on his words," she said at the Parliament lobby today.
Najib had proposed for national reconciliation to unite the people who were seen to be divided as  reflected in the way voters voted n the 13th General Election two years ago.
But the national reconciliation idea did not take off.
Keen on the idea himself, Hadi said a national unity government meant uniting all political parties under a single party to form a government.
"The idea came about during the Perak constitutional crisis. At the time, there was an attempt by Barisan Nasional to woo Pakatan Rakyat reps.
"None of us wanted to join BN. We don't want history to repeat itself.
"That's why we came up with the unity government idea, all parties in one government," Hadi said.
But in an interview with PAS organ Harakah in May 2013, Nik Aziz vowed never to permit his party to form a unity government with Umno while he drew breath, saying he found no reason for such a co-operation.
He also issued a stern reminder to party members to never pursue the effort.
He said apart from a clash in party ideologies, there were many other issues that would render it  impossible for PAS to join hands with Umno.
In the years after the 2008 general election, cracks appeared in the PAS leadership following talk that several leaders in the Islamist party had either been approached by Umno or were considering the possibility of merging with the ruling party to form a unity government.
The move was purportedly made in the name of Muslim unity but PAS loyalists held strong to the belief that their party should remain in cohorts with Pakatan Rakyat (PR), the loose pact that was formed after the 2008 national polls.
The question of political co-operation with Umno also became a major campaign issue in the 2009 PAS election after it was revealed that its leaders, including former PAS deputy president Nasharudin Mat Isa and then Selangor chief Datuk Hasan Ali, met former prime minister Tun Abdullah Ahmad Badawi and former Selangor mentri besar Dr Mohd Khir Toyo after the polls to explore the possibility of forming a unity government.
Leaders aligned to Nik Aziz then accused Nasharudin of conspiring to take PAS out of PR, but the deputy president successfully defended his post in a three-cornered fight with Mohamad Sabu and Kelantan executive councillor Datuk Husam Musa.
After General Election 2013, Nasharudin emerged yet again to revive talk of forging cooperation with Umno, claiming this time that this was in the spirit of "national reconciliation".
The PAS conservative, who was edged out by the party's progressives during their 2011 internal polls, insisted that negotiation to unite both warring Malay-centric parties must be continued for the sake of strengthening Islam and the position of the Malays in the country.
Lately, talks of a PAS-Umno unity government resurfaced after the year-end massive floods that inundated the northeastern states of Malaysia, including Kelantan.
Some Umno leaders had previously suggested that a unity government in the impoverished state will help in reconstruction. – The Malaysian Insider