This article first appeared in The Edge Financial Daily, on February 14, 2020.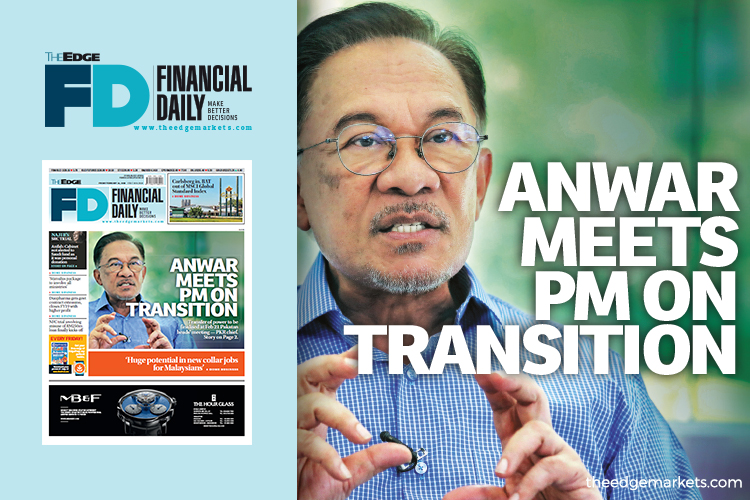 KUALA LUMPUR: Prime Minister (PM) Tun Dr Mahathir Mohamad has emphasised that he will relinquish his post as promised under Pakatan Harapan's pre-election agreement, says PKR president Datuk Seri Anwar Ibrahim, who is the stated successor in the agreement.
Anwar said he received this assurance from Dr Mahathir when he went to discuss the transition of power with the prime minister in Putrajaya yesterday.
The PKR chief said he raised the matter with the premier because of a reported signature campaign involving leaders from PAS, a group from Umno and a small number from PKR calling on Dr Mahathir to remain in office until the end of his term.
"The prime minister is not involved in this effort but instead reiterated firmly that he will relinquish his post as promised," Anwar said in a statement yesterday.
"I am inclined [to the position] that he continues to lead the nation until the Asia-Pacific Economic Cooperation (Apec) summit is concluded. Nevertheless, this matter will be finalised at the Pakatan presidential council meeting on Feb 21," he said.
The Apec summit is due to be held in Kuala Lumpur in November.
Anwar informed the prime minister that in view of the "cunning conspiracy", Pakatan leaders and several allies were committed to uphold the Pakatan transition of power agreement made on Jan 7, 2018, namely to support Dr Mahathir's leadership as the 7th prime minister and Anwar as the 8th prime minister.
News of the signature campaign surfaced after whistleblower blog Sarawak Report published a report on Tuesday that members of Parliament loyal to Umno, PAS, Dr Mahathir's party Bersatu and Anwar's estranged deputy Datuk Seri Mohamed Azmin Ali had been pressured to sign a statutory declaration to support Dr Mahathir's continuance in office until the next general election.
Analysts have cited the protracted uncertainty over the transition of leadership as one of the reasons for investors' cautious stance on Malaysia's economy since the 14th general election in 2018, when the country saw its first change of government since Independence.
Foreign investors took US$2.7 billion out of Bursa Malaysia last year — one of the biggest sell-offs in Asian markets, Bloomberg data shows. Bank Negara Malaysia governor Datuk Nor Shamsiah Mohd Yunus said on Wednesday that Malaysia's gross domestic product growth moderated to 4.3% in 2019 — the lowest level since the global financial crisis of 2009, against 4.7% growth in 2018.
Growth prospects, particularly for the first quarter, would be also weighed upon by the impact of the Covid-19 outbreak, she said.