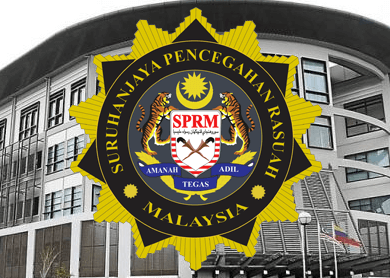 (May 22): The Malaysian Anti-Corruption Commission (MACC) said it could partially unfreeze some of the thousands of accounts under its operation against illegal logging and smuggling in Sarawak and Sabah, if the companies under probe can give reasonable justifications why they needed access to their accounts.
These could be the need to meet operational costs or pay staff salaries, the commission's deputy director (operations), Datuk Seri Mohd Shukri Abdull, said in a statement today.
He defended the commission's move to freeze accounts of companies suspected of involvement in illegal logging, bribery, as well as tax evasion in Sarawak, and in the smuggling of cigarettes and alcohol and the abuse of the diesel subsidy in Sabah.
These operations are known as Ops Gergaji in Sarawak and Ops BS in Sabah.
Shukri said freezing of accounts was a "normal practice" of the MACC and also that of other enforcement agencies conducting investigations under the Anti-Money Laundering, Anti-Terrorism Financing and Proceeds of Unlawful Activities Act 2001.
He was responding to criticism from Sarawak and Sabah DAP MPs yesterday who claimed that the commission's actions were an abuse of power and tantamount to "persecution" rather than fighting corruption.
Shukri shot back at Bandar Kuching MP Chong Chieng Jen and Likas MP Junz Wong, saying that they as federal lawmakers had formulated passed laws on MACC's powers and it was therefore unfair for to accuse the commission of abusing its powers.
He also denied their allegations that the freezing of accounts were done without solid proof and said the move had been carried out under the law's provisions.
MACC had been monitoring the suspected companies for six months before an integrated operation on them was performed, he added.
"The accounts were only frozen after an in-depth investigation."
However, despite the freeze, he said MACC is ready weigh their releases if there were any justifications.
"Any account holders who have had their account frozen may appeal to MACC for the account to be unfrozen for the payment of operating expenses such as salaries."
The MACC, Shukril said, is ready to listen to appeals particularly on humanitarian grounds like paying salaries in Sarawak, in view of the upcoming Gawai festival.
He said the companies could make their appeal at any of the commission's offices in Sarawak, Sabah or its headquarters in Putrajaya.
He said total release of the account would only depend on the outcome of their investigation.
Shukri said since May 31, MACC had received some applications to unfreeze the account and appropriate action had been taken, including releasing part of the frozen money.
"At the same time, MACC Sarawak and Sabah have held 'engagements' with industry players to explain the rationale for their action in freezing the accounts of those companies suspected of being involved in illegal activities."
Chong, who is Sarawak DAP chairman, yesterday said the MACC had lost its priority in tackling corruption and suggested they should instead go after those in the state government and state civil service who had assets and money beyond their means.
Wong, meanwhile, had said that the anti-graft agency's request for Sabah traders to first prove their innocence before accounts could be unfrozen was "pure stupidity".
MACC in two days of raids across Sarawak under Ops Gergaji last week, froze around RM600 million in 500 bank accounts while in Sabah, under Ops BS, more than 1,600 accounts were frozen. – The Malaysian Insider