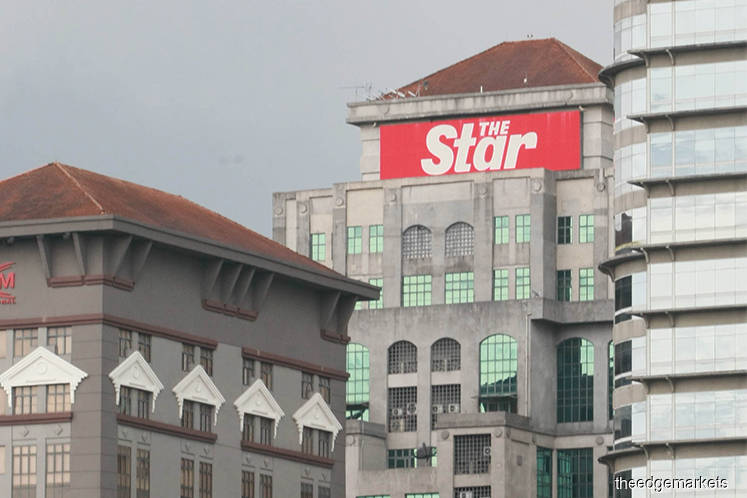 KUALA LUMPUR (June 16): Amidst a tough operating landscape, Star Media Group Bhd is undertaking another round of cost cutting that will involve a job rationalisation exercise, industry sources say.
"Letters on the cost cutting exercise involving job rationalisation were issued to senior management members yesterday and there are plans for another round of job cuts later this month for journalists," said a source.
Another source said over 100 staff could be affected.
This is the third cost cutting exercise involving job cuts since 2017.
Star Media has yet to respond when contacted on this matter.
theedgemarkets.com also inquired about Star Media's plans for its loss-making businesses such as its video streaming service DimSum, which is believed to remain in the red since its launch in November 2016.
Global media companies have been operating in a challenging operating landscape, now made worse by the Covid-19 pandemic.
News Corp Australia announced hundreds of job cuts recently as it shut down over 100 newspapers.
Closer to home, magazine publisher Blu Inc Media Sdn Bhd — which had under its umbrella well-known household magazine titles such as CLEO, Cosmopolitan, Her World, and Female — shut down on April 30.
It was reported earlier this month that Media Prima group is undergoing another round of layoffs.
"Disruptive changes in the media sector and challenging macroeconomic conditions, exacerbated further by unknown variables surrounding the Covid-19 pandemic, have compelled the group to expedite the next phase of its transformation exercise which will include revising revenue models and corresponding cost management," Media Prima Bhd noted in a June 4 statement.
In the first quarter this year (1Q20), the advertising expenditure (adex) of traditional media dipped 9%, with the biggest loser being the newspaper segment, down by 24%, according to statistics by Nielsen.
Total gross adex for the industry in 1Q20 was flat at RM1.34 billion, from the same period a year ago, sustained by a 56% year-on-year growth in digital adex.
Star Media reported a net loss of RM3.98 million in 1QFY20 (ended March 31) versus a net profit of RM3.54 million a year earlier. Revenue fell to RM65.76 million from RM82.57 million.
CGS-CIMB Securities Sdn Bhd noted that it was a foregone conclusion that Star Media would slip into a net loss in 1QFY20. It added in its June 1 report that Star Media was only able to stay profitable in the past few quarters thanks to its other operating income, comprising mostly investment income.
"The movement control order (MCO) kicked off in the last two weeks of March 2020, prompting advertisers to renege on their buying commitments. Star's net loss of RM4 million was equivalent to 20% of our FY20F's net loss forecast. We project wider losses in the subsequent quarters as we noticed that advertisement buys became sparser as the MCO progressed. Thus, we are keeping our FY20-22F forecasts," CGS-CIMB Securities stated.
The research house reiterated its "add" call on Star Media, citing the company's deep-seated value. Its target price for the stock is 52.4 sen.
It pointed out that Star Media's cash hoard stood at RM398.6 million, or 54 sen a share, as at end-March 2020 and that the company also has real estate with a net book value of RM158.8 million or 21.5 sen a share.
Star Media's stock was trading at 34 sen apiece at the time of writing.
Following the resignation of its chief executive officer Andreas Vogiatzakis on May 16, Star Media has set up a temporary special committee until a suitable candidate is found.
The temporary special committee comprises three non-executive directors — Datuk Fu Ah Kiow, Datuk Dr Mohd Aminuddin Mohd Rouse and Chan Seng Fatt.
Star Media's upcoming AGM on June 22 will be fully virtual — a first for the group.