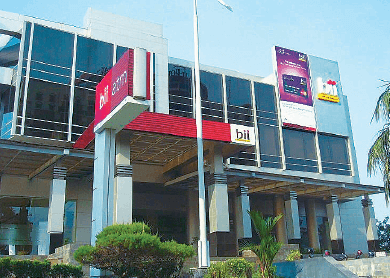 MALAYAN BANKING BHD'S (Maybank) Indonesian subsidiary reported a 33.5% increase in first-quarter net profit, outdoing some of its peers, but it is not quite out of the woods yet as it is still grappling with asset quality issues, analysts say.
The subsidiary, Bank Internasional Indonesia (BII), last Wednesday reported a net profit of IDR255.6 billion (RM70.1 million) in the first quarter, compared with IDR191.5 billion in the same quarter a year ago, which fell within analysts' expectations. The profit was bolstered by a 9.6% rise in net interest income and a 26% increase in fee-based income, which helped mitigate a 27.5% increase in provision for bad loans.
BII's performance was decent considering that, even with a weaker economic environment and the higher provisions, it managed to show the strongest net profit growth among the Indonesian lenders that have thus far released their first-quarter results.
For example, state-owned Bank Mandiri, Indonesia's largest lender by assets, reported a 4.3% growth in net profit to IDR5.14 trillion in that quarter, while Bank Central Asia — the largest private lender — saw a 26.7% rise in net profit to IDR4.06 trillion. Bank CIMB Niaga, the fifth largest, saw a 92% drop in net profit to IDR83 billion, mainly on higher provisions for bad loans.
"The improved performance was achieved on the back of the bank's discipline in pricing for both deposits and lending, coupled with an intensified strategic cost management programme implemented throughout the bank," BII, the ninth largest lender by assets, said in a press release.
It reported a modest loan growth of 6.2%, while net interest margin (NIM) improved to 4.85% from 4.73% a year ago.
However, the bank's quarterly performance on a sequential basis was not impressive. Compared with the fourth quarter of 2014, BII's net profit fell  28.8% on the back of a 30.4% increase in provisions to IDR427.8 billion. In comparison, Bank CIMB Niaga's provisions in that quarter, though high at IDR1.45 trillion, was 26.2% lower on a quarter-on-quarter basis.
And BII's asset quality, as indicated by its gross non-performing loan (NPL) ratio, worsened to 2.8% from 2.23% three months ago, while net NPL ratio climbed to 1.91% from RM1.48%.
Its poorer quarter-on-quarter financial performance and asset quality were in line with that of most Indonesian lenders.
"Despite what the headline numbers suggest, we don't think BII has really turned the corner as yet. The underlying trend is the same [as the other banks]. The outlook still does not look that good yet as it is likely to have to continue to make high levels of provisioning [in the second quarter]," a banking analyst from a local research house tells The Edge.
BII, in the press release, says it remains cautious over loan quality as "some businesses are still impacted by the weakening of the commodity and mining sectors, economic slowdown and weakening of the rupiah".
Bank CIMB Niaga's management had guided, following the bank's first-quarter results, that its "elevated" level of provisioning could extend well into the second quarter and potentially, the third quarter, if the Indonesian economy does not display signs of recovery by the second half of the year. The bank is, however, optimistic of a recovery in the second half.
Indonesia's Finance Minister Bambang Brodjonegoro said last Wednesday that the country's economy, which grew at 5.02% last year, its slowest pace in five years, is likely to expand by between 5.2% and 5.7% this year. The official growth target, though, is 5.7%.
Nevertheless, analysts that track Maybank's performance point out that BII's contribution to the parent company's bottom line is small, at about 5% only. Bank CIMB Niaga's contribution to the parent, CIMB Group Holdings Bhd, is more significant, at 19% of CIMB's earnings last year.
"[BII's] NIM compression is likely to stay due to heightened competition for deposits and a shift towards higher quality credit. Asset quality issues should continue to linger — gross NPL ratio [is likely] to stay at elevated levels, since commodity prices remain soft," Kenanga Research's banking analyst Chan Jit Hoong says in a report last Thursday.
He, however, left his financial forecast for Maybank unchanged as he expects BII's contribution to be "immaterial", at about 3% of the group's profit before tax. Maybank is expected to announce its first-quarter results later this month.
Meanwhile, two weeks ago, in a separate development, Maybank announced that it launched its inaugural Samurai bond issuance, raising ¥31.3 billion (US$261 million) with a three and five-year tenor.
It was interesting because it was the first yen bond to be issued out of the Malaysian banking sector and the first bond issuance in Japan this year. The issue was rated "A3" by Moody's and "A" by Japan Credit Rating Agency.
"This funding is part of our suite of medium-term strategy on liability management. We intend to swap the yen funding into other currencies [in particular US dollars] to fund our foreign currency working capital and general business activities," Maybank group chief financial officer Rafique Merican explains to The Edge in an emailed response to questions.
He says Japan, being the second largest economy in Asia, was a natural choice for the bank to tap funds, given the level of sophistication the market offers.
"The strategic reason is to allow the group to diversify our funding sources; at the same time, it offers Maybank a good opportunity to get familiar with the investor base in Japan and expand our coverage there," he comments.
He says there was "strong demand" for the bonds across diversified segments of investors, but he didn't provide details. "The main reason [for the strong demand] is because of the rarity of Maybank issues, and it signals a clear confidence investors have with the bank. As the first issue out from the Malaysian banking sector, it also serves as a source of investment diversification for the investor base in Japan."
Yen-denominated loans have been a part of Maybank's product offerings for a while now. "We do have a fairly significant base of Japanese clientele dealing in various banking products we offer as a group. We have seen some interest in yen-denominated loans but are unable to provide exact figures due to competitive reasons," Rafique says.
This article first appeared in The Edge Malaysia Weekly, on May 4 - 10, 2015.