This article first appeared in The Edge Financial Daily, on December 3, 2019.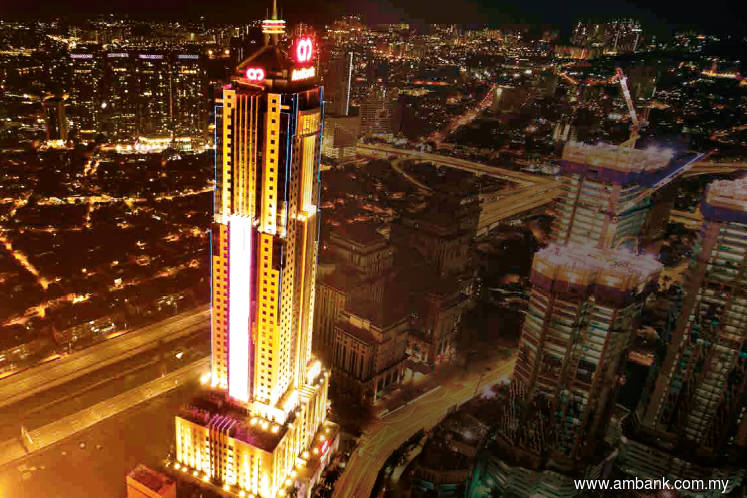 AMMB Holdings Bhd
(Dec 2, RM3.94)
Upgrade to trading buy with an unchanged target price of RM4.20: AMMB Holdings Bhd's first half of financial year 2020 (1HFY20) results were in line with expectations, at 50.8% and 50.7% of our and consensus' full-year estimates respectively. Its net profit grew 2.2% year-on-year (y-o-y) for 1HFY20 as a pre-provisioning operating profit (PPOP) expansion of 7.6% y-o-y moderated a higher credit cost. The higher PPOP was due to resilient income and a controlled operating expenditure.
The group's net interest income, inclusive of Islamic banking net fund-based income, rose 4.6% y-o-y to RM1.35 billion for 1HFY20 despite a tepid gross loan growth. It mostly came from an improved net interest margin (NIM) in the quarter. The NIM was flat y-o-y but was up four basis points (bps) quarter-on-quarter (q-o-q) due to a lower cost of funds. AMMB repriced its deposits following the overnight policy rate cut in May 2019 and released fixed deposits (FDs). Its non-interest income (NII), inclusive that from Islamic banking, grew 7.4% y-o-y to RM785 million, mainly due to strong trading gains with RM63 million — up more than 100% y-o-y — contribution from the group's Treasury.
AMMB's provisions for 1HFY20 were much higher as legacy recoveries ended. While we are glad by this, we are mindful that it was not due to a sudden deterioration of asset quality. We observed that individual allowance was at RM52.6 million and we understand this was due to several impaired accounts in the manufacturing sector and the holding of a corporate bond. Its gross impaired loans ratio as at second quarter (2QFY20) was up 5bps y-o-y and 11bps q-o-q with stress seen in the retail and business segments.
AMMB's gross loan growth as at 2QFY20 was tepid, up 2% y-o-y to RM102 billion, dragged by a 14.7% y-o-y contraction to RM15.3 billion in the group's auto loans book. Loan growth in the non-small and medium enterprise (SME) business segment was weak, up only 1.8% y-o-y to RM22.8 billion. We believe this could be due to businesses being cautious overall. However, mortgages and SME loans continued to provide support, growing 8.6% y-o-y to RM31.6 billion and 12.5% y-o-y to RM20.3 billion respectively.
While deposits matched gross loan growth, expanding 1.9% y-o-y to RM102.7 billion, we believe there were more positive factors as the mix of deposits was reorganised. Its retail FD contracted 17.7% y-o-y to RM35.3 billion but we viewed this positively. Its non-retail FD grew 22.8% y-o-y to RM44.1 billion, moderating the retail FD decline. We opined that another positive would be that current account savings account growing 6.4% y-o-y to RM23.4 billion.
The management has provided a revised FY20 guidance with some improvements. We believe this suggest the group's performance for 1HFY20 can at least be maintained for 2HFY20. Most interestingly, in our opinion, is that investors could expect higher dividends. Our earnings forecasts for FY19 and FY20 are maintained as the aforementioned results were within expectations. We are still pleasantly surprised by AMMB's resilience in light of a challenging environment. Most surprising was its robust income especially NII. While gross loan growth was tepid, we should highlight growth in AMMB's major segments was robust. — MIDF Research, Dec 2