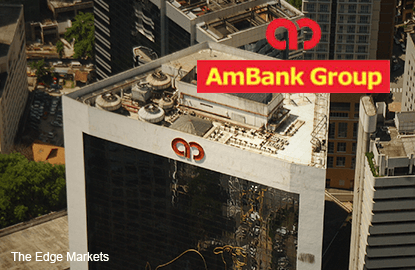 This article first appeared in Corporate, The Edge Malaysia Weekly, on May 30 - June 5, 2016.
AMMB Holdings Bhd, the country's sixth largest of eight lenders by assets, is embarking on a four-year strategic plan aimed at making it one of Malaysia's top four banks by 2020.
Group CEO Datuk Sulaiman Mohd Tahir said AMMB aspires to be a top four bank by several financial metrics, including market capitalisation, revenue growth, return on equity (ROE), net interest margin (NIM) and asset quality.
"If you look at the group, over the last eight years, the strategy has always been about de-risking and cleaning up the books. I'm quite comfortable with our non-performing loan position now. So, now it's a question of how we are going to grow," Sulaiman, who joined the group as CEO last November, told reporters at AMMB's financial results briefing last Friday evening.
"We need to go on a growth path. Hence, our Top 4 aspiration," he said.
De-risking refers to the group moving more towards preferred segments, like mortgages of late, and away from riskier, albeit higher-margin segments such as automotive finance.
Elaborating on the group's Top 4 aspiration, Sulaiman said AMMB wants to be a top four player in each of its growth segments, namely mass-affluent, affluent, small and medium enterprises and mid-corporates, by 2020. It also aims to be in the top four in each of its focus products — cards, transaction banking, markets and wealth management.
Unlike its bigger counterparts, AMMB has no plans to become a regional bank. It will continue to focus on growing on its home turf, said Sulaiman.
It also has no immediate plan to raise capital. "We don't think we'll do any capital call this financial year. The focus is very much on internal capital generation." The group's CET-1 ratio improved to 11.2% from 10.8% in the preceding quarter.
Despite earlier market jitters, AMMB managed to turn in a set of numbers that were only slightly below analysts' expectations for the financial year ended March 31, 2016 (FY2016), last Friday.
On Thursday, worries about its financial performance for FY2016 sent AMMB's stock tumbling to a multiyear low of RM4.19 at the closing bell. It recovered sharply the next day, following the release of its results during the midday trading break. The stock gained 21 sen or 5% to close at RM4.40 on Friday.
AMMB's net profit for the full year came in at RM1.302 billion, down 32.1% from the previous year and slightly below analysts' consensus of about RM1.33 billion.
Underlying net profit (excluding the penalty of RM53.7 million that it had to pay Bank Negara Malaysia for breach of certain regulations, incurred in its third quarter) stood at RM1.36 billion, 17.3% lower than that in FY2015. Revenue was also lower at RM8.42 billion in FY2016 compared with RM9.14 billion in FY2015.
Its fourth-quarter net profit fell 46% year on year and 6.7% quarter on quarter to RM280.02 million.
Sulaiman attributed the weaker earnings for FY2016 to lower income due to a decrease in net interest income by RM343.4 million, and a fall in income from its Islamic banking and insurance businesses by RM58.9 million and RM38.7 million respectively.
ROE came in at 8.8% against its full-year target of around 9%. AMMB's asset quality, as indicated by its gross impaired loan (GIL) ratio, deteriorated to 1.94% as at end-March from 1.79% a year ago.
Mandy Simpson, the chief financial officer, said this was because of sector stress experienced by the wholesale segment, particularly in property and oil and gas (O&G). O&G and related services accounted for about 4% of the group's total loans.
She, however, expects AMMB's GIL ratio to remain under or around 2% in FY2017.
The group's NIM — the difference between what it makes on lending and what it pays for deposits — narrowed by more than it had expected. NIM fell to 2.02% in FY2016 compared with 2.43% in FY2015.
Although there continues to be pressure on NIM, Sulaiman said AMMB has no plan currently to raise the group's base rate. "But we would not preclude [raising it], if we need to, going forward."
Several banks, including Public Bank Bhd and Hong Leong Bank Bhd, raised their base rate recently.
"I think the worst is probably over [for the group]. Now, I just need them to deliver on their plans," says a banking analyst that tracks AMMB.