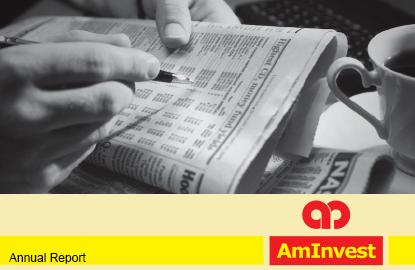 KUALA LUMPUR (May 9): Asia Asset Management has named AmInvest as Malaysia's "Best Pension Fund Manager" and "Best Institutional House" at its 2015 Best of the Best Awards held recently. This is the third consecutive year AmInvest has received these accolades.
Asia Asset Management is a leading Asian financial publication based in Hong Kong, and has acknowledged the most outstanding players in fund management business in Asia over the last 13 years.
Malaysia's Best Pension Fund Manager award recognises AmInvest's capabilities and expertise in managing domestic pension mandates including private retirement scheme (PRS). Meanwhile, the Best Institutional House award evaluates and acknowledges asset managers.
Additionally, recognition is given to its strong management team through this award for these institutional mandates, as well as future business plans, thought leadership, and investors' education programmes.
"We work very hard to provide our investors consistent returns year in and year out, which is no easy task with today's market volatility," AmInvest chief executive officer Datin Maznah Mahbob said.
She added that the accolades were a testament to the company's commitment to excellence, as well as proof of the trust its clients have in growing their investments.
With approximately RM36 billion assets under management currently, AmInvest is one of the leading fund management houses in Malaysia. It provides conventional and Shariah-compliant investment solutions comprising unit trust, wholesale funds, institutional mandates, exchange-traded funds, and PRS funds.