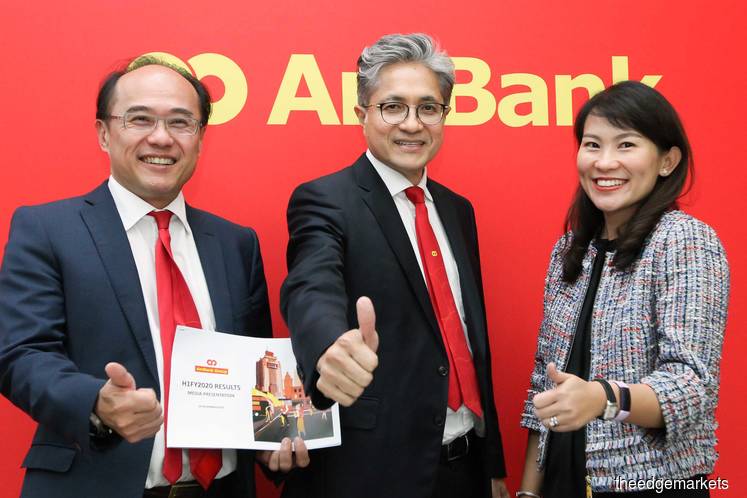 From left: AmBank Group CFO Jamie Ling, AmBank Group CEO Datuk Sulaiman Mohd Tahir and AmBank Group head of investor relations Chelsea Cheng at the group's 1HFY20 results briefing today. (Photo by Kenny Yap/The Edge)
KUALA LUMPUR (Nov 29): AMMB Holdings Bhd (AmBank) has revised four of its key performance indicators for the financial year ending March 31, 2020 (FY20).
It has revised downwards its guidance for loan growth and return-on-equity (ROE), but made a positive revision for its cost-to-income ratio (CTI) and dividend payout.
Despite posting flat loan growth for the first half ended Sept 30, 2019 (1HFY20), AmBank Group chief executive officer Datuk Sulaiman Mohd Tahir remains confident that the bank would achieve a loan growth for the full year of 4% to 5% — in line with the industry's growth — on the back more drawdowns in the second half.
Nonetheless, the full-year target loan is lower than the bank's previous guidance of 6%.
"I am [confident], because we have already given the offers, and we are just waiting for the drawdown to happen. It has been delayed and it should have come in earlier," Sulaiman told reporters at the group's 1HFY20 results briefing.
He spoke of RM5 billion to RM6 billion of loan disbursements for FY20, "half of which is coming from corporate with a few transactions".
Sulaiman explained that the flat loan growth in 1HFY20 was because of the timing of the disbursement, adding that the bank is "pretty confident" that drawdown should come in 2HFY20.
"We are trying to stabilise on the hire purchase business, and I can grow [loans from] the corporate at industry level, and if retail small and medium enterprise (SME) continue to grow at double digit, then we will see that loan growth coming in," said Sulaiman.
"We want to make sure that the loan disbursed [under the hire purchase business] is going to be equal or more than the repayment," he added.
This delay in drawdown has also made AmBank revised its full-year guidance on return-on-equity (ROE) for FY20 to 8% to 8.5%, from the originally anticipated 9%, said Sulaiman. For 1HFY20, the bank's ROE stood at 7.9%.
For its CTI guidance, its group chief financial officer Jamie Ling explained that the revenue and cost "are much better" than initially anticipated. Thus, the bank has revised its guidance to achieving CTI below 50%, from 52.5%.
AmBank has revised its dividend payout to 50%, from 40% to 45% originally guided. "This [is a] positive move" as the bank's capital position is "much stronger", said Ling.
AmBank declared an interim dividend of 6 sen per share, to be paid on Dec 27. This is versus a dividend of 5 sen per share paid during the same period last year.
On its non-performing loans (NPL), Sulaiman said a big chunk of provisions has taken place in 1HFY20. However, he pointed out that the bank's NPL is "still low" at 1.77%, "compared with the other bigger banks, [whose] NPLs are at 3%".
He, nevertheless, does not see NPL creeping up above 2% at this moment, especially after recognising large provisions in 1HFY20. "And if we see things improving, we could also likely see a recovery coming back," said Sulaiman.
On prospects, Sulaiman is positive about the next year as he foresees government spending, in particular, or pump priming to start coming in then, which will also create a multiplier effect in other businesses.
"What is unknown is the credit environment. We just have to be vigilant and manage the downturn or slowing down. Credit cost was RM77 million in 1HFY20. It is relatively low, relative to our loan book. We are guiding 15 to 20 bps for the whole year," Ling said.
Shares of AmBank closed 11 sen or 2.68% lower at RM3.99 today, valuing the group at RM12.03 billion. Some 3.58 million shares were traded.
Read also: AMMB 2Q net profit falls 8.2%, declares 6 sen dividend