This article first appeared in The Edge Financial Daily, on January 9, 2018.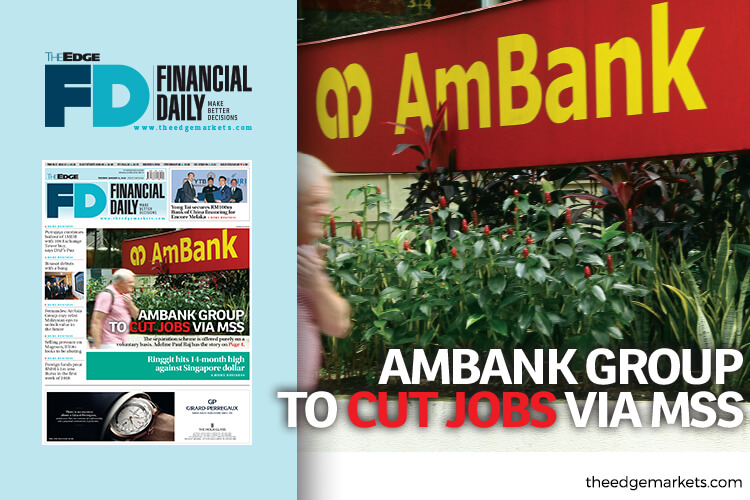 KUALA LUMPUR: AMMB Holdings Bhd (AmBank Group) has launched a mutual separation scheme (MSS) for its employees in a bid to improve efficiency and get leaner.
In an email to staff yesterday, it said eligible, confirmed employees of AmBank Bhd, AmInvestment Bank Bhd and AmBank Islamic Bhd could apply for the MSS over a two-week period, starting yesterday until Jan 19, 2018.
"The MSS is offered purely on a voluntary basis," it said in the email that was sighted by The Edge Financial Daily.
As at Sept 30 last year, AmBank Group — the country's sixth largest banking group by assets — had some 11,600 employees.
The group, when contacted, declined to say how many jobs it intends to shed under the scheme.
"As part of AmBank Group's four-year strategic transformation agenda, we have been reviewing our organisational structure for optimal efficiency. We have now streamlined and centralised some of our processes and the MSS will allow us to further optimise the group's organisational structure," a spokesman said in a statement to The Edge Financial Daily, in response to queries.
"In addition, over the past year, we undertook engagements with employees and have received queries on the possibility of a separation scheme from some staff members who wish to pursue other opportunities after being with us for some time. Clearly, the timing is now right for the AmBank Group to undertake the MSS, which is offered purely on a voluntary basis and provides eligible employees the opportunity to pursue their career goals beyond the bank," the spokesman added.
AmBank Group's four-year strategic transformation plan is, in a nutshell, aimed at it becoming a top-four bank by the financial year ending March 31, 2020 according to several financial metrics, including market capitalisation, revenue growth and return on equity. It also aspires to be among the top-four best employers.
While the MSS will lead to an increase in expenses for the group, the bank does not expect it to have a big impact on its earnings. "We are not expecting an adverse impact to our bottom line during this period of the MSS," the spokesman said, without elaborating.
For the six months ended Sept 30, 2017, its net profit fell 2.35% to RM659.74 million from the same period a year ago, while revenue rose 1.04% to RM4.21 billion.
The MSS exercise is not entirely surprising given that group chief executive officer Datuk Sulaiman Mohd Tahir had hinted at it just over five months ago while the group was in merger talks with RHB Bank Bhd.
He had said AmBank Group might undertake a "job rationalisation" exercise even if the merger with RHB did not pan out. As it turned out, the merger was aborted last August.
Other banks that undertook similar separation schemes in recent years include CIMB Group Holdings Bhd, RHB Bank, Hong Leong Bank Bhd and Standard Chartered Bank Malaysia Bhd.
In July 2015, CIMB Group and its Indonesian subsidiary, PT CIMB Niaga Tbk completed an MSS exercise that saw 3,599 employees or 11.1% of the total workforce in both countries trimmed. Of the total, 1,891 employees who opted for the MSS were from Malaysia.
In the same year, RHB trimmed its headcount by 1,812, or 13.1% of its permanent employees in Malaysia, under what it called a career transition scheme.