This article first appeared in Forum, The Edge Malaysia Weekly, on December 27, 2021 - January 09, 2022.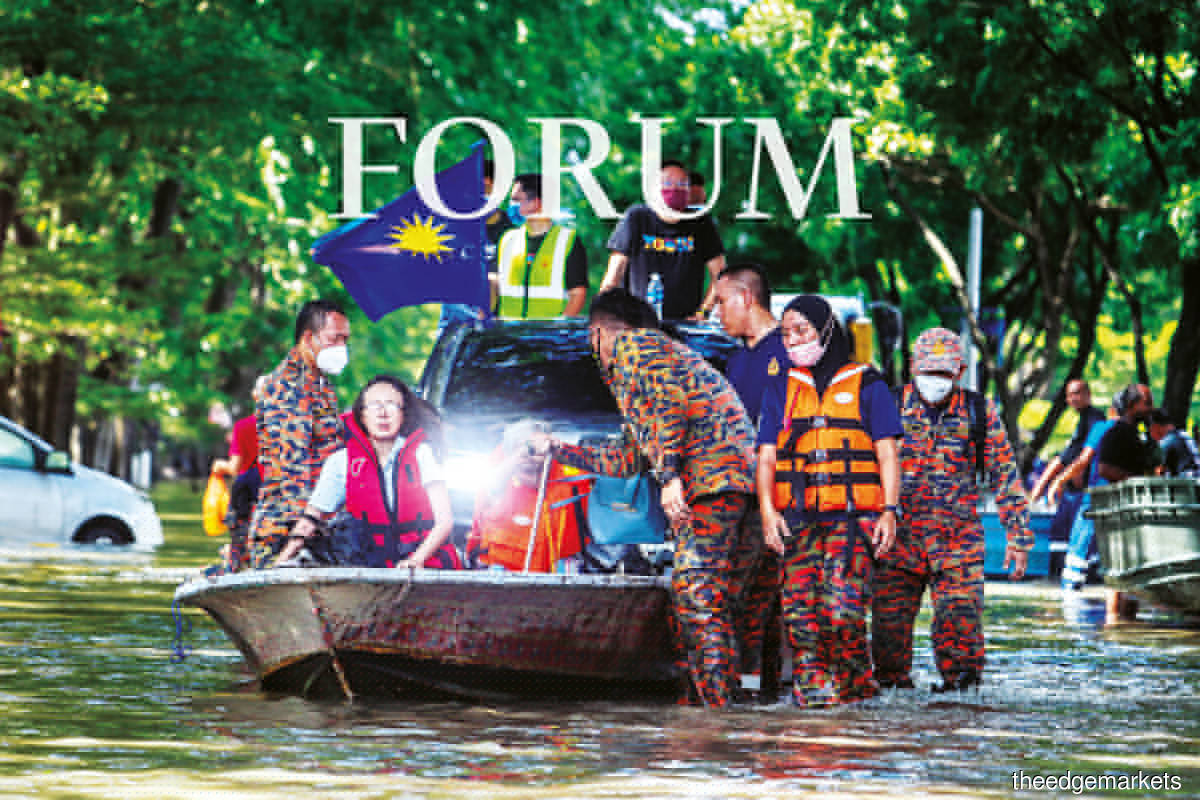 On the political stage, a lack of sophistication can be very damaging. Youth and Sports Minister Datuk Seri ­Ahmad Faizal Azumu found that out last Monday. Just hours after launching his ministry's campaign to galvanise volunteers for the flood relief effort, he was forced to retreat.
He came under fire for holding a launch ceremony for the campaign when people were already suffering because of the massive floods that hit several states hard, especially Selangor and parts of Pahang. Ahmad Faizal, who is the Bersatu deputy president, quickly agreed with a comment by former prime minister Datuk Seri Najib Razak that a launch ceremony to muster support from volunteers was unnecessary as they should get down to work immediately.
Actions during disasters such as Ahmad Faizal's can make or break political careers.
Najib himself had experienced that in December 2014. Pictures of him golfing with then US President Barack Obama surfaced on the social media as floods ravaged several states, from Kelantan down the East Coast of Peninsular Malaysia to Johor.
The floods were described as the worst ever in Malaysia then, with more than 100,000 people forced out of their homes.
Najib cut short his year-end trip to the US to return to Malaysia. In the next few years of his premiership, he was present when the country was hit by natural disasters. However, he lost in the 2018 general election to the opposition led by Tun Dr Mahathir Mohamad.
His failure to remain in power was not because of any natural disaster but due to issues related to 1Malaysia Development Bhd. In 2016, the US Department of Justice described 1MDB as the largest kleptocracy case to date and until today, Najib has several 1MDB-related criminal cases against him.
Scientists warn that flooding will only get worse in the years ahead because of climate change. Awareness of the issue has grown greatly and extended to the corporate world.
China has shut down its "dirty industries" such as steel and coal-fired power plants to reduce carbon emissions. Awareness of climate change has contributed to the rise of electric vehicles (EV) in the US, China and other parts of the developed world.
Tesla Inc is a US$1 trillion company and its owner Elon Musk a billionaire many times over because investors believe that EVs are the future and will replace petrol-fuelled cars. Tesla is more valuable than conventional car manufacturers such as General Motors Co and Toyota Motor Corp.
Institutional funds, especially those from Europe, increasingly demand that companies observe environmental, social and governance (ESG) guidelines and require a standalone report on the matter. Companies are able to command a higher value when they display better standards in ESG matters because their shares are sought by institutional funds.
Floods will only get worse in future because the law of nature will run its course. It is basic physics that makes the change in weather inevitable.
As increasing amounts of greenhouse gases in the atmosphere trap more heat, the air becomes warmer. The warming air expands and can hold more moisture. Hence, as global warming worsens, rainfall becomes more intense than before.
The next major flood, which could happen in five or 10 years' time, will be worse than the current one. History has shown that floods occur every few years.
In 1995, Taman Sri Muda in Shah Alam was hit by severe flooding. Experts described the heavy rainfall as "exceptional". The authorities then built retention ponds and flood control gates and installed extra pumps to help safeguard the housing estate, which is home to more than 30,000 people.
Last Friday and Saturday's rainfall surpassed all records and the authorities have once again described it as "exceptional".
The old narrative of describing massive floods as an "act of God" no longer holds water, especially in states where there is a bigger percentage of urban voters. They know that any amount of infrastructure will not prevent the next round of bad flooding.
So, what people want to see are leadership skills and ownership of the issue in times of crisis. The floods over the weekend clearly showed that there is a lack of coordination and ownership to tackle the crisis at hand.
Volunteers and aid teams raced to the scenes of the floods, but there was chaos. There was no coordination or person taking charge.
Compare this with, for instance, some 10 months ago when the country was in a crisis due to the rising number of Covid-19 cases and vaccination was key. Health Minister Khairy Jamaluddin took ownership of the situation to organise a smooth vaccination programme. He did not shy away from tackling the tough questions or facing the flak on the ground.
That is why he is seen as an asset for his party, Umno, even though he is not in sync with its top leadership.
With the general election likely to be held next year, the state and federal governments' response to the current floods will have a bearing on voter sentiment.
The game of shifting the blame from one party to another will not work. For instance, any debate on whether there could have been a more effective early warning system, better flood mitigation gates or bigger retention ponds is moot.
How leaders at the state and federal levels solve the problems of the people and help them get back on their feet quickly are the key criteria for determining their worth as politicians.
Announcing schemes to alleviate the hardship of the people or a moratorium on loans is not enough. The assistance has to reach the ground and for this to happen, there has to be a systematic approach.
This is where leadership and taking ownership of the situation by politicians come into play. If any politician thinks the floods can be taken lightly, they just need to look at Germany.
Armin Laschet was the frontrunner to replace Angela Merkel as chancellor. He mishandled the flood situation in some parts of the country in June this year and it was cited as one of the reasons that cost him the elections.
Also in Germany, Helmut Schmidt rose to prominence in 1962 after he showed good leadership skills during the floods then. In 1974, Schmidt went on to become the country's chancellor.
Floods, like other natural disasters, cannot be avoided no matter how good the state of preparedness. However, how quickly politicians cut across the federal-state web of red tape to ensure people on the ground get the required assistance is key in the aftermath.
It could help determine their fates in the next general election, which is not too far away.
---
M Shanmugam is contributing editor at The Edge