This article first appeared in Personal Wealth, The Edge Malaysia Weekly, on December 25, 2017 - December 31, 2017.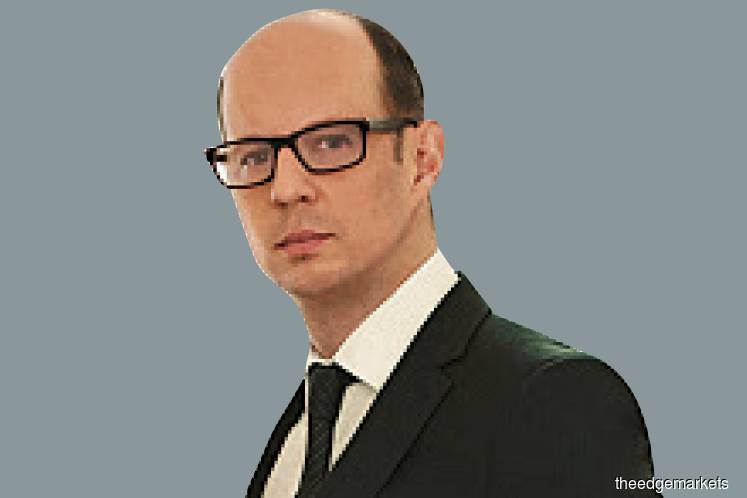 If the end of a year is any guide to future performance, then 2018 could be a strong year for the luxury investment markets, particularly art.
Salvator Mundi, a 500-year-old painting by Leonardo da Vinci that depicts the face of Jesus Christ, shattered the previous record for a painting sold at auction when it was sold at Christie's New York for an astonishing US$450 million (RM1.8 billion) in November.
Auction sales have been struggling for some time to match the levels achieved prior to the global financial crisis, but 2017 may have been the point when the art market found its feet again.
Jean-Michel Basquiat's dystopian work Untitled, which depicts an anguished skull-like face, set a new record for an American and black artist when it went under the hammer at Sotheby's New York for US$110.5 million in May. The buyer was Japanese collector Yusaku Maezawa.
Not only did Untitled beat the previous record for Basquiat (a protégé of Andy Warhol who died of a heroin overdose in 1988) by a country mile, but at the time it was the fifth most expensive painting to ever sell at an auction.
Of course, a few mega sales do not necessarily prove the overall health of a market, but the sector as a whole does seem to be more buoyant. According to the Knight Frank Luxury Investment Index, which tracks the value of 10 investments of passion, art could be the top performer this year.
Our analysis of key artistic genres supplied by Art Market Research shows that auction prices, on average, was up 17% year on year by the end of October.
This trend looks set to continue next year. Auction houses seem to be offering better-quality works and are also marketing their sales more innovatively. The da Vinci toured the world before its sale to drum up publicity and was auctioned as part of a contemporary art sale, rather than at a specialist Old Masters event.
Strong demand from Asian buyers should also help keep the market buoyant. Sales around Asia-Pacific have been doing particularly well. Bonhams set a new record for an Asian work of art sold in Australia when it sold a scroll called Landscape by the Chinese artist Fu Baoshi for A$3.2 million (RM10 million) at its Asian art sale in Sydney on Oct 25.
Asia is a growing powerhouse in the art world, with the region accounting for over 40% of global art auction sales last year, according to the latest TEFAF Art Market Report. China, including Hong Kong and Taiwan, dominates with a 90% market share.
Apart from paintings, the sale of decorative art such as jewellery and ceramics is also booming across Asia. At the beginning of 2017, the Pink Star, a 59.6-carat vivid pink diamond, set a new world record for a piece of jewellery when it was sold by Sotheby's Hong Kong for HK$553 million (RM288.2 million). The buyer was the Hong Kong-based jeweller, Chow Tai Fook.
Jewellery remains a hugely popular asset class in the region — for centuries, new pieces have been bought as a store of wealth as well as something to wear. However, tastes are starting to change, says Graeme Thompson, Bonhams' Asian jewellery director.
"Culturally, pre-owned jewellery wasn't that popular, but antique jewellery is becoming much more sought after," he says.
Part of the reason is that wealthy Asians are travelling more and are being influenced by what they see in places like London and New York, explains Thompson. "People like pieces such as art deco watches that have a good story behind them and can act as a nice talking point with their friends, as opposed to just talking about how much they cost."
This trend will only grow, helping to ensure that jewellery prices continue to rise next year, but potential investors need to watch the market carefully to pick out the latest trends. Pearls, for example, had been rising strongly but over the past few years, price growth has slowed.
Sotheby's Hong Kong reports that the value of sales during its autumn series of auctions was up 42% last year, totalling HK$3.15 billon. The star of the show was a 1,000-year-old Ru guanyao brush washer that fetched almost HK$295 million — a record for Chinese ceramics.
Demand for more functional works of Asian art is strong too. An exceptionally rare set of four 16th or 17th century huanghuali folding chairs was sold by Bonhams London to an Asian buyer in November for almost £5.3 million (RM28.9 million).
Classical Chinese furniture dating back to the late Ming to early Qing dynasties has seen a significant rise in demand, with exceptional prices achieved for rare examples, particularly those that also have important provenance, says Bonhams' international head of Chinese art Asaph Hyman.
IT'S ALL IN THE TASTE
Wine isn't a work of art in the traditional sense, but the best winemakers would certainly describe themselves as artists. In terms of luxury investments, wine is also one of the assets of choice for wealthy individuals.
Burgeoning demand from the region helped to push the year-on-year value of investment-grade wine in the Knight Frank Fine Wine Icons Index, produced for us by Wine Owners, up 14% to the end of October.
Although Bordeaux and Burgundy vintages still make up the bulk of wine exported to the region (58% and 16% of sales to Singapore and Malaysia respectively), according to London-based trading platform BI Wines, the palate is broadening.
There has, for example, been a 10-fold increase since 2015 in the amount of US wine bought by Singaporean and Malaysian buyers, says the firm. Across the region, the sale of champagne and Spanish wines is also up significantly.
Price growth is unlikely to continue at the same rate next year, but the limited supply of best wines, in particular the increasingly popular Burgundy sector, means values will remain firm.
Whether it has an impact next year remains to be seen, but the arrival of blockchain into the luxury sector could help push up prices. Several new funds based on the technology have been set up that allow investors who can't afford to buy an entire work of art to enter the market. If the idea gains traction, demand and values could increase as a result.
Moving forward, the advice to potential purchasers of luxury investments remains the same. Buy for pleasure and buy something you will love even if its price does fall. But if investment returns are your priority, provenance and quality are key.
Markets are likely to remain strong next year, but buyers remain discerning and we are a long way from the "buy-anything" attitude that permeated some sectors of the art market in 2007 and 2008.
---
Andrew Shirley is editor of The Wealth Report and the Knight Frank Luxury Investment Index