This article first appeared in Personal Wealth, The Edge Malaysia Weekly, on May 18, 2020 - May 24, 2020.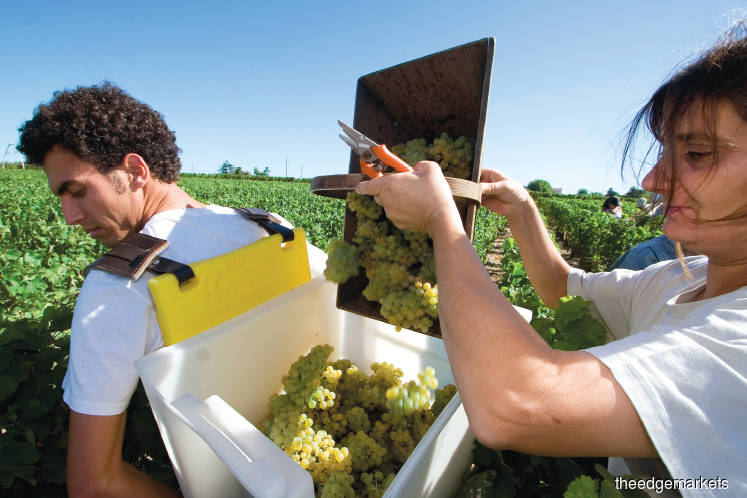 Workers harvesting grapes in Pessac, in the Bordeaux region of France
Photo by Reuters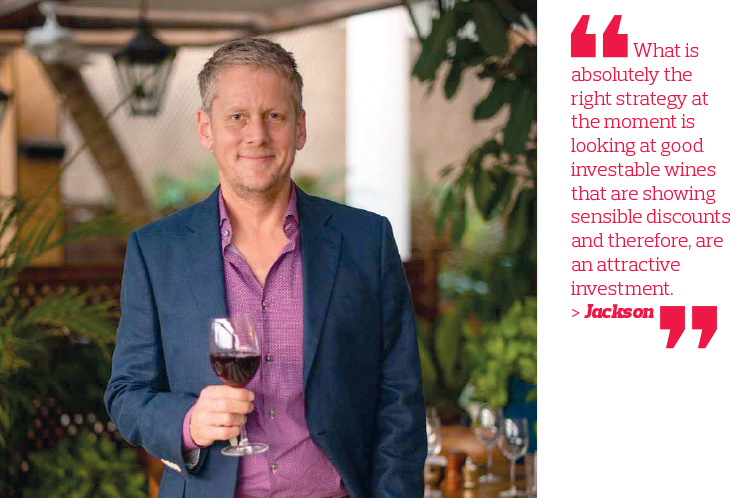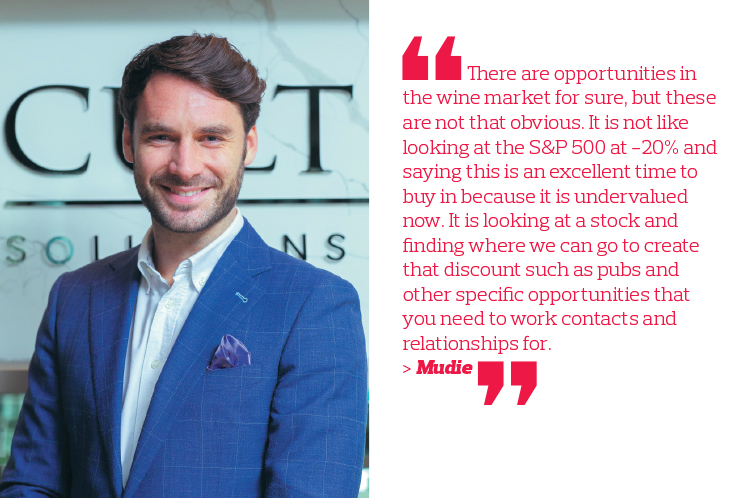 Fine wine is one of the few luxury investments that have been largely unaffected by the Covid-19 pandemic. As financial markets continue to take a beating, the defensive characteristics of fine wine and long-term investment objectives of wine funds make this alternative asset class an attractive proposition, say experts.
Between Jan 1 and March 31, when the S&P 500 declined more than 23%, the Liv-ex Fine Wine 1000 index — which measures the price performance of the 1,000 most traded wines — only fell about 4%, according to S&P Global Market Intelligence.
"The Liv-ex Fine Wine 1000 is the broadest index that the market looks at. To be able to say that our broadest index was down 4% versus the Dow Jones Industrial Average and S&P 500, which were teetering on either side of about -20%, makes it incredibly resilient. We always harp on about the defensive qualities of the wine market and this has been a superb example of those qualities," says Sam Mudie, Southeast Asia director of Cult Wines Ltd's Singapore office. Cult Wines manages a £125 million (RM668.2 million) wine portfolio on behalf of 1,200 high-net-worth clients globally.
While the pandemic has had a negative impact on demand in the retail wine market, the investment-grade fine wine market has remained buoyant and steadfastly placid. "Mass-produced and low-value wines would have taken a pretty big hit because of the coronavirus outbreak. These are wines we would not think twice about spending US$50 to US$70 a bottle just to go with a nice meal with the family. Now that all kinds of gatherings and movements are restricted or completely prohibited, those opportunistic purchases have also stopped," Mudie tells Personal Wealth.
"In the world of fine wine, however, the demand has not really slowed. The reason for such purchases is with long-term value in mind. So, if I am building my collection, I will buy wine that I do not expect to drink for the next five or 10 years. 
"So, the fact that the wine cannot physically move, cross borders or clear customs does not matter to me. The bottles can sit in France for another six or even 18 months. That does not affect my buying demand. 
"Demand may decrease for other reasons, which is very much in our favour. That is also a risk, depending on which way you look at it, the lack of liquidity in the wine market. Unlike the equity or forex markets, where you can execute a trade at the click of a button, albeit a minor delay, selling stocks of your wine collection can take two to three months." 
The wine market is much more stable than the stock market and seldom sees large increases or decreases. Fine wine is seen as a steady and safe long-term investment, says Stephen Browett, chairman of Farr Vintners, the world's leading wholesaler of fine wines.
He adds that there has been scant evidence of panic selling. Indeed, long-term buyers are emerging to hunt for bargains that may appear. "Despite the losses people are suffering in financial markets, very few wine investors want to sell their portfolios. We have actually had more people looking to invest in wine in the last few weeks than we have had customers looking to sell … and have actually seen our sales outperform purchases by about 25% in the past month."
That is the reason fine wine investments were barely affected during the 2008 global financial crisis, when the asset class bucked the trend of collapsing prices. During that period, the S&P 500 crashed 38.5% while the Liv-ex Fine Wine 1000 fell a mere 0.6%, says Mudie.
"We saw the same [situation] 12 years ago, when wine collections were left pretty much untouched. As a result, the market itself will not really waver too much in either direction. There is a little less demand but there are no oversupply issues because people are not putting stock into the market from their own portfolios. 
"If I need access to my money today, whether it is for an investment opportunity, or because I am being made redundant or furloughed, or I have to take a pay cut — whatever the reason is as a response to the pandemic — if I need that extra cash, I will not be cashing out my wine portfolio because realistically, getting that cash in two or three months will be too late. So, wine portfolios tend to be left very much alone." 
David Jackson, director at Amphora Portfolio Management, has a different perspective. While the value of fine wine appears stable from an index perspective, indices are not completely a reflection of reality, he points out.
"I don't think those indices reflect the real world because with wine, the difference between the buying and selling price on the open market is different. In other words, the offer spread expands. So, while it may look like Château Lafite's price is fairly stable, the price at which you can actually sell has been brought down considerably," says Jackson.
Château Lafite, now known as Lafite Rothschild, is one of the most expensive vintage wines from the Bordeaux region in France. 
"Fine wine is a luxury good and luxury market goods will soften in times of economic decline and it is understandable that we are seeing a drop in prices," says Jackson. 
Mudie says this situation presents a defensive cash play strategy. "Instead of seeking opportunities where market prices have come down, we are seeking opportunities where collectors or wine merchants are clearing liquidity and are not in a position to wait two to three months. So, one of the biggest opportunities for us and our investors today is looking at wine merchants in the UK that specialise in supplying the top range."
Fine wine merchants, whose top customers are traditionally Europe's top restaurants and bars, are currently closed and have no business, says Mudie. "These merchants are sitting on excess stock. They are not the kind of companies that can sit on a huge amount of stock. They rely on very archaic cash flow systems, so they are in a position where they will definitely need cash to get through the next few months. And quite often, that means they are prepared to sell large portions at a huge market discount. 
"There are opportunities in the wine market for sure, but these are not that obvious. It is not like looking at the S&P 500 at -20% and saying this is an excellent time to buy in because it is undervalued now. It is looking at a stock and finding where we can go to create that discount such as pubs and other specific opportunities that you need to work contacts and relationships for." 
Jackson concurs, saying that trying to punt on the bottom of the marketplace is a loser's game. "What is absolutely the right strategy at the moment is looking at good investable wines that are showing sensible discounts and therefore, are an attractive investment."
Bordeaux wines are among those that are presenting a good investment opportunity, he says. Even before the pandemic, wines from the region have been having a rough time as the US slapped tariffs on a range of European foodstuffs, including 25% duty on French wines. 
Just before that, wine suffered a series of price corrections between 2011 and 2014 as producers added a significant premium to their yearly releases to take advantage of the growing demand coming out of China. There was also a clampdown on corruption in China in 2012 that affected wine prices as the practice of giving or receiving wine as a gift to try and charm a government official was banned. 
"When China clamped down on corruption, we saw prices move down. There was a huge sell-off by a lot of people who were relatively new to the marketplace because they did not understand the dynamics of the marketplace. This hit Bordeaux the hardest. Wines like Lafite Rothschild lost about 35% of their value, as well as many vintages, in a six-month period," says Jackson.
"It was actually a blood bath. It was the biggest correction that the wine market had ever experienced, to the best of my knowledge. We were actually very glad that it did happen because we think you would then get sanity back into the marketplace. [Before that] a lot of people believed prices would keep going up forever, thinking that the Chinese would pay any price for wine. Of course, that was never going to be true."
Nevertheless, he does not expect a massive correction to prices. "At a time of economic uncertainty, people are worried about prices and major merchants would run a much leaner inventory than they would in normal market conditions as they cannot be certain they can sell their stock and they cannot be certain at what price they will be able to sell it at," says Jackson. 
"Any correction in the wine market tends to turn very quickly into a bull run. There was a bull run after a correction in 2008 and the same thing happened in 2012. Nobody has gone through this [Covid-19 pandemic] before, so nobody quite knows what to expect.
"We expect prices to fall more gently than they have in the past. We think there is a certain amount of market support because people are not buying instantaneously. I think there will be a smaller fall in prices, after which we think there will be a bull run when the world returns to semi-normality."
It is for these reasons there is some great value from Bordeaux wines, says Mudie. However, it is sporadic, he cautions. "We are not saying buy any Bordeaux that has a discount. But there are certain vintages and certain producers that we are quite interested in."
Wines such as the 2009 Lafite Rothschild and Latour were some of the best ever made but did not make it when they were introduced, says Jackson. "These came into the market overly expensive [so they did not sell well]. But at the moment, they are fabulous because these are legendary wines that have so much potential but they are trading at a fraction of their historic prices. So, if you find a 2009 Lafite Rothschild with a sensible discount to match its current offer prices, then that is great."
Select investment-grade vintages from 2012 and 2014 are also showing "incredible value", he adds.
As wine investments are long-term commitments, Jackson says Amphora is putting together a fund to help private sellers find another avenue for distribution. "What tends to happen is that people who buy fine wine will sell it back to the business they bought it from in the first place, which is typically a merchant. That is not necessarily where they are going to get the best price. They should be able to sell it to whomever they want for the best price. 
"The problem is that they do not know who to sell it to. So, we are coming up with a fund to make it more visible to sellers and buyers. We believe we can offer slightly better prices than merchants because unlike merchants who need to resell the stock, we are not so worried about that.
In the current market conditions, there will be many distressed sellers, he adds. "We can really help those who desperately need money. So, we are hurrying to launch the fund in the next few weeks."
Keeping Track: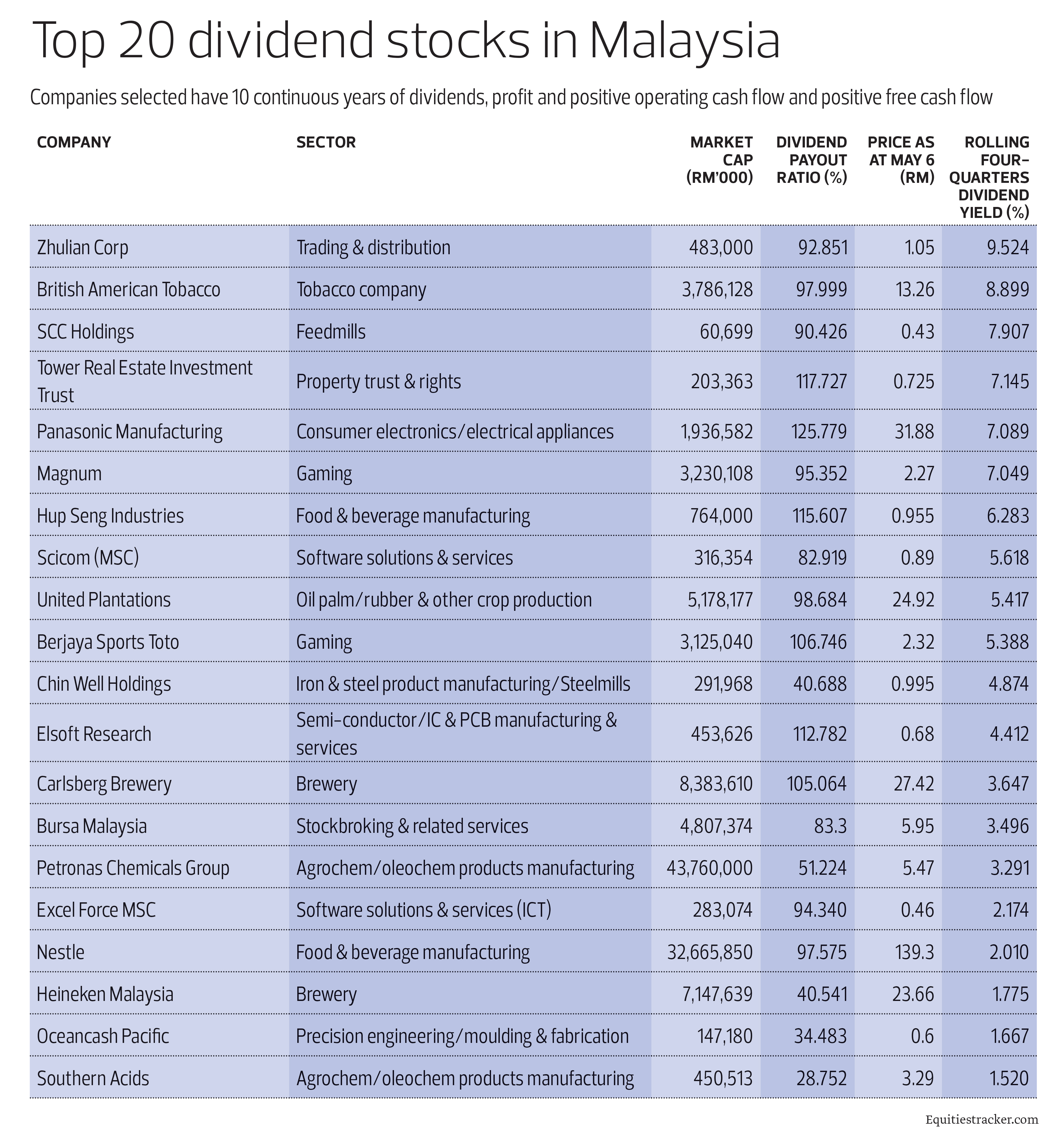 United Plantations Bhd
United Plantations' principal business activity is the cultivation of oil palm and other plantation crops as well as processing the products.
For its first quarter ended March 31, the company recorded revenue of RM318.9 million, down 1% from the previous corresponding quarter. Operating profit before tax (PBT) stood at RM117.6 million, up 34.5% from the previous corresponding period. 
The company attributed the higher PBT to an increase in crude palm oil (CPO) and palm kernel (PK) production as well as higher CPO and PK prices. According to its latest results report, global vegetable oil prices have come under pressure from sharply lower mineral oil markets and uncertainty due to the Covid-19 pandemic. 
In the medium term, the company foresees negative economic consequences globally as the pandemic affects vegetable oil demand and prices. However, it is confident that it will be able to weather the storm without having to impair any major assets. 
The stock is trading at a price-earnings ratio of 17.58 times. It closed at RM25.20 on May 13, giving the company a market capitalisation of RM5.21 billion, according to Bloomberg.
Nestlé (M) Bhd
Nestlé is a multinational conglomerate and the world's largest food and beverage company, according to its website.
For the first quarter ended March 31, the company recorded revenue of RM1.43 billion, which was marginally lower by 1.3% from the previous corresponding quarter. This was mainly due to slower domestic sales, which were partly affected by the Chinese New Year and impact of Covid-19, following the closure of restaurants, coffee shops and most other dine-in venues. 
Profit before tax fell 21.3% to RM246.3 million during the period. The company attributed the decline to lower sales.
Nestlé expects the disruptions caused by the pandemic to persist in the coming months, compounded by pressure from exchange rates and the higher prices of some commodities. In the near term, the company is adapting by capturing growth opportunities across all channels, including e-commerce acceleration. 
According to Bloomberg, the stock is trading at a price-earnings ratio of 52.05 times. It closed at RM138.50 on May 13, giving the company a market capitalisation of RM32.49 billion.