This article first appeared in The Edge Malaysia Weekly, on July 16, 2018 - July 22, 2018.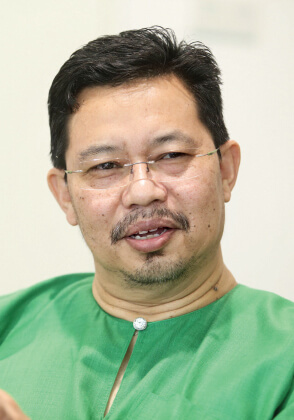 Kamaruzzaman: We are keen to develop Al-Salam's industrial property segment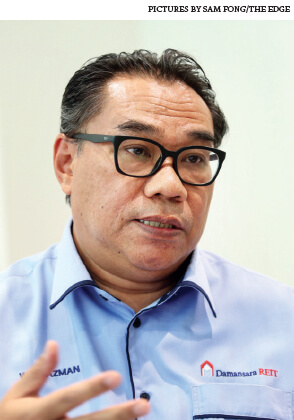 Wan Azman says the REIT is buying RM270 million worth of properties this year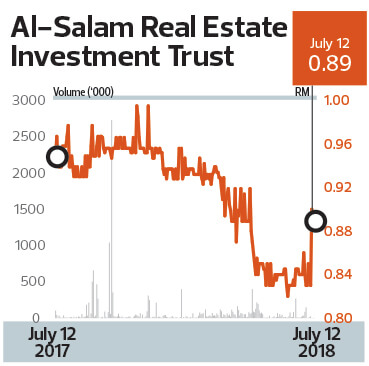 AL-SALAM Real Estate Investment Trust, one of the two REITs in the Johor Corp group, is aiming to acquire almost RM1 billion worth of commercial and industrial assets over the next three years.
In its bid to attract more investors by increasing the number of high-yield assets in its portfolio, Al-Salam will buy properties not only from JCorp but also external and third parties, says Datuk Kamaruzzaman Abu Kassim, the chairman of Damansara REIT Managers Sdn Bhd, which manages Al-Salam REIT.
"Personally, I would like to see acquisitions of around RM300 million annually over the next three years," he tells The Edge in an exclusive interview.
"It shouldn't be a problem for Al-Salam to acquire so much every year because there is a big number of assets within JCorp. But we have very high requirement standards for the REIT when considering future acquisitions. This is where we have to decide on a capital value and yield that work for both parties."
Kamaruzzaman is also the president and chief executive of JCorp, the parent company of Al-Salam.
Should the REIT manage to acquire RM1 billion of assets over the next three years, its portfolio would more than double in size from RM928 million at present.
As the acquisitions are likely to be funded by a combination of debt and unit placements, Al-Salam's unit base will also expand considerably.
The target is to make the REIT, which is one of the smallest on Bursa Malaysia, more attractive to fund managers and sophisticated investors, says Damansara REIT Managers CEO Wan Azman Ismail.
He adds that the REIT is in the process of acquiring RM270 million worth of properties this year, which comprise a Mydin hypermarket in Gong Badak, Kuala Terengganu, for RM155 million and 22 restaurants across Malaysia for RM115 million.
The Mydin hypermarket is the first asset to be acquired by Al-Salam from a third party.
As its parent, JCorp has a ready pool of quality assets to inject into the REIT but according to Wan Azman, Al-Salam has been approached by third parties for asset acquisitions. Nevertheless, there are strict requirements to meet to ensure that only assets of high quality and yield are injected into the portfolio.
The REIT industry was adversely affected by the outflow of funds from Bursa Malaysia from the beginning of the year due to heightened trade tensions between the US and China as well as uncertainties in the run-up to the 14th general election.
Most REITs have recovered since GE14. As at last Thursday,  Axis REIT had climbed 25.3% to RM1.46 per unit and Capitaland Malaysia Mall Trust had gained 22.8% to RM1.21 since late March while Pavilion REIT had risen 18.05% since March 21. At its closing price of RM1.26 per unit last Thursday, Al-Aqar Healthcare — Al-Salam's sister REIT — had grown 18.25% since April 4.
Al-Salam was late to the party as it only rebounded on July 6 when it jumped 8.43% to 90 sen per unit. As at last Thursday, the REIT was trading at 89 sen per unit. 
It is not known why Al-Salam's unit price jumped on July 6 as it did not see much trading volume on that day.
JCorp owns 66.98% of Al-Salam and 41.77% of Al-Aqar.
On top of the injection of restaurants from QSR Brands, Al-Salam will continue to improve its portfolio by investing in more industrial assets.
"We are keen to develop Al-Salam's industrial property segment. Other than those potentially coming from QSR, there are other available properties, but we need to see whether they match our risk and return profile," he says Kamaruzzaman.
One of the projects that Al-Salam has embarked on is the development of the Muar Furniture Park, which is expected to be completed by 2020. This northern Johor district has a huge furniture manufacturing industry.
A REIT can develop properties or acquire vacant land to be developed worth up to 15% of its total asset size. This ruling came into effect on March 15 this year.
Al-Salam is also developing the Pengerang Industrial Park, which will be dedicated to oil and gas players that want to participate in and serve the huge oil and gas complex there.
"We took some time to study this segment. While we see demand, we see the experience in Singapore and in Malaysia, and we need to ensure that we have the expertise to manage the tenants," says Kamaruzzaman.
"The class of tenants for this type of properties is familiar with a certain level of services. We want to show that we are already there, which will take a bit of time. Perhaps, we will take a serious approach to this (industrial assets) sometime next year." 
At the same time, Al-Salam will add value to its Komtar JBCC mall in Johor Baru. The four-storey complex, which is valued at RM465 million and located at a stone's throw from the Customs, Immigration and Quarantine (CIQ) complex, is the jewel in Al-Salam's crown. 
Komtar JBCC is a premier mall because of its tenant mix, which caters for middle to high-income shoppers and Singaporeans who shop in the city to take advantage of the stronger Singapore dollar.
According to Wan Azman, Singaporeans account for 20% of Komtar JBCC's footfall.
While the hypermarkets and supermarkets in Johor Baru see more Singaporean visitors, Komtar JBCC attracts those who shop for fashion and luxury items.
"We think 20% of Singaporean footfall is good enough as we don't want to be dependent on them. We must also have a Malaysian market. If the Singaporean footfall is 70%, that would represent a concentration risk for us," says Wan Azman.
JCorp is also developing Menara Johor Land in Komtar JBCC while a private developer is building Holiday Inn Hotel there, which will improve traffic and capture a higher level of local visitors to the mall, he adds.
There is a possibility that the 37-storey Menara JLand will be injected into Al-Salam. However, the tenancy and yield of the office tower must meet the requirements of the REIT before it can be acquired, says Kamaruzzaman.
JCorp is improving the connectivity of Komtar JBCC with its surrounding buildings to grow a bigger local market for the mall. The group is in the midst of completing a pedestrian bridge connecting Komtar JBCC to Persada Annexe and CIQ.
The planned rapid transit system between Johor Baru and Singapore will increase connectivity with the city state as well, once the project is completed. This will raise Komtar JBCC's profile among the Singaporeans, which should benefit Al-Salam.
Save by subscribing to us for your print and/or digital copy.
P/S: The Edge is also available on Apple's AppStore and Androids' Google Play.