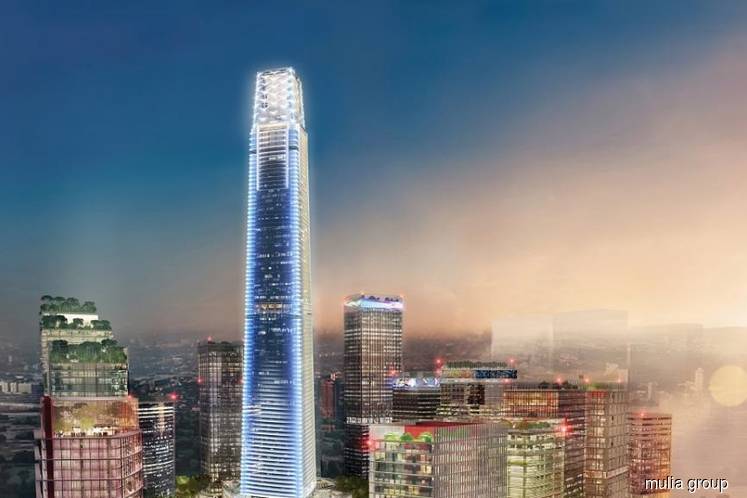 PETALING JAYA (Jan 12): The Exchange 106 — which, upon its completion by the end of this year, will be the tallest building in Southeast Asia at 492m — has leased out almost half of its space, reported The Star.
Citing a source, the publication said about 47% of the 2.6 million sq ft of floor area in the building had been formally signed, while 9% of the space is still under negotiation.
Leasing, which began about a year ago, is open from level 62 currently.
Most of the tenants of the 106-storey office tower, which is a landmark within the Tun Razak Exchange (TRX), are "big space users" from the local financial and lending sector, said the source.
These tenants are expected to take up between two and eight floors, each measuring 34,000 sq ft, making them the largest columnless floor spaces in the country.
The Exchange 106 has an asking rent of RM17 psf, which is notably higher than the RM13 psf sought by Menara 3 Petronas, which is part of the Petronas Twin Towers development.
However, Savills Malaysia executive chairman Datuk Christopher Boyd told The Star that the various incentives and favourable tax practices given to the building are equivalent to RM2 psf, bringing the effective rental to below RM17 psf.
"Mulia is benchmarking itself against some of the most famed developments around the world, the glass and steel structures in London's Canary Wharf, The Shard, also of London, New York's Freedom Tower which is also known as 1 World Trade Centre and Shanghai's International Finance Centre," said a source.
The Edge weekly reported that a 51% stake in the building's developer Mulia Property Development Sdn Bhd was allegedly acquired by MKD Signature Sdn Bhd from Mulia International Ltd, part of Indonesian conglomerate Mulia Group, about two to three months ago.
It is unknown how much was paid for the 51% stake in the company.
A filing on MKD Signature shows that its directors are officials from the Minister of Finance (MoF), and that it has an unsatisfied RM2 billion charge created on Sept 15, 2017, from HSBC Bank Malaysia Bhd.
Meanwhile, the company is wholly owned by Sentuhan Budiman Sdn Bhd, where its directors and shareholders are also MoF officials.