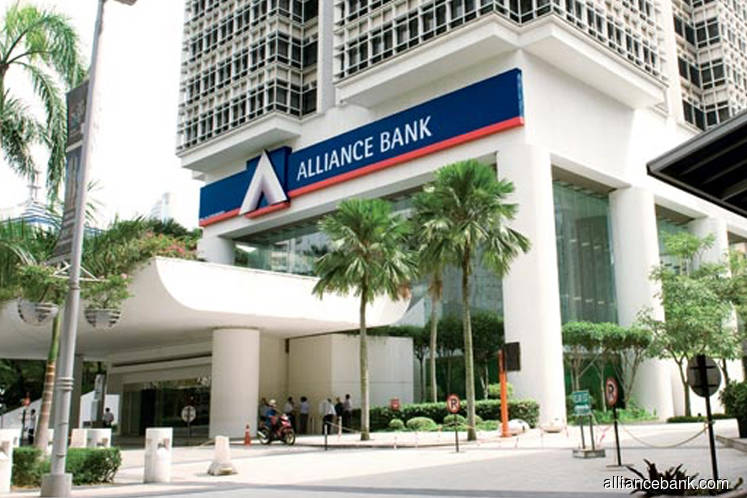 KUALA LUMPUR (Jan 23): AllianceDBS Research Sdn Bhd said today BIMB Holdings Bhd and Alliance Bank Malaysia Bhd are the most at risk in the short term after Bank Negara Malaysia (BNM) cut the overnight policy rate (OPR) by 25 basis point (bps) to 2.75% yesterday.
In a note today, AllianceDBS said this is due to BIMB and Alliance Bank's large proportion of variable loans at 92% and 83% of their total gross loans respectively as at end-September 2019.
"In line with the previous experience, the banks' net interest margins (NIMs) will be compressed in the near term, though the impact would be mitigated by a shift in fixed deposit profiles towards shorter tenures (of up to six months) for notable banks.
"(AllianceDBS) still prefer RHB Bank Bhd and Hong Leong Bank Bhd. We had earlier incorporated a 25bps rate cut into our FY20F expectations, where FY20F-21F sector earnings were trimmed by 3-4%. That said, our estimates do not consider the potential upside in investment and trading income arising from the impact to bond valuations," AllianceDBS said.
Meanwhile, Affin Hwang Investment Bank Bhd said banks with a greater proportion of variable-rate loans against fixed-rate schemes like Alliance Bank, CIMB Group Holdings Bhd and RHB may see a higher adverse net profit impact from BNM's OPR cut due to immediate repricing effects of the variable loan rates.
However, AMMB Holdings Bhd, Hong Leong Bank, Malayan Banking Bhd and Public Bank Bhd may see minimal impact on earnings under an interest rate cut scenario, Affin Hwang said in a note today.
"On Jan 22, BNM announced a pre-emptive rate cut on the OPR from 3.0% to 2.75%. The impact of a 25bps cut is not material on the overall banks' bottom lines on a full-year basis, but will have short-term pressure (at least for two quarters) on the banks' NIMs, due to the immediate repricing effects of the variable loan rates.
"NIMs will likely start to normalise in 3QCY20 as the downward repricing of deposit rates takes effect. We estimate that banks may experience a -1.0% to -5.8% impact on their respective FY20E-21E net profits. We maintain our NEUTRAL (call) on the banking sector," Affin Hwang said.