This article first appeared in The Edge Malaysia Weekly, on October 29, 2018 - November 04, 2018.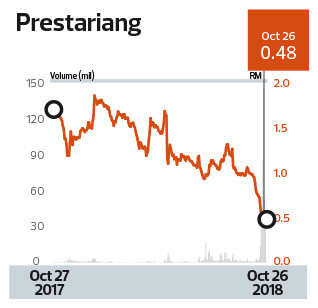 INVESTORS in e-government service provider Prestariang Bhd have been on tenterhooks since the change in government, largely due to uncertainty over the status of one of its key projects.
This was reflected in the stock crumbling to 44 sen last Monday, its lowest level so far this year and a 73% decline from its close of RM1.64 on the day before the 14th general election on May 9.
According to a filing with Bursa Malaysia on the same day, Pres­tariang founder and group CEO Dr Abu Hasan Ismail, who is also the company's largest shareholder, saw forced selling of 15.1 million of his shares — representing a 3.13% stake held via his privately owned companies — to rectify a personal margin account position. Abu Hasan now holds a 24.3% stake in the company.
On Wednesday, however, Pres­tariang reversed its downward trend to hit an intraday high of 54.5 sen, gaining 24% in just two days.
So, what changed investor perception of the stock?
Although the company has yet to make any announcement on any of its projects, talk in the market has centred on the jewel in its crown — the RM3.5 billion Sistem Kawalan Imigresen Nasional (SKIN) project, which is understood to be one of the public-private partnership projects under review by the Ministry of Finance (MoF).
CIMB Research says in an Oct 23 report that based on its analysis of the company, there is a good chance the new government will soon approve the SKIN project.
"The Immigration Department's MyIMMs IT infrastructure network, built in the 1990s, is outdated and there is an urgent need to replace it with a new IT infrastructure with the latest technology," says the research house. "SKIN is a national security project."
Assuming a weighted average cost of capital (WACC) of 6%, CIMB estimates SKIN's value to be around RM750 million and since Prestariang owns 70% of it, the concession is worth RM525 million or RM1.08 per share to the company.
The remaining 30% of the SKIN project is reportedly owned by Muhammad Nagib Gopal Abdullah, Raja Azmi Adam Nadarajan and Faisalludin Mohamat Yusuff via their 30% stake in project owner Prestariang SKIN Sdn Bhd, whose CEO is Raja Azmi.
CIMB Research points out in its report that at 44 sen per share, the group's business is being valued by investors at 13 times its FY2018 earnings, assuming zero value for the SKIN project.
PublicInvest Research has a similar valuation of the project. In a Sept 5 note, it says Prestariang's stake in SKIN is worth RM521.3 million or RM1.08 per share, assuming a WACC of 7.48% and internal rate of return of 17%.
Given these assumptions, Pres­tariang's closing price of 51 sen last Thursday implies a 53% discount to the value of the SKIN project.
"So far, there has been no confirmation of the status of SKIN from MoF. However, looking at the recent spike in its share price, it would seem that the market believes the project will go on but most likely at a lower price," a market observer tells The Edge.
To recap briefly, SKIN is a new border control system that facilitates the movement of people in and out of Malaysia, and will replace the current system. On July 18 last year, Prestariang SKIN entered into a concession agreement with the Ministry of Home Affairs on the implementation of SKIN by way of a public-private partnership.
The project is a 15-year concession and will consist of three years of build and deployment phase and 12 years of maintenance and technical operation phase. Payment to Prestariang was to only commence upon the full commissioning of the system after three years with an average annual payment of RM294.7 million from year four to year 15 during the maintenance and technical operation phase.
Apart from SKIN, Prestariang's other dealings with the government include its contract to supply Microsoft software licences, products and services. In January this year, its subsidiary, Prestariang Systems Sdn Bhd, received an extension of its contract to supply the licences to MoF under the Master Licensing Agreement 3.0.The extension is for three years, from Feb 1 this year to Jan 31, 2021, at an estimated value of RM222.6 million.
The group also received from the Ministry of Education an extension of its contract to supply Microsoft licences to public higher education institutions in the country for a year, from July 3 this year to July 2, 2019, at a total value of RM11.63 million.
In the first half of its financial year ended June 30 (1HFY2018), Prestariang reported a year-on-year decline of 22% in net profit to RM7.04 million due to higher tax expenses and provision for doubtful debts during the period. Revenue, however, rose almost 30% to RM128.68 million due to a higher contribution from the construction work for the SKIN project.
Besides Abu Hasan, Prestariang's other substantial shareholders are Kumpulan Wang Persaraan (Diperbadankan) (KWAP) with an 8.6% stake, and Brahmal Vasudevan — who is the founder and CEO of private equity firm Creador — with a 6.2% stake.
Given the government's announcement last Friday that it will accept MMC-Gamuda's new, albeit lower, offer for the underground works of the MRT2 project, investors will be waiting to see whether the same fate befalls Prestariang. 
 
Save by subscribing to us for your print and/or digital copy.
P/S: The Edge is also available on Apple's AppStore and Androids' Google Play.