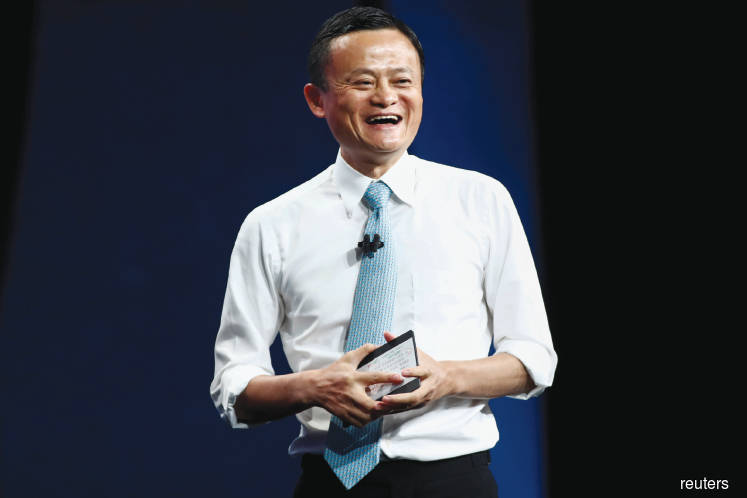 KUALA LUMPUR (June 18): Chinese business magnate Jack Ma said today he is more confident of China-Malaysia trade relations after his meeting with Prime Minister Tun Dr Mahathir Mohamad this morning.
"This morning, I had a fantastic and great meeting with the (Malaysian) prime minister. To my great surprise, at 93 years old, he (Dr Mahathir) has such a great vision and knowledge about technology, we shared a lot of similarities, we believe (in the) internet, technology and young people," the co-founder and executive chairman of Alibaba Group Holding Ltd told reporters at the opening of its national office in Malaysia — which is also its first in Southeast Asia.
"I am also very touched by his support and passion to empower and create jobs for the rural and young people," he added.
Ma noted that his discussion with Dr Mahathir covered topics such as the use of technology to create jobs, increase productivity and for rural development.
"We are both interested on how we can use the technology (of) today to empower rural farmers, create jobs and increase productivity. This morning, we agreed to use technology, together with Alibaba and its partners and the Malaysian government, to change as many young people as possible, to train and empower as many small businesses as possible," he noted.
Ma dismissed concerns over the Malaysian government's intention to review mega infrastructure projects in the country, saying that project review happens constantly to increase clarity on their feasibility.
"Before I came here, many people discussed about China and Malaysia relationship. And I say, just like 30 years ago, many people were worried about internet (and its implications). I think worry will never solve any problems. (That's why) I came (here) myself, I feel it and I am very confident about the relationship between Malaysia and China. I am also confident for China business community (who wants) to invest in Malaysia," he said.
"There will be problems, how can there be no problem. So, I think if there is problem, it can be solved, if there is no problem, that is a big problem. People like us, our job is to solve problems.
"People say there will be a lot of reviews, I say so what? Our country (China) has (constantly) reviewed every project. We need to review all the time to check what is right and wrong and as long as we believe we can work together, we can solve the problem," he added.
On its new office in Malaysia, Ma said Alibaba remains committed to invest in Malaysia.
"This office is our first in Southeast Asia. It shows the commitment of Alibaba. In the past year, so many things had happened but we never change our commitment to Malaysia. In every country that Alibaba goes to, we focus mainly on three things — to digitalise local partners, support and empower small businesses and young people to go global," he said.
"There are 80 seats in this office, but with only 20 people working from here. We foresee that there will be more in future, we want to enable more Malaysian partners here, while creating more jobs in the country. Today, Alibaba has created 36 million more jobs in China and millions of small businesses have, because of us, grown so well," he added.