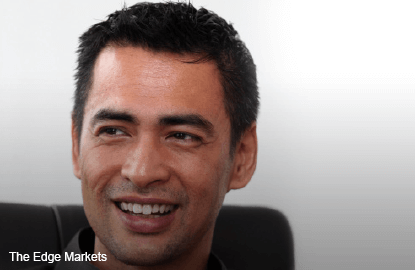 This article first appeared in The Edge Malaysia Weekly, on February 1 - 7, 2016.
LAST week, the Aladdin Group launched its Malaysian e-commerce website, aladdinstreet.com.my, with a goal of curating some 30,000 products from 1,500 merchants by the end of the year. To put it bluntly, as far as e-commerce platforms are concerned, these figures are less than impressive.
However, aladdinstreet.com.my marks only the first step in the group's plan to build a global halal e-commerce platform that will span 30 countries and feature 60,000 merchants offering millions of products. In fact, if all goes according to the group's plan, it hopes to generate an annual turnover of US$250 million to US$300 million in its first year.
So, how will the group achieve the ambitious target?
"We don't really have any competitors that can offer what we are offering. There are almost two billion Muslims out there, and it is difficult to shop without worrying about whether a product is halal. In fact, our focus won't be only Muslim countries such as Malaysia but also countries such as China, which has a larger Muslim population than Malaysia," says chairman and co-founder Datuk Dr Sheikh Muszaphar Shukor.
That said, aladdinstreet.com — the global website — will not just be a halal version of the US' Amazon or China's Alibaba.
"We plan to be very selective about our merchants to ensure that all our merchandise is of a high quality. We won't just accept any merchant. Take Alibaba, for example — it can register 100,000 merchants a day but it has all sorts of quality issues since it is not responsible for the merchandise," explains Sheikh, who is better known as the first Malaysian in space.
This is because Aladdin's main source of revenue will not be listing fees, which will cost RM2,500 for a listing in Malaysia and US$5,000 for an international listing. Instead, the group will generate the bulk of its income from transaction fees. On top of that, it will cater for both B2B and B2C transactions.
"Merchants who want to list with Aladdin will have to pass a stringent selection process. Not only would they have to be halal certified, but we will also look at their financials, track record and products," says Sheikh.
Another difference, compared with Alibaba, is the fact that Aladdin will control the transaction gateway. The group is already partnering CIMB Bank Bhd for its Malaysian arm while Singapore's United Overseas Bank Ltd will handle the global business.
"We will withhold payment to a supplier until the goods are delivered. With the existing e-commerce platforms, the buyer has no protection if the seller doesn't deliver the goods. We have also received very good rates from the banks to minimise costs," Sheikh remarks.
The group is making a conscious effort not to alienate non-Muslim users. Hence, educating non-Muslims of the benefits of halal as a standard will be a core part of the group's business.
"Halal isn't just about food. It is about hygiene and exclusion of toxic products. That is why Malaysia's largest trading partners for halal products are China, with RM5 billion traded annually, and Singapore with RM4 billion, [both of which are] non-Muslim countries," says Sheikh.
To catalyse the business, Aladdin is prepared to spend a staggering US$100 million (RM419.3 million) on advertising and promotion across the 30 countries it plans to launch in over the next three years. To date, the group has already spent US$5 million to set up its headquarters and launch aladdinstreet.com.my in Malaysia.
Interestingly, Aladdin will rely on its local partners to develop the infrastructure, such as IT, in the respective countries. This would take some of the cost burden away from the group.
Not surprisingly, it has clear aspirations to go public in three years. For the time being, it plans to raise US$25 million this year by offering a 20% stake in the company — valuing the group at nearly half a billion ringgit. That valuation seems reasonable, if the group's profit targets are achieved.
"We are looking at a profit before tax of US$25 million in year one. Meanwhile, we expect turnover to be about US$250 million to US$300 million. Our margins should range from 3% to as high as 10%, depending on the types of products," explains Sheikh.
He expects the turnover volume to be underpinned by the B2B transactions, which are much larger. In the first year, however, more than 70% of its transactions is expected to come from B2C, as users get a feel of the website.
By the end of the first year, Aladdin hopes that its e-commerce sites will draw an average of 60 million unique visitors each month and, subsequently, be among the Top 10 most popular e-commerce platforms in the world in two years' time. The Malaysian servers alone are designed to handle between five million and eight million visitors a month.
One hurdle for the group is that there isn't one common halal standard that is used internationally. Hence, Aladdin is using the standard of Jabatan Kemajuan Islam Malaysia (Jakim), which the group believes is the most stringent one available.
"The laws in every country differs. The challenge is to get all these countries to agree on a common standard. Aladdin will be a catalyst for this. Over time, we hope to form a common consensus on standards. Our partner offices, however, will adhere to our Malaysian standards. The good thing about halal standards is that they aren't miles apart, so we don't have to work too hard to achieve consensus," says Sheikh.