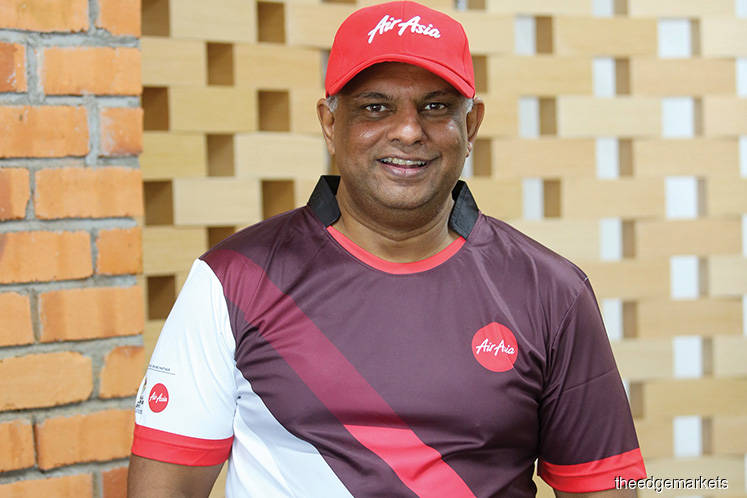 KUALA LUMPUR (Aug 1): AirAsia Group Bhd group chief executive officer Tan Sri Tony Fernandes said he is confident the government will allow for the set-up of three low-cost carrier terminals (LCCTs) in the country.
Fernandes took to Twitter today, saying: "Malaysia, I am sure will have three LCC terminals in KL, Penang and Kota Kinabalu. With the momentum in Indonesia and the Philippines, this is huge for @AirAsia."
This follows a meeting on July 27 among Fernandes, Finance Minister Lim Guan Eng, Transport Minister Anthony Loke and Malaysia Airports Holdings Bhd (MAHB) acting group CEO Raja Azmi Raja Nazuddin, which the AirAsia boss had described as "great".
"More LCC terminals coming. Malaysia Airports (MAHB) now understands what we can do. Exciting time for guests, Malaysians. More jobs and economic growth," he had tweeted then.
In recent weeks, AirAsia and MAHB have been feuding after Fernandes remarked that the LCC was forced out of Terminal 2 (T2) of Kota Kinabalu International Airport (KKIA) in Sabah three years ago, and was never in favour of moving into T1. Fernandes was also quoted as saying that AirAsia was back in talks with relevant agencies, as well as the Sabah state government, to restart T2 as a dedicated LCCT.
In response, MAHB had denied forcing AirAsia to move to T1.
On July 26, Loke reportedly said his ministry will study the technical aspect of AirAsia's proposal to return to T2, but any proposal to develop a new LCCT next to the Kuala Lumpur International Airport in Sepang will have to be resubmitted as a fresh proposal. He added that the transport ministry's decision on the matter cannot be based on sentimental reason only.