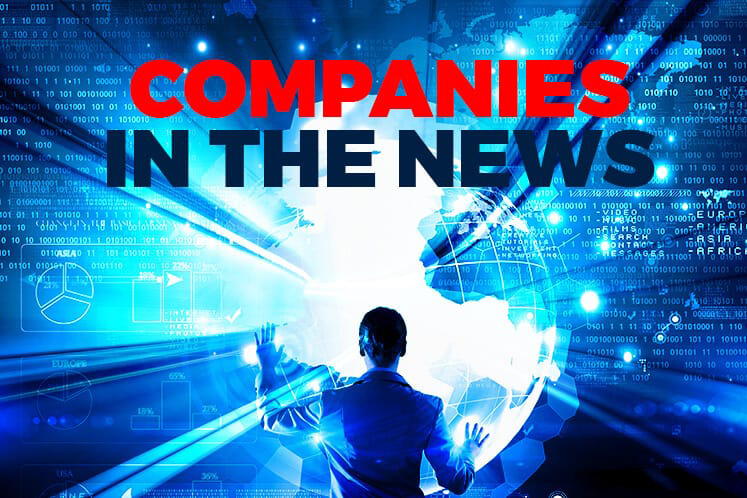 KUALA LUMPUR (April 26): Based on corporate announcements and news flow today, stocks in focus for Monday (April 29) may include the following: AirAsia Group Bhd, Westports Holdings Bhd, Seacera Group Bhd, Maxis Bhd, Malaysia Marine and Heavy Engineering Holdings Bhd, LFE Corp Bhd, Gadang Holdings Bhd, DWL Resources Bhd, Kumpulan Perangsang Selangor Bhd, Can-One Bhd, Kian Joo Can Factory Bhd and ManagePay Systems Bhd.
AirAsia Group Bhd, Asia's largest low-cost carrier, carried 12.55 million passengers across its Malaysia, Indonesia and the Philippines markets in the first quarter of this year (1Q19), up 18% from 10.65 million passengers a year ago.
This was driven by a 17% year-on-year (y-o-y) increase in capacity for 1Q19. Its passenger load factor stood at 88% in 1Q19, up one percentage point (ppt) from 1Q18.
AirAsia said its capacity expansion, as measured by available seat kilometres (ASK), grew 11% y-o-y as the carrier added new routes and frequencies for both domestic and international routes to further grow its market share.
Westports Holdings Bhd's net profit rose 13% to RM139.9 million for the first quarter ended March 31, 2019, from RM123.8 million in the same quarter a year ago. The higher net profit was attributed to a container tariff hike, effective from March 1, 2019.
Earnings per share rose to 4.1 sen versus 3.63 sen previously.
Quarterly revenue rose 7.8% to RM415.19 million from RM385.09 million a year ago, mainly attributed to double-digit growth in container volume and the implementation of container tariff hike since March 1.
Seacera Group Bhd has been classified as a Practice Note 17 (PN17) company as it has defaulted on the payment of principal and profits to AmBank Islamic Bhd and not being able to provide a solvency declaration to Bursa Malaysia Securities.
Seacera said it is looking into formulating a regularisation plan to address its PN17 status and will make the necessary announcement on the regularisation plan in due course.
Seacera is now required to submit its regularisation plan to the Securities Commission Malaysia or Bursa Malaysia within the next 12 months, depending on whether the plan would significantly change its business direction.
Maxis Bhd's new growth strategy gained momentum and drove its net profit 56% higher quarter-on-quarter to RM409 million on the back of revenue of RM2.23 billion.
In its last quarter, Maxis said it had made significant changes to its long-term strategy, setting the foundation to be a strong converged solutions player in Malaysia.
However, on a year-on-year basis, Maxis' net profit fell 22% to RM409 million or 5.2 sen per share for first quarter ended March 31, 2019 (1QFY19) from RM523 million or 6.7 sen per share, as the group suffered lower average revenue per user (Arpu) and termination of network sharing agreement.
It said revenue was flat at RM2.23 billion for the quarter under review, compared with RM2.24 billion in the previous corresponding quarter.
Malaysia Marine and Heavy Engineering Holdings Bhd posted a higher net loss of RM29.37 million in the first quarter ended March 31, 2019 versus a net loss of RM25.27 million a year earlier, as work order materialisation has been slower than expected especially in the offshore-fabrication segment.
The group said despite crude oil price stability, project sanctions and materialisation of work orders are slower than expected, hence affecting orderbook replenishment.
Revenue was, however, higher at RM203.11 million versus RM188.28 million previously.
LFE Corp Bhd has bagged two contracts worth RM50.2 million for sub-contract works in Johor.
LFE said its wholly-owned subsidiary LFE Engineering Sdn Bhd has won an RM35 million contract from Innoseven Sdn Bhd to supply labour, equipment, tools, plant and machineries for the completion of an extension to a hospital in Segamat for 24 months.
Separately, LFE Engineering has accepted an award from Seri Jaya Perkasa Sdn Bhd for an RM15.2 million job to supply the same for the construction of a new boarding school comprising 25 classrooms, a dining hall and a multi-purpose hall for Sekolah Menengah Sains Segamat.
Gadang Holdings Bhd has purchased 20 million shares in DWL Resources Bhd for RM18 million in cash or 90 sen per share, in a bid to build and strengthen the business relationship between both companies.
Gadang said the acquisition of the shares, which represented a 10.07% stake in DWL Resources, was done via a direct business transaction.
Gadang's unit Gadang Engineering (M) Sdn Bhd had on April 18 entered into a pre-bid consortium agreement with Million Rich Development Sdn Bhd, a wholly-owned subsidiary of DWL, to work with each other to bid for infrastructure projects.
They will jointly undertake a contract for such infrastructure works if their bids are successful.
As promised to shareholders earlier, Kumpulan Perangsang Selangor Bhd has declared a special one-off dividend of 32.6 sen per share, following its divestment of its 30%-stake in Syarikat Pengeluar Air Sungai Selangor Sdn Bhd (Splash).
KPS said the dividend, totalling RM175.19 million, will be paid on May 28. The ex-date is May 13.
The special dividend is in addition to the group's final dividend of 4.25 sen per share.
Can-One Bhd's subsidiary Can-One International Sdn Bhd now holds a 95.88% stake in Kian Joo Can Factory Bhd, giving it enough control of the company to compulsorily acquire the rest of the shares and delist Kian Joo.
Kian Joo said it was informed that as at today, based on the valid acceptances, Can-One International holds 425.88 million shares or a 95.88% stake in Kian Joo.
In addition, Can-One International has received valid acceptances of not less than nine-tenths in the value of Kian Joo shares (excluding the 34.52% stake already held by Can-One International).
As such, Can-One International intends to invoke the provisions of Section 222(1) of the  Capital Market and Services Act, to compulsorily acquire the rest of Kian Joo shares for which acceptances have not been received.
ManagePay Systems Bhd has entered into a joint venture and licensing agreement with MyTV Broadcasting Sdn Bhd to market and supply Hybrid Broadband Broadcasting Television (HbbTV) set top boxes, manage eCommerce on the HbbTV platform and ePayment solution services.
ManagePay said it has also entered into an agreement with CoShip Technology to undertake the design, assembly, completion, supply and delivery of the set top boxes.
The agreement with CoShip also includes the provision and performance of the warranty services, support and maintenance services and all necessary and incidental works and services so that the set top boxes are able to connect, interoperate, integrate or interface with the MYTV System.