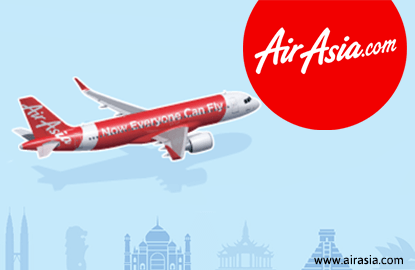 KUALA LUMPUR (July 29): AirAsia Bhd is venturing into service data analytics via a joint venture (JV) with United Kingdom-based firm Big Data For Humans Ltd (BD4H).
It believes the venture will potentially help generate more revenue for the AirAsia Group as BD4H's data science platform will be able to automate insights for it to better understand its passengers preference, and to generate action plans that work across channels, besides creating new business opportunities for the group.
To effect the tie-up, its wholly-owned subsidiary MadCience Consulting Sdn Bhd (MCSB) had, on June 21, entered into a JV with BD4H to form Big Data For Humans APAC Ltd (BD4H APAC), to establish and build software for service data analytics business in the Asia Pacific region.
The 50:50 JV will be funded via debt, as MCSB also inked a loan note subscription agreement with BD4H to subscribe 1 million convertible loan notes for £1 million (RM5.36 million), of which £500,000 will be used to finance the JV operation between MCSB and BD4H.
The interest rates of the notes, which will mature on Nov 30, 2017, is 8% per annum.
BD4H is led by Peter Ellen and Steven Rose who previously founded Maximyser, which was sold to Oracle in June 2015 for US$160 million (about RM647 million), the filing read.
Maximyser is a provider of cloud-based software that enables marketers to test, target and personalise what a customer sees on a web page or app, substantially increasing engagement and revenue.
Through Maximyser, both Ellen and Rose have served other airline clients, making them savvy with airline requirements, AirAsia said.
The low-cost carrier also said the JV provides an opportunity to participate in a start-up business that has potential to provide lucrative financial returns along with the other investors.
AirAsia shares closed 4 sen or 1.38% higher at RM2.93, with a market capitalisation of RM8.15 billion.