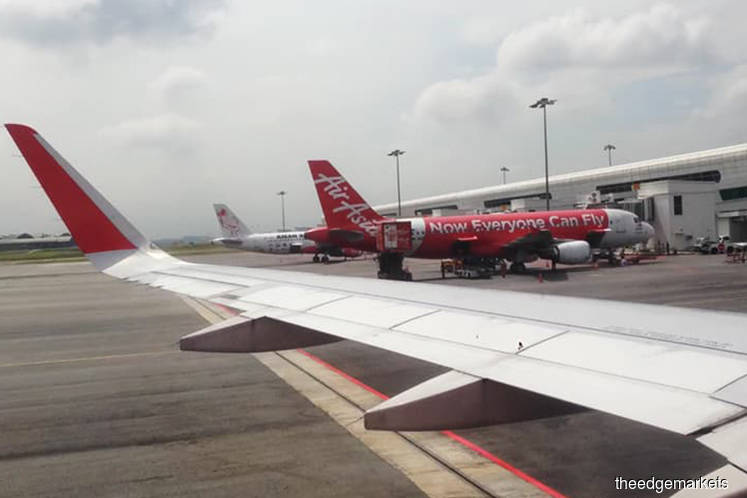 SINGAPORE (Nov 16): AirAsia wants to remove cash from inflight transactions with an upcoming rollout of its e-wallet service called BigPay.
The e-wallet service will allow users to connect up to 10 debit or credit cards to make payments across Asean, the low-cost carrier (LCC) said today.
"Within the next two to three months, we will have our own version of Alipay," group chief executive officer Tan Sri Tony Fernandes told assembled media today.
Fernandes said the e-wallet will have all 10 Asean currencies and added that BIGPay users will enjoy cheaper foreign exchange rates than offered by banks at the moment.
According AirAsia's website, BigPay currently can be used for online transactions at AirAsia.com and at its online duty-free store Rokki.com.
Comparing AirAsia to other potential e-wallet players, he feels the potential for synergy between its current customer base and the e-wallet service is "enormous".
In 2016, AirAsia flew 56.6 million passengers at group level. Earlier this week, Fernandes said he expects that number to grow by 29% for 2017.
"I think our advantage is we already have 73 million customers already registered (in the AirAsia database, whereas) for these other guys, who are larger than us, they still need to go and do their customer acquisition," said Fernandes.
AirAsia is also working on an inflight ordering system that will allow passengers to make purchases via mobile instead of waiting for the food and merchandise trolleys to pass.
Fernandes was speaking to media after unveiling AirAsia's digitalisation strategy in Singapore.
Faster check-in
Part of AirAsia's digitalisation push are efforts to make check-in processes faster.
To do that, it is planning to work with US data-mining firm Palantir Technologies to develop "a secure entry system for trusted travellers to speed up immigration at airports within Asean" through collaboration with airports and government agencies.
The system aims to facilitate faster security and immigration clearance across Asean for "trusted travellers".
That may include biometric identification features in AirAsia's mobile app down the road.
Another upcoming product is an electronic permanent bag tag for AirAsia flyers, the LCC said.
While still in testing stages, the electronic tags will be linked to AirAsia's mobile app to speed up baggage check-in, Fernandes said. It will also allow users to track their baggage location throughout their journey.
Earlier today, Fernandes announced that Changi Airport's Terminal 4 will be an ongoing case study for the LCC group.
It will use operational data from the terminal to seek ways to enhance LCC airport processes via digitalisation of services.
The terminal, which began operating on Oct 31, was designed to be fully automated with a range of self-service options for departing passengers called 'fast and seamless travel', from check-in and baggage drop to immigration clearance and security screening, which includes using facial recognition technology.
The LCC said lessons from the ongoing case study will be rolled out across the group's operations.